Central Freight Lines Inc.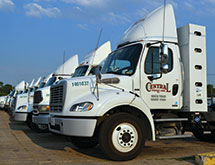 At Central Freight Lines Inc., "safety" is more than just a buzzword. Instead, its 51 offices throughout the Southwest keep it "in the forefront" of employees' minds, Director of Business Development Mari Ellen Borowski says. "Everyone is part of the safety initiative," she says.
This is especially true for the firm's drivers. "When you're out on the road, you've got to have a very professional, safety-conscious driver out there," she says. "One that's concerned about the company, picks up freight and delivers it damage free, all the time, remaining aware of their responsibility on the road to provide a safe environment for the public, conserve fuel and lower operating costs.
"Safety has to be No. 1," she says. "With just under 1,000 drivers, Central Freight is one of the most awarded carriers in Texas for safety."
Based in Waco, Texas, privately held Central Freight Lines provides transportation services to clients that range from emerging businesses to Fortune 500 companies. Founder W.W. Callan started the company in 1925 with only a single truck.
Today, "We have over 1,600 tractors and 8,673 trailers in our fleet," Borowski says, noting that Central Freight Lines has earned a reputation for its quality services and safety. "When you talk about a business that has been in business since 1925, you're talking about a company that has stability."
Central Freight Lines recently added a new location in Atlanta, Borowski says. "We now service all points in the state of Georgia," she says, noting that the company's footprint goes west from Georgia all the way to California.
Shared Values
A 40-year veteran of the transportation industry, Borowski joined Central Freight Lines six years ago. "Prior to that, I was with another carrier for 30 years," she says, noting that she had respect for Central Freight Lines even when she worked at the previous carrier.
"When I sold against them, it was one of the toughest sells," she recalls, explaining that many prospects turned her down because they were using Central Freight Lines. "I also had a great deal of respect for the management team in place. They had a lot of the same values and a mission statement that I support and agree with."
Borowski is particularly proud of the company's investment in compressed natural gas (CNG), which started in 2012 with the purchase of 14 CNG Peterbilt trucks. "We were the first LTL carrier of our size to purchase CNG trucks and run them on a day-to-day basis," she recalls.
After the initial investment proved positive, Central Freight Lines purchased 100 CNG Freightliners. "We look at it as a clean air initiative," she says. "It's also an opportunity to lessen our dependences on foreign fuel.
Currently, we are waiting on delivery of an additional 50 CNG tractors to continue to support the operation.
"Natural gas is abundant, especially in the state of Texas," Borowski says, adding that the company likes to support its communities. "The good benefit of all this is that we're providing for a clean air environment well into the future."
Aiming for Efficiency
Central Freight Lines consistently re-evaluates every aspect of its business, Borowski says. "You have to nowadays because of the margins being so razor thin," she says.
"When we look at an opportunity, we keep the customer and service in the forefront," she says. "You can't just [stop and] say, 'This works today.' You need to have the vision to strategically position yourself for continued growth for tomorrow, five years down the road and more. Position yourself and remain flexible to adapt to market changes."
This led it to adopt CNG, as well as the Cheetah software program, a new optimization program for equipment loading and route dispatching from Cheetah Software Systems. For instance, the program "tells the guy on the dock what is the optimal way to load the trailer," Borowski says.
Bringing Stability
"From here, I think we're going to focus on our core area and continue to provide a world-class service to our customers in our footprint," Borowski says. "Central Freight Lines will continue to make significant investments in information technologies to provide customers with the real time data needed to support their business by enhancing our technology platform, routinely recapitalize our fleet assets to ensure our customers have one of the safest and most efficient fleets on the road, and most importantly, supporting our employees with knowledge and continuous improvement practices to enhance their skills."