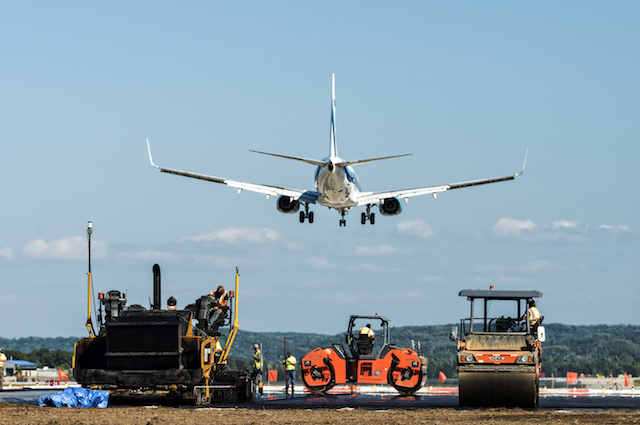 Cherry Capital Airport extends its main runway to accommodate blossoming tourist and business travel to northern Michigan.
By Janice Hoppe-Spiers, Senior Editor at Knighthouse Media
Michigan's "Pure Michigan" advertising campaign featuring the voice of actor Tim Allen has played on television and radio for a decade throughout the country and internationally. Northern Michigan has seen an influx of travelers for both leisure and business because of it, and Cherry Capital Airport recently expanded its runway to meet increasing demand for access to the area.
"We like to say we are the 'Pure Michigan' airport because a lot of our travelers come into the market as a vacation or business destination," Director Kevin Klein says. "Fifty-three percent of passengers come from out-of-state into the airport and the remaining 47 percent is local traffic. Normally, these figures are reversed, but we have become a destination airport."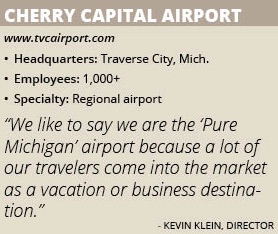 The Traverse City, Mich.-based airport sits on 1,100 acres and is located in the unofficial "cherry capital of the world." "Agriculture is a big part of what we do here, but we also have diversity in what we offer, including businesses, leisure activities, some of the best sugar-sand beaches and golf courses designed by major players like Jack Nicklaus," Klein says. "You can't beat it."
Cherry Capital Airport served a record-breaking 476,767 passengers last year and that growth continues to trend upwards. Since 2011, Cherry Capital Airport has grown 36 percent in passenger traffic. "When you measure passenger flow, we are a perfect bell-shaped curve starting in January and peaking out in July/August and coming back down through December," Klein explains. "We do about 60 percent of our total passenger traffic in the summer months from Memorial Day to Labor Day."
Runway Renovation
Cherry Capital Airport in November completed a $14 million renovation of its main east-west runway to extend it 115 feet and bring the total length to 7,015 feet. This was phase two of the runway extension that began in 2013 when Cherry Capital Airport added 400 feet.
Team Elmers, an excavating contractor in Traverse City, completed 162 days of work in just 24 days by running multiple paving and gravel crews. "It was 30,000-plus man-hours and more than 300 employees dedicated to the project," Klein says. "We also put brand new lights on the runway and installed new navigational equipment to help with the operation of the runway, which allows us to operate at full capacity."
Cherry Capital Airport had to shut down the main runway, 10/28, to complete the project in a short amount of time. "We worked closely with our airline partners to operate on the north-south 18/36 runway that's 5,378 feet during construction," Klein says. "They had to adjust their loads on their flights and the aircraft to operate on a shorter runway, but it worked excellently. Typically, airports will see a decrease in passengers because of the restrictions during construction, but we saw our passenger traffic grow by one percent."
Expanded Service
The runway extension allows Cherry Capital Airport's carriers – American Airlines, Delta and United Airlines – to operate without weight restrictions. The carriers can now operate at full capacity to the furthest markets it serves, which are Dallas and Denver. "On hot days we have a challenge with the density of the air," Klein explains. "The runway wasn't long enough before for them to fly out full and that was our main goal.
"Because the carriers had to take weight penalties, some of those flights were 14 passengers less on bigger aircrafts and four passengers on smaller planes," he continues. "That's significant revenue hits for the airline and we wanted to make sure we resolved that for them and also our passengers won't experience the inconvenience of being delayed."
United Airlines will now be able to add service with its Airbus A319 to seat more passengers per flight. Prior to Cherry Capital Airport's runway extension, the company had been using regional jets for its Chicago service. The expansion also allows for competition on the routes to the New York area. United Airlines services Newark, N.J., and American Airlines and United Airlines operate out of LaGuardia Airport to Cherry Capital Airport. "The runway expansion has a major impact when you look at capacity of the airport," Klein says.
The airport expects the longer runway will also allow for additional routes further East and West, as well as open it up to different types of carriers in addition to its legacy carriers. "We have become a good candidate for other service to our airport," Klein notes. "We meet with airlines almost quarterly to make sure they know about the new assets the airport has and what's coming to the runway and expanded services."
In February, Cherry Capital Airport was honored by the Michigan Association of Airport Executives with the "Michigan's Airport of the Year" award presented by MDOT officials. It also received top honors at the Pure Michigan Governor's Conference on Tourism. A six-year co-operative marketing campaign with the Gaylord Golf Mecca was honored by receiving one of to Governor's Awards for Innovative Tourism Collaboration.
The Governor's Awards for Innovative Tourism Collaboration were created by the Michigan Travel Commission in conjunction with the Governor's Office to elevate the status of Michigan's tourism industry and to promote innovative collaboration as an effective, efficient and creative operating principle for the industry.
Moving forward, Cherry Capital Airport expects to continue to see increased passenger traffic as the "Pure Michigan" airport. "People are finding out this is not just a great place to visit, but a great place to do business," Klein says. "We have new corporations that are coming in all the time and we are becoming more than a vacation or tourist destination. We plan to continue to build on that. Northern Michigan has a lot to offer and it's a great time to come and see us."