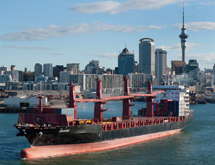 The China Navigation Co. (CNCo) is adding service to its already-robust Pacific Region routes with 34 new ships.
For Trade Manager Andrew Wong, who is responsible for organizing CNCo's southbound trade and overseeing shipping operations in North America, adding and improving service in key markets is a great achievement. "What we have seen is an increase in competition with a presence of increased charter operations," he says. "We are providing a faster, more reliable service than competitors and have had success working to improve schedules."
CNCo is a wholly owned deep-sea shipping arm of the Swire Group, a diversified London-based public corporation with 121,600 employees. Its core businesses are property, aviation, beverages, marine services, trading and industrial. CNCo itself was founded in 1872 to operate steamboats at Shanghai and along the Yangtze River.
Basic Commodities
By adding new routes to serve Oceania, Swire Shipping and CNCo is honing its skills as a leading shipper in these ports. Swire Shipping is adding more ships to increase its total capacity by 40 to 50 percent. It has operations in 130 ports and is proud of its load port to destination best-in-market travel time into Fiji and Brisbane from Los Angeles as it can make the trip faster than any others. A new best-in-market line from Los Angeles to Fiji has also been introduced. Focusing on the southbound leg its best-in-market time from LA to Fiji is 12 days and it ships from LA to Brisbane in 17 days.
"With our service into the key market of Brisbane, we are continuing to keep our key focus on customer relationships," says Wong, who has been with CNCo one year and works out of Vancouver. He previously worked as a shipping agent Montship Inc. in conjunction with Swire Canada.
CNCo has been focusing on improving its services and coverage, Wong says. There have been increased sales inquiries for shipping into Pacific islands. Some of the latest hot spots include the Marshall Islands and Majuro, the capital city and main port there, plus Kiribati, Vanuatu, Fiji, Papua New Guinea and others between Australia, New Zealand and North America.
"It's consignee-driven," he says. "It is about building personal relationships [at the port and] having a presence there among the smaller companies operating. People are choosing how freight is routed and that really affects operations. If they don't receive rice, people will be going hungry."
Basic commodities are the No. 1 element sent into these island nation's underserved markets. These include simple foodstuff and household goods for general grocery store purchases. Last year, CNCo, having held a minority shareholding of 13 percent in Polynesia Line Ltd. since 1979, purchased all the remaining shares in the line.
CNCo was an active and committed shareholder in PLL for 34 years and remains fully committed to ensuring that the line continues to serve the needs of its strong and loyal customer base in the South Pacific, the company says.
"We have tremendous confidence in PLL's position as the premier U.S. West Coast to the Pacific Islands shipping service which has been established over many years," says Tim Blackburn, Managing Director, CNCo.
The management of the service remained in San Francisco and Interocean Steamship Corp. continues to operate as the line's agent in the United States. There was no change to the existing agency representation in the key ports of the Pacific Islands.
Jens Jensen, President of PLL, confirmed that "The existing management and agency teams have CNCo's full support in continuing to provide the high level of service delivery that has come to be expected over the years."
Shipbuilding Program
CNCo has a longstanding interest in Micronesia and the American Samoa, a relatively small area, and has been obtaining new ships for the purpose of serving the greater Pacific Ocean region.
Current costs to obtain ships for new build programs is at near record lows, and Swire Shipping's enviable corporate size and reputation allows for the opportunity to obtain financing for expansion, Wong explains.
The 34 new ship orders to be delivered through 2016, in turn, will allow CNCo to begin deliveries of larger and heavier cargo. Previously, the routes were limited to 76-metric ton lifts. Now, CNCo is moving to a capacity of 110-metric ton lifts, which "is a big step for us," Wong says. The ship orders were placed with the Zhejiang Ouhua Shipbuilding Co. in the Zhejiang Province of China.
CNCo currently has eight multi-purpose and 20 bulk carriers on order that are under construction.
Its current fleet includes ownership of 20 ships with an additional 12 charters.
The new ships feature optimized hull designs. Fuel efficiency has been improved. It is also following a new corporate green passport system. This is an environmental management of a ship's inventory that ensures each item on board is accounted for with "everything going into the ship coming out" for environmentally sustainable and commercially successful operations, Wong says. "It's been a hot topic for a long time," Wong says. "We are becoming more and more [green] as more [companies] do so."
CNCo is publishing sustainability reports online and participating in industry-wide programs such as the Sustainable Shipping Initiative to highlights its dedication to environmental sustainability in shipping.