Christian Brothers Automotive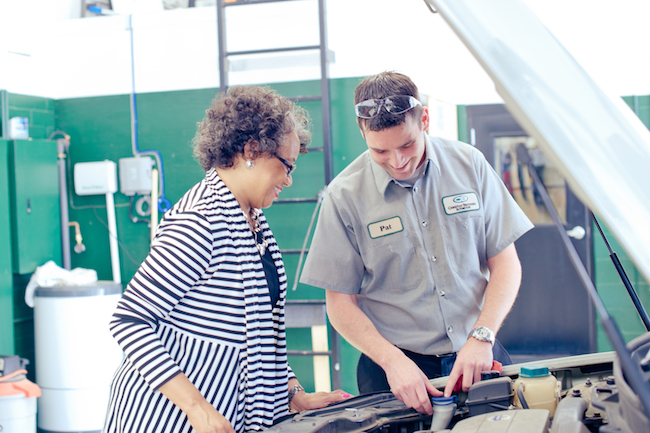 Following the Golden Rule has led Christian Brothers Automotive to 35 years of success.
By Jim Harris
Christian Brothers Automotive's technicians know that many of their customers are not seeing them under the best of circumstances. "A lot of people are upset or in bad moods because their car has broken down," says Jonathan Carr, vice president of marketing for the Houston-based automotive repair franchisor.
Other customers – or guests, as the company prefers to call them – may be leery of taking their car in for routine maintenance or a check-up because they fear they will be charged for repairs they don't need.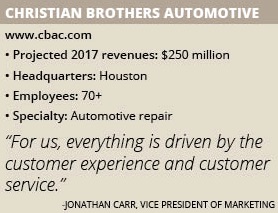 The company's staff members believe in putting themselves in their guests' shoes when it comes to the way they serve them. "We believe in the basic principle of 'loving thy neighbor as yourself,'" Carr says. "We want to serve them well, be honest with them and treat them the way they want to be treated. We try to live that principle out as much as we can in our work, whether it's with our customers, our franchisees or our home office employees."
Christian Brothers Automotive locations offer automotive services ranging from oil changes to engine replacements, the company says.
The Best Experience
Every aspect of Christian Brothers' operation is guest-driven. "For us, everything is driven by the customer experience and customer service," Carr says. "We look at how everything we do affects our customers, including our relationships with vendors and supplies, and even the way we design our store lobbies. Everything we do has to be aligned with our goal of providing the best possible customer experience."
Each store location offers a comfortable, quiet and peaceful atmosphere for guests. Guests are offered complimentary beverages and access to free Wi-Fi service in addition to free shuttle service in the event their repairs take longer than a day.
Christian Brothers' owners and technicians take a three-step approach to guest service. The first step involves talking to the customer to get more information about how they use the vehicle. Staff members also look over the car to determine its condition and the repairs that might be needed.
"We want to get to know the customer and their relationship to their vehicle – that sets the tone for everything else," Carr says. "We will make a different recommendation for someone who is retired and only puts six miles a week on the car to go back and forth to the grocery store than we would for someone who commutes long distances daily and takes their kids all over the place."
After getting to know the car and its owner, Christian Brothers Automotive's staff then enters the second step of its service approach. This involves making recommendations to guests based on their needs and going over their repair options.
Once this is done, the company enters the third phase: letting its guests decide the repairs they want performed. "We want to be fact-finders and educators," Carr says. "We want to put the guest in the best position to make the decision that is best for their vehicle."
Faith In Action
The company's approach to guest service is deeply rooted in the faith and personal beliefs of founder and CEO Mark Carr, Jonathan Carr's father. In 1981, Mark Carr had just moved to Houston from upstate New York and was working as a graphic arts salesman for a photographic mural company. He felt restless and wanted to go in a different direction.
One night, Carr prayed and asked God to help him find a business. The next day, while attending a Sunday school function, he met another attendee of the group – an automotive technician who asked him to help start an automotive business, the company says.
The two men opened the first Christian Brothers Automotive store in August 1982 in Mission Bend, Texas, a suburb of Houston. After helping several of his friends from church open their own automotive shops, Carr in 1996 opened a second location and began offering franchise opportunities.
Jonathan Carr joined the company as a franchisee in 2006 before becoming vice president of marketing. At the time he joined Christian Brothers Automotive, it had 30 stores; today, the company has 165 franchise locations in 26 states.
Partnering Up
The company strongly supports all of its franchisees. "We want them to be successful," Jonathan Carr says. "Our model is to split revenue from the net profits as opposed to taking a percentage off the top like most franchise models."
Splitting net instead of gross profits more closely aligns the company's revenue goals with those of the franchisee. The average unit volume for a Christian Brothers Automotive franchise in 2016 was roughly $1.4 million, according to the company. "We want what's best for them, and they want what's best for us," Carr adds.
The company is selective about its franchise partners. Each potential franchisee goes a series of interviews before qualifying. Potential franchisees typically have leadership or ownership experience and are "driven to succeed," Carr notes.
"We are looking for someone who is passionate about the customer experience," he says. "We offer a proven track record – we've never had a location close – so if someone wants to be successful as an entrepreneur, we have a good structure in place for them.
"If you want to own your own business, live out your faith and let that be part of your professional life, we would be an excellent fit for you," Carr adds.
Starting Up
Quality and consistency across its operations are high priorities for the company. "Our model is geared toward having one franchisee per franchise location," Carr says. "This keeps the owner on site, which works well us for quality control purposes."
Second locations are available to franchisees that demonstrate success at their first location, but those "are the exception, not the rule," he adds.
The company's start-up process includes assistance with site selection, recruiting, construction and establishing contracts with suppliers and equipment vendors. Franchisees are also offered assistance with securing Small Business Administration-sponsored loads.
Christian Brothers Automotive's training and store performance teams help franchisees. Formal training sessions are offered twice annually, while coaching is available on an ongoing basis.
The company also offers recruitment and hiring assistance. "We don't expect every franchisee to know what to look for during this hiring process, which is why we're ready to help," it notes. "When it comes time to hire your technician staff, we will send our own automotive expert to your location to help assess candidates.
"We've been doing this long enough to know that having a team of top-notch automotive professionals and technicians is key to our success," Christian Brothers Automotive adds. "We will always be ready to help franchisees navigate this recruitment process as they hire their team members."
Franchisees also receive marketing assistance through the company's national marketing fund, which can be used to pay for large campaigns.
Steady Growth
The company continues to grow at a pace of roughly 15 new franchises a year. Christian Brothers Automotive is on pace to exceed that average in 2017, as it anticipates opening 20 new locations before the end of the year.
"We want to keep this for as long as we're able to do it well," Carr says, noting the company does have a specific target number of franchise locations.
Current initiatives within the company include revamping its website to have clearer messaging to its guests. "We want to make it clear to them that when they come in, the repairs are up to them, we just help them to it," Carr says.
The company is also enhancing its home office staff. This includes bringing in a 10-plus year franchisee to lead its operation team. Two other long-tenured franchisees have also recently joined the central office staff.
Carr says he is proud of the positive internal culture of the company. "It's a lot of fun here, as well as being challenging," he says. "We've been growing a lot recently and there's something new happening every day, but everyone in our home office seems to enjoy it."
Driven to Give
Christian Brothers Automotive each year sponsors a service day event, which involves partnering with local churches to provide free oil changes to single mothers and widows. The company also participates in a number of other charity activities and community projects, Carr says.