City of Anaheim Fleet Services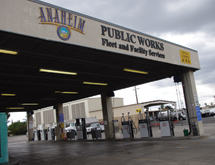 The city of Anaheim Public Works Fleet Services Division maintains and repairs 1,100 vehicles for the California city, including everything from fire engines to golf carts. Fleet Services is responsible for all rolling city equipment including police, fire and public works vehicles, as well as all of the city's standby emergency generators. It replaces $2.5 million in vehicles and equipment annually.
"Our biggest challenge is the aging workforce of our technicians," says Ron Lindsey, operations superintendent. "Our workforce is predominately older and nearing retirement age and we need to replace them with competent technicians for the future."
Many young people are avoiding careers in automotive repair creating a labor shortage. "It is not a glamorous profession," Lindsey says. "There is fairly good pay, but it can be physical work. The perception is you are a grease monkey changing oil. It is not like that these days. There is a lot more technology and critical thinking involved."
Lindsey says he seeks workers who "can think on their feet" and possess good diagnostic skills. They should be well-versed in modern technology and understand the principles of internal combustion engines. Modern mechanics are increasingly working on computerized systems, he explains.
Fleet Services operates in a 47,000-square-foot, 30-bay garage. In addition to the "routine" work of maintaining regular automobiles, it also works on highly specialized machines such as tractor-drawn aerial fire trucks.
"Fire equipment is incredibly complex," he says. "We have very complicated pieces of equipment which require a high level of intelligence and diagnostic skills to effectively work on those."
Finding qualified auto technicians is not difficult just for the city of Anaheim Fleet Services. It is an industry-wide problem. To "build the bench" with newer employees to replace retirees, Fleet Services is considering offering internships and mentoring with local trade schools and high schools.
'Full-Service Shop'
"We are pretty much a full-service shop," Lindsey says. "We do just about everything." This includes scheduled maintenance, brake jobs, suspension work, engine diagnostics for drivability problems and tires.
In the heavy shop, Fleet Services maintains fire apparatus, street sweepers, bulldozers, tractors, and other large equipment and trucks. This work is even more in-depth. "If a component fails, it can be very challenging to hunt down and fix. These pieces of equipment are very complex," Lindsey says. "Some of the newer vehicles have literally hundreds of computers, sensors and wires. It's gotten a lot more complex than it was even 15 or 20 years ago."
Green Technology
Fleet Services is adding some of the newest technologies to enhance its effectiveness while also implementing environmental solutions in the city with a 2012 population of 343,248. Because Southern California is known for its smog and ever-changing air quality emission regulations, Fleet Services has purchased 15 compressed natural gas (CNG) street sweepers, 30 natural gas sedans and 20 gas electric hybrids.
"Depending on the application, CNG works pretty well," Lindsey says. "The range is not as good as gas-powered vehicles but in our city setting that is not so much of an issue as it would be if we were traveling in a wider geographic area."
Though CNG-powered vehicles have been increasing in usage in the region, there are still "teething pains and reliability issues as this technology is maturing and still fairly new," he says. Fleet Services recently started an upgrade to its CNG filling station as it continues to add more CNG vehicles, aided in part by grants.
It is purchasing tablets for mechanics and upgrading its Windows-based system to a more usable web-based Fleet Management Information System. It is also adding barcode scanning in the inventory parts rooms.
A top challenge is providing the same level of service, keeping costs flat or lowering them as prices and labor costs increase. When it comes to procurement, Fleet Services conducts lifecycle cost analysis for purchasing decisions.
This considers vendor bids by analyzing warranties, resale values and fuel costs, among other factors, over the life of the vehicles. This analysis is quite different from those made by individual auto buyers who may choose a car based on its sleek appearance or maximum top speed.
Lifecycle cost analysis is not a straight low-bid process, either. "It depends on the vehicle; we are looking for the best value that meets operational needs and provides a good value for the city," Lindsey says.