City of Columbus Division of Fleet Management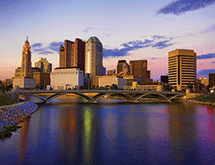 Going green is more than just buzz in the city of Columbus, Ohio. It is part of the Division of Fleet Management's overall mission – "to provide fleet management support services to city agencies to ensure efficient, safe, reliable and green vehicle operation and maintenance" – but the city's environmental focus also is backed up with action. This is why it has been recognized numerous times as one of the nation's top fleets.
"The Fleet Management Division provides state-of-the-art total fleet management service – cradle-to-grave responsibility – for all city vehicles and equipment, ensuring that the city's replacement standard drives budgets and replacement schedules for all vehicles," the division says. Its responsibilities include maintaining all motorized equipment for city departments, such as public safety and public service. Also, in addition to providing vehicle utilization and replacement information and management, the fleet management division participates in and helps coordinate the sale of surplus vehicles.
With environmental responsibility as one of its core areas of focus, Fleet Management continuously works with community partners and various city agencies to identify new green opportunities, promote technological developments and increase training opportunities for employees. The division is dedicated to maintaining vehicles safely and responsibly, while reducing energy costs.
"The division continues to earn recognition both nationally and regionally for its efficient management, quality staff, superior services and innovative green practices," it says. "The division was ranked by 100 Best Fleets in North America the second position for 2012 and 2013, and first place for the Government Green Fleet Award in 2011. Fleet also received the Clean Fuels Ohio Champions Award for 2011 for its innovative thinking and progressive practices toward greening the city's overall fleet."
Ongoing Green
Part of Columbus' green work is shown in its pioneering efforts in the safe, cost-effective use of compressed natural gas (CNG) in its fleet. This past spring, the city opened its second CNG fueling station on the north side of Columbus. This fueling site serves the city's fleet and is open to the public.
"I am very proud of all the work we have done to make our fleet the greenest in North America," Mayor Michael B. Coleman said at the site's dedication. "This new CNG station will continue our transition to a cleaner fuel for a sustainable future."
Columbus opened its first CNG station on the city's east side in April 2012. Since then, nearly 500,000 gallons of CNG have been pumped, at a savings of more than $600,000 compared to diesel fuel. About 40 percent of the fuel pumped has been sold for private vehicles, with 60 percent of the fuel used by city vehicles. The second station made Columbus the largest provider of CNG stations to the public in the Midwest.
By 2020, the city of Columbus plans to have 440 CNG vehicles in its fleet, which will save approximately $1.9 million per year in fuel costs. It will also reduce greenhouse gases by nearly 10,000 tons, which is equal to taking more than 2,000 cars off the road annually.