City of Columbus Division of Fleet Management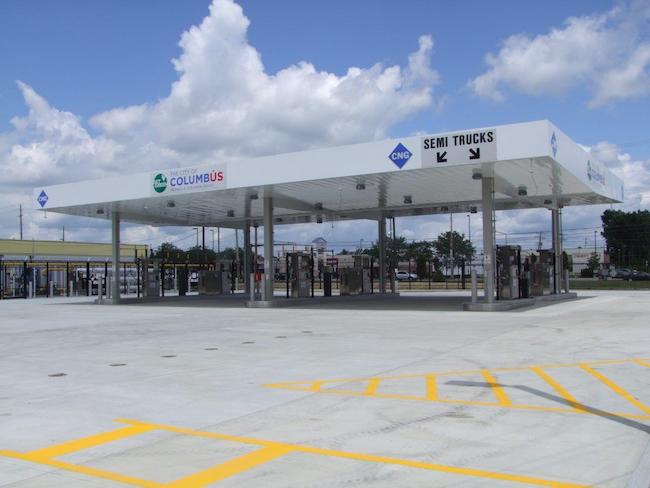 The City of Columbus' award-winning division of fleet consistently delivers top-notch fleet management services thanks to its focus on teamwork, innovation and technology.
By Bianca Herron
As fleet administrator for the City of Columbus, Ohio, Kelly Reagan oversees a fleet of more than 6,000 units with a budget of $40 million. The City of Columbus Division of Fleet Management's overall aim is to provide support services to city agencies to ensure safe, reliable, efficient and green vehicle operations and maintenance.
"We have 6,135 pieces of equipment – 3,000 on-road and 3,135 off-road – and [drove] more than 25 million miles in 2016," Reagan says proudly. "We process over 22,000 work orders per year for our customers, who are comprised of city departments and divisions. They expect quality repairs and timely service done right the first time, as well as having a voice in fleet decisions, such as vehicle purchases and repairs. Our team strives to include all end-users in our annual vehicle replacement process to ensure that both fleet and the customer are in agreement about fleet plans."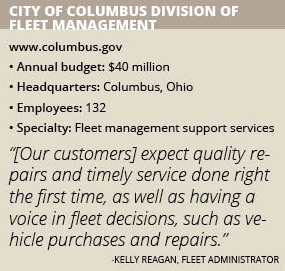 Reagan has served in his current role since 2007 and has worked in the fleet industry for more than 30 years. With his expertise and under his leadership, the City of Columbus Division of Fleet has won several awards over the years, including Heavy Duty Trucking's Top 50 Green Fleets from 2013-2016; and the "Clean Fuels Champion" statewide award by Clean Fuels Ohio in 2008 and 2011.
Most recently, the City of Columbus was named the No. 1 Fleet among the 2016 Leading Fleets and Government Fleet named Reagan himself the 2016 Public Sector Fleet Manager of the Year. Reagan was also inducted into the Public Fleet Managers Hall of Fame in 2015 by Government Fleet Magazine.
"Our fleet management division obtained Automotive Service Excellence [ASE] Blue Seal for the ninth year in a row in 2016, again making Columbus the largest city in the nation to receive ASE Blue Seal certification," Reagan says. "In addition, we were awarded the No. 1 Greenest Fleet in North America by Government Fleet in 2011 and are now considered an "elite" fleet."
Reagan says the numerous awards can be attributed not only to the fleet division's hard work and dedication, but also to the support of its administration, elected officials and mayor's office.
"It also speaks to our director of finance, whom fleet reports to, who is very supportive of our initiatives and responsive to our needs," Reagan says. "The result is that the division of fleet has become a policy-driven agency. We're much more centralized than other public sector fleets. We are truly Fleet Management, with the authority granted to us by our mayor's executive order 2013-01, which gives us broad reaching responsibility over all fleet from the point of acquisition to the point of disposition."
Max Effort
The City of Columbus Division of Fleet Management is a national frontrunner in the fleet industry that strives to lead by example. This is what sets it apart from its peers, Reagan says. "We are a leader in compressed natural gas (CNG) and are a model for other cities," he says. "Currently, we have two CNG stations in operation with another two being planned. Internal customers pay $1.70/gge while public vehicles using the station pay $1.99/gge. The use of CNG has saved the city almost $850,000 in fuel costs over diesel since 2013.
"Columbus has also assisted several other entities and communities in developing a CNG program, such as Tucson, Ariz.; Hamilton, Ohio; Ohio State University and the Solid Waste Authority of Central Ohio," Reagan adds. "When we embark on projects affecting the community, such as building a CNG fueling station, we gather community input first."
In addition, the fleet division also saves Columbus money with an anti-idle program for police vehicles. Implemented in 2014, the program has since been expanded from 94 to more than 250 police cruisers. The savings exceed $250,000 in direct fuel costs and operation.
"When Ford eliminated the Crown Victoria and police began advocating for SUVs, fleet responded with a compromise," Reagan explains. "Fleet has been a strong opponent to SUVs due to their lack of fuel efficiency. However, with a lack of suitable replacements for the Crown Vic, the Ford Interceptor became our best option – with a condition.
"Fleet worked with police to find a solution in the form of an anti-idling device known as GRIP," he continues. "The system automatically turns off the engine once idling exceeds a certain amount of time, but does not affect auxiliary equipment such as radios or computers. Working together, this became a perfect solution. Our life-to-date idle reduction has been over 30 percent, or 129,215 hours on all cruisers and we've reduced over 56,000 gallons of fuel."
Innovative Tech
Last year Columbus won the U.S. Department of Transportation's Smart City Challenge, earning up to $40 million from the DOT and another $10 million from Vulcan Inc. to implement a plan to reshape its transportation system. Initiatives include electrification of the city's fleet, developing electric vehicle charging infrastructure, smart lighting and traffic signals, self-driving technology and numerous other plans to modernize all things transportation related.
"Fleet management's portion of the initiative includes the addition of 200 electric vehicles to our fleet, along with implementing the necessary charging infrastructure," Reagan says. "The vehicles must be deployed within three years, according to the grant requirements. Fleet has been working with our customers along with reviewing GPS data to help determine where electric vehicles will work best in our fleet. A preliminary list of vehicles has been developed and an outside consulting firm is analyzing fleet data. Charging infrastructure is expected to begin installment during the third quarter of 2017."
Best in the Industry
As an award-winning division that is well known in the industry for its best practices, Reagan acknowledges that success can only be accomplished through a solid relationship between labor and management and a dedicated workforce.
"Our employees are the best in the industry," he concludes. "A good work culture creates a positive working relationship between labor and management and all of the employees in fleet. While there are great expectations, people want to be part of a winning team and the folks who work in fleet enjoy working here and enjoy the recognition that comes with working for an award winning organization. And that's what we are, a winning organization."