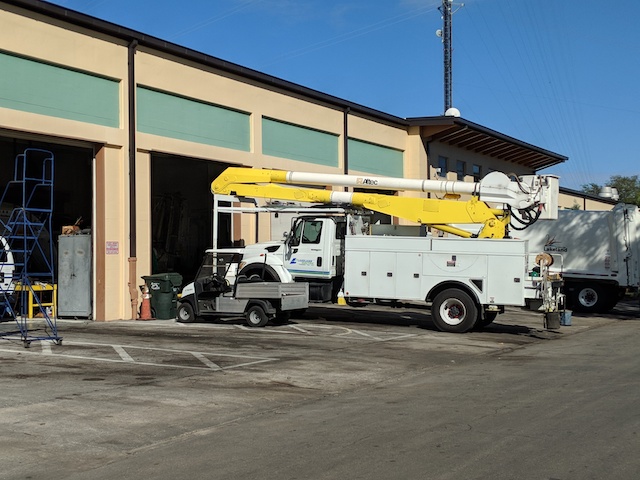 Lakeland, Fla.'s fleet management division stays current with technology and facility upgrades.
By Alan Dorich
With its location between the bustling cities of Tampa and Orlando, the city of Lakeland, Fla., cannot afford to fall out of step with the rest of the state. Instead, Fleet Manager Gary McLean says, it is committed to improving all of the time.
"It's an environment that naturally fosters growth," he says, noting that this attitude is shared by its fleet management division, which manages the acquisition, maintenance, fueling and disposal of Lakeland's vehicle and equipment fleet. "We're soup-to-nuts full service."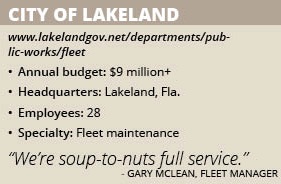 The division oversees a diverse range of vehicles, including light and medium automobiles, heavy trucks, construction and industrial equipment, and utility and waste servicing vehicles. "[We have] everything except air vehicles," McLean says.
A Natural Fit
McLean joined the fleet management division nine years ago. He had previously followed a similar career path in the U.S. Air Force where he started as a heavy truck mechanic.
"I came up through the tiers before I went up to the head management," he recalls. "It's a natural fit for me to do local government."
His initiatives for the division include keeping pace with technology. "We have to consciously budget, seek out training and go out and buy diagnostic equipment to make sure our folks don't become obsolete," he says.
Because diagnostic systems can clash if they are on the same computer, "We have a laptop for every make we have," he says. His division is responsible for installing upgrades. "Every time I turn around, we're buying something else."
Big Projects
The fleet management division's current projects include an overhaul of Lakeland's fuel station. "The tanks are at the end of their service life," McLean says. "We've got to dig them up, remediate the area and put in aboveground tanks.
"That's our big project right now," he says, noting that the division also is converting to a work order management system from AssetWorks LLC. "The old software we were using is more of a public works database," he says, adding that the new software will enable the division to better manage billing and labor productivity.
AssetWorks' software also will help the division with data collection and analysis, and integrate seamlessly with its NAPA Auto Parts store. "We can look into their warehouse," McLean adds. "It eliminates a whole lot of work."
But the software also will improve the division's accuracy. "The data we were dealing with before wasn't clean data," he admits. "We're moving forward in a light year fashion with AssetWorks."
The fleet management division also is upgrading its facility to meet ADA standards. "This building was designed and built in pieces for the last 50 years," he says, noting that it will add accessible restrooms and parking spaces.
It could also eventually add a $400,000 elevator that gives access to its second floor. "There's going to come a time [where] we need to accommodate someone with a handicap," McLean says.
A Talented Team
McLean is proud of the fleet management team, including how it handled operations after Hurricane Irma hit last year. "We were completely prepared and we never missed a beat," he recalls.
"We never had a fuel problem, had a maintenance problem [or] had to rescue a vehicle," McLean says. "We saw through it fabulously.
"I was extremely proud of this division and what it did for the city," he says, adding that the division also sent workers to Puerto Rico to help after the hurricane.
McLean's key associates include former Bucket Truck Technician Kenny Jordan, who recently retired after more than 25 years of service. "He was the one who was always deployed with the electric line crew during hurricanes," McLean recalls.
He adds that newly promoted members of his team include Senior Technicians Rick Combs, Chris DeMott, Anthony Majkiewicz and Mark Quaintance. Shop Foremen Jason Cain and Herman Collins also have been with the division for well over 10 years apiece.
McLean sees a strong future for his division, which may include the use of alternative fuels. However, "As long as gas prices are like this, it's going to be tough in Florida," he says, adding that there are no government mandates to use the fuels.
"It needs to be something we can bring to the table as something that enhances the mission," he says. "It's going to take the private sector to make that happen."
SIDEBAR – Loyal Talent
The city of Lakeland, Fla., takes care of its associates, which has nurtured a high retention rate in the fleet management division. "We have people that have stayed here 35 years before they retire," Fleet Manager Gary McLean says. "We attract good talent."
In addition to good compensation, the city provides employees with a robust tool allowance to make sure their safety needs are met. "We also spend a lot of money on ergonomics and shop equipment," he adds. "It's as good as any operation I've seen."