City of Seattle – Fleet Management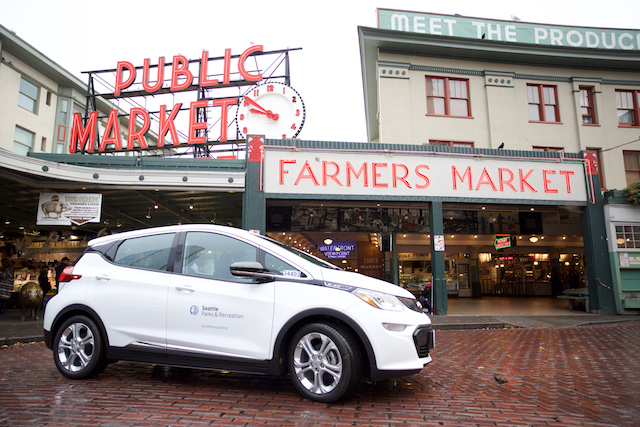 The City of Seattle is executing on its plans to improve public health by reducing emissions in its fleet, demonstrating its ongoing leadership in environmental efforts.
By Staci Davidson, Senior Editor at Knighthouse Publishing
When Philip Saunders was working as Washington's state vehicle contract manager, he helped Washington become the first state to get the Chevy Bolt as part of its effort to double its electric fleet. He ordered 101 Bolts – showing their initial price tag (higher than that of gasoline-powered models) actually saved taxpayers money over the Bolt's lifetime, as well as improving emissions, leading to cleaner air. Saunders was proud to beat the always-progressive California in this effort, and now he is adding to his sustainable accomplishments by greening the fleet of the City of Seattle.
The City of Seattle takes pride in being a leader in green fleet management, and continues to research and implement green fleet initiatives to reduce the city's fuel consumption and greenhouse gas (GHG) emissions, while also expanding its use of greener equipment technologies. As the city's Green Fleet Program Manager, Saunders supports Seattle's environmental reputation by working on meeting the requirements of Mayor Jenny A. Durkan's executive order 2018.02, which called for a green fleet action plan.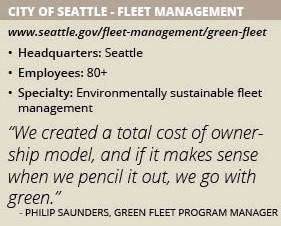 "Our top goals are to reduce emissions by 50 percent by 2025 for the Seattle fleet and be fossil fuel free by 2030," he says. Meeting these goals has required three major undertakings: rapid fleet electrification, reduction in fossil fuel use and using fossil-free fuels as much as possible.
"We have a selection hierarchy as we purchase vehicles," Saunders explains. "The fleet has more than 4,100 vehicles, and when we have to buy a new vehicle, we look at battery electric vehicles first. If we can't find one of those that works for us, we look at plug-in hybrid electric vehicles. If one of those won't work, we look at hybrid vehicles. Last resort is internal combustion vehicles. For larger vehicles, like Class 6 or 8, we're also looking into alternative fuels and have equipment to help with that, for vehicles that run off of battery power and auxiliary power."
Meeting Goals
Seattle's fleet is ahead of the game in terms of electrification. Out of the 500 sedans the city uses, 169 of them are electric vehicles and 127 of them are plug-in hybrid electric, Saunders says. This means the fleet is about 34 percent electric and it continues to grow that number, while the city-wide goal is 30 percent. On GHG reduction, he explains the fleet has to reduce GHG emissions every year by 8 percent to reach its goal in 2025.
"We are using B20 throughout our fleet and we currently have a bid out to start doing renewable diesel," Saunders says. "We used an R80 blend for six months to test it, and we will be slowly transforming our fleet to renewable diesel for those vehicles that will use it. Importantly, there will be no palm oils or any of its derivatives in our renewable diesel. We also have more than 300 charging stations for our fleet in parking garages – those are level two charging stations, and we will continue to add more.
"There's also been a decrease in vehicle miles traveled," he continues. "In the mayor's executive order 2018-05, we were tasked to reduce the fleet by 10 percent, and that will take place by Dec. 31, 2020. Hopefully, we will be getting rid of some of the older, internal combustion engine vehicles, but we're still going through a review on that."
He explains Seattle's Vehicle Use Committee – comprised of the city budget director, the director of finance and administrative services and a representative from the mayor's office – reviews every department's vehicle reduction plan. "The VUC holds everyone accountable to what they need to reduce," Saunders says. "They make sure we are doing it the right way and have the power to make decisions or say 'go back, get us that 10 percent.'"
The public is focused on health, and that is driving a lot of these decisions, Saunders says. Even so, the green technology is still expensive, and will continue to be so until it's more mainstream. That keeps the city mindful of what it's doing. "It is an expensive undertaking, but we can verify what we're doing," he says. "We created a total cost of ownership model, and if it makes sense when we pencil it out, we go with green. If not, we weigh other options, but we always stick with meeting our goals."
City workers, he notes, are leading this effort by riding bikes to work and using public transit more often. That level of buy in creates confidence in the public. "The leadership support is great – they are living by these goals," Saunders says. "We ride bikes to work or walk to work, just like I do, and everyone is reducing their carbon footprint. We also recycle heavily – it's a culture here and they are all leading by example."