City of Tyler Fleet Operations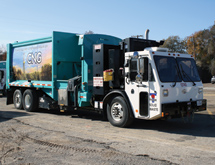 Every city needs a fleet of finely tuned vehicles and equipment to keep its operations moving. The city of Tyler, Texas, keeps order through its Fleet Operations department, which not only maintains and services its fleet regularly, but also provides residential and commercial waste services.
"We answer the call to serve said," Director of Solid Waste and Vehicles Services Russ Jackson declares. A 27-year veteran of the city, he notes that the city's history goes back to the 1800s.
Today, the Fleet Services department maintains 600 pieces of equipment and serves a population of more than 100,000 people in Tyler. One of the keys to doing that, Jackson says, is making sure that its staff keeps providing quality service.
"We just hold people accountable," he says. "That's evident in how they're treated. The end goals are to follow policy and procedures, and do the right thing."
Going Natural
The City of Tyler recently became the first city in East Texas to enter the compressed natural gas (CNG) arena, Jackson says. With a CNG equipment lease from CNG Partners, of about $4,200 per month, it opened a private CNG fueling station that fuels a portion of the city's vehicles.
"We've been doing it as a pilot program," Jackson says. "It'll eventually be used in most of our vehicles as we grow our infrastructure for the capacity of fuels."
The CNG fuel's benefits include reduction of vehicle emissions, Vehicle Services Manager Leroy Sparrow says. "Each refuse truck running on CNG reduces approximately 500 pounds of NOx [nitrogen oxide]," he says. "It's reduced our annual output by at least 4,000 pounds of NOx."
Creating Awareness
The City of Tyler also has partnered with DriveCam Inc., a global driver risk management company based in San Diego, to monitor fleet operations and determine who are its safest drivers so they can be recognized with awards.
Jackson explains that the Fleet Operations department sought the partnership after reaching approximately $40,000 in incident casualty claims. But after implementing the Fleet Tracking system, "We dropped down to less than $14,000," he says. "It helps our drivers become more aware."
Every six months, the Fleet Operations department gives incentive awards to the drivers who have not had any incidents. "What we pay for in incentives is a far cry from what we would have given out in claims," Jackson says.
Getting Lean
The Fleet Operations' department utilizes lean Six Sigma practices to eliminate waste, Sparrow says. Through the process, "We evaluate what we are doing, and learn how to operate lean and efficiently," he says.
Over the last three years, Lean Six Sigma has helped Fleet Operations save nearly $1 million in funds. This year, "the department is at $147,000 in savings," Sparrow reports.
The department applied lean Six Sigma to the inventory in its parts room. "I started looking at parts consignment, Fastenal Parts Vending, and Just In Time inventory and chose to stop stocking them," Sparrow recalls. "That was about $700,000 in savings."
The department also uses 5S practices, which include the installation of a tool wall with outlines where specific tools are placed. This may provide a soft saving, but it is worth it, Jackson asserts. "My mechanic doesn't have to spend 30 minutes looking for something."