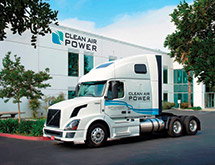 After four decades, Clean Air Power leads with its expertise. "We are comprised of truck engine professionals," Business Development Director Kevin Campbell declares. "We've got a long list of OEM experience within our team."
Poway, Calif.-based Clean Air Power designs, develops and sells its Dual-Fuel and MicroPilot engine systems, which allow compression-ignited engines to run on natural gas mixed with small amounts of diesel. Founder N. John Beck started the company in 1975 as BKM Inc.
"It offered Skunk Works-type engineering work on fuel systems," Campbell explains, noting that the firm later added a marketing arm called Clean Air Partners. In 2001, the two firms merged as Clean Air Power.
Leading the Way
Today, Clean Air Power is a leader in the on-highway, natural gas truck engine business, Campbell says. "We're also a leading supplier of natural gas engine components," he states, noting that the company manufactures its own natural gas filters and injectors among other specialized pieces.
Clean Air Power has supplied clients such as Volvo, Daimler, John Deere and Mack Trucks. The company has supplied its patented Dual-Fuel systems for Volvo's D13 engine, which was previously available in Europe. The company is now launching a version in North America, and is also available in Russia and Australia, among other international locations.
"The challenges in every one of these markets is significantly different," Campbell admits. "[They range] from product support to fuel pricing to even some of the mechanical components required for local conditions. They each present unique challenges."
Clean Air Power also has the first Dual-Fuel engine that is fully EPA and CARB-certified to the latest 2010 standards. Not only does it have low CO2 emissions, "But just being certified and available to the market is significant," he states.
Economic and Environmental
A longtime veteran of the industry, Campbell began working with Clean Air Power in 1994 when the company had a partnership with Power Systems Associates, a Caterpillar dealer in Los Angeles. "From '94 to 2001, I was their lead sales guy, but was an employee of the dealer/partner," he recalls.
When the partnership was bought out through private equity, Campbell joined Clean Air Power. Today, he takes pride in the company's products.
"We have the most friendly natural gas engine for heavy-duty fleets in the world," he says, noting that its products are used by UPS, which is a Mack customer. "UPS has a long history of investing money, time and energy putting natural gas truck engines into service targeting both the economic and environmental benefits," he says. "They've been a great supporter of our products."
A Great Blend
Campbell takes pride in Clean Air Power's workplace. With locations in the United States and the United Kingdom, "We have a great blend of American and British employees and some other international colleagues as well," he explains. "We have a wonderful blend of cultures, and it's quite a bit of fun being able to interact daily with our international employees."
He predicts Clean Air Power will pursue more OEM relationships. "The future of the company is the natural gas, heavy duty truck business, and our OEM relationships continue to grow," he says.