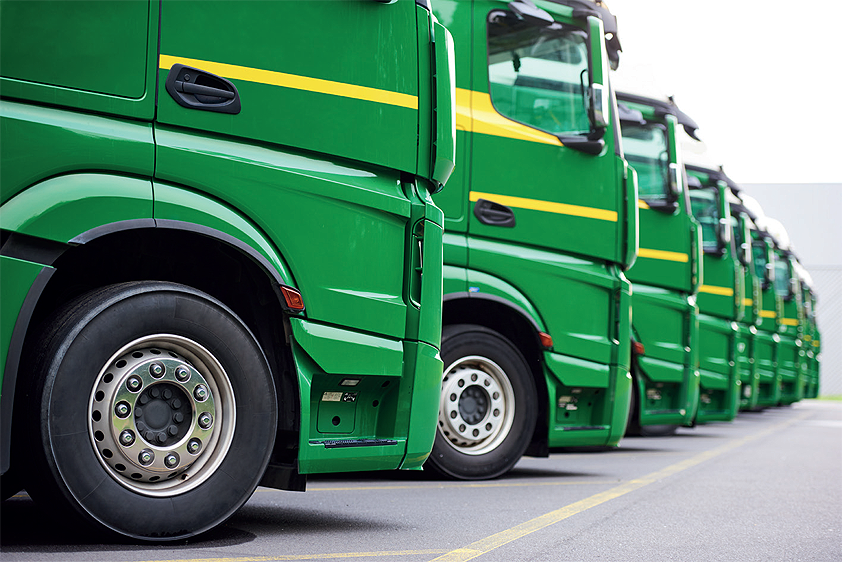 The threat posed by the climate change emergency is now beyond dispute, but there are emerging green technologies that – if we act to make use of them now – can empower us to make a significant change to the quality of air we all breathe. The Government's green recovery plan, unveiled at the end of 2020, says sales of new fossil-fuel-only vehicles will stop by 2030.
This will create opportunities for alternative fuels. Electric vehicles are growing in popularity, but natural gas from renewable sources is also making a strong case to help replace petroleum-based power and this is only going to accelerate as we move forward.
Biomethane, or renewable natural gas (RNG), is a potential game-changer as methane produced by an anaerobic digestion (AD) plant fed with waste from the food sector can be refined and injected into the gas grid or used to fuel a fleet of vehicles.
It's different from fossil fuels because it's produced from sources that will never run out as long as there is life on the planet Unlike fossil fuels where deposits are distributed unevenly, in hard-to-reach areas, making extraction dangerous and expensive, biomethane can be produced anywhere in the world using organic matter that is easily available. It also doesn't harm the environment or pose any major risk of pollution or loss of biodiversity.
A policy paper published by the Gas for Climate consortium suggests that eight per cent of gas consumed in the EU by 2030 should be biomethane.
As early adopters of the latest technologies and methods, we recognize that natural gas is the future. In fact, it led us to embark on the exploration into innovative possibilities available through the use of compressed natural gas (CNG).
Clean transportation is one part of the solution when it comes to a more sustainable future, as the transport sector accounts for a third of global energy demand and 14 per cent of global greenhouse gas emissions.
We believe that all company fleets could deliver impact from use of biogas. HGVs account for 4.2 per cent of UK carbon emissions, so decarbonizing the industry is essential to meet the UK's goal of achieving Net Zero by 2050. Some major retailers in the UK, such as Asda and John Lewis are already on board with biomethane vehicle fueling.
From inception, our efforts have required research into the best available technology, fuel comparisons, vehicle expenditure and evaluation of vehicle longevity as a result of low carbon emitting fuels, providing us with a strong rationale to utilize biomethane gas in HGVs – increasing vehicle longevity by more than four years and reducing carbon emissions by 84 per cent in comparison to diesel engines.
Our biomethane filling station is capable of fueling 200 vehicles per day. It guarantees no losses in transmissions of gas from conversion to filling. The trucks rely on biomethane gas and generate 84 per cent less carbon dioxide than diesel as a result.
We designed a robust fleet replacement policy over an 18-month period, and committed to achieving a target of seven CNG vehicle replacements to replace in four years, enabling us to replace all of our diesel vehicles by 2025.
In 2018, Warrens Group was the first in the UK to deliver a 16-tonne IVECO Eurocargo Natural Power truck, powered by the bio-gas produced from the truck's own food waste collections. Back then this was taking the food waste recycling industry in a new direction, demonstrating how this alternative fuel could be used and applied across the supply chain.
The two IVECO vehicles we have are small in stature but powerful in performance; their trucks have one of the best turning circles for its size and specification, making them nimble in tight city streets. Perfect for our existing client base as we collect food waste from pubs, restaurants and supermarkets across the North East of England, most of which are positioned within inner cities.
The acquisition of trucks powered by biomethane gas not only delivers on our sustainable vision for dramatically reduced CO2 emissions, but our drivers love them. They have been proven to reduce driver fatigue by 50 per cent, due to providing a quieter and cleaner driver experience. We've now ordered a third IVECO vehicle which will hopefully be ready in June 2021 to replace one of our existing diesel vehicles.
We've also ordered a new Scania G410 CNG hook-loader, an eight-wheeler which collects bulk skip collections from our larger blue-chip manufacturing companies. With the number of miles this kind of vehicle does on a daily basis, it's going to be a huge environmental saving as well as a commercial one.
What has delayed us until recently is the fact that there hasn't been an articulated vehicle that has been suitable from a payload point of view for our operations. However, we believe that Scania and IVECO are bringing out models this year and we are going to look into that.
Whilst our vehicles also cost approximately 25 per cent more in capital expenditure, our operating expenses are approximately 32 per cent less, giving a payback between one to three years dependent on vehicle mileage.
Since the initiative was put in place, we have demonstrated YoY growth in waste processed and energy produced and have successfully been able to expand our CNG fleet with extension into our digestate haulers, alongside existing food-waste collection vehicles.
A tangible, cost-saving benefit which our customers and wider society, in particular local authorities, can reap rewards from. Since increasing the accessibility of our CNG truck innovation and on-site filling station, we have also seen the rise in large blue-chip food manufacturing companies focusing their efforts on trial partnerships as part of their ambitions for circularity and sustainability.
Shaun Dixon is ABP Accounts Manager at Warrens Group. As a wholly-owned subsidiary of BioCapital LTD, Warrens Group is one of the North East's pioneers of food waste recycling. The team has helped local authorities, schools and businesses from a wide range of sectors over the years develop a more sustainable approach to waste management. It was also one of the first food waste recycling companies in the UK to power its HGV waste collection vehicles with biogas converted directly from its own food waste customers.
https://warrens-group.com/