Clinton's Ditch Cooperative Co. Inc.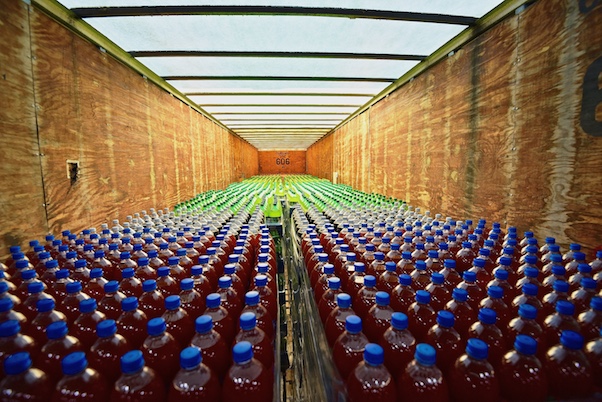 Clinton's Ditch Cooperative transports beverages reliably in the Northeast in all types of weather while reducing its costs.
By Russ Gager
The U.S. Postal Service has a reputation for delivering mail in any kind of weather, and Clinton's Ditch Cooperative Co. Inc. does the same for beverages. Named after the slang term for the Erie Barge Canal, which was completed in 1817, the cooperative bottles and cans PepsiCo Inc. beverages and transports them on shrink-wrapped pallets to wholesalers in Pennsylvania, New Jersey, New York, Vermont, New Hampshire and western Massachusetts.
"We're about 10 miles south of the famous New York snow belt – where they measure snow in feet – and we go through there six or seven times a day with trucks all the time," Transportation Manager Steve Erwin notes. The cooperative's 39 tractors run 24 hours, six days a week, delivering most of the 25-million-plus cases produced at the Cicero, N.Y., plant annually, and the backhauls are full.
"Basically, every truck we send out here comes back loaded, and that's what keeps our operational costs down," Erwin points out. Some of the backhauls are of products produced at other PepsiCo bottling plants, such as sports drinks or flavors of soda that are not sold in large enough quantities to justify production at each bottling plant. The cooperative's 155 trailers bring back raw materials for production, including aluminum cans for filling and corrugated and printed cardboard for boxes.
The 48-foot dry vans also haul back wood pellets that are used for heating from producers who are located close to the wholesalers to which the cooperative delivers its beverages. "The soda business tends to be seasonal, and obviously during the busy summer months we require a lot of drivers," Erwin explains. "During the off-season, we don't like to lay people off because drivers are a rare commodity. So what we do is we supplement the soda business with hauling wood pellets, and the two businesses almost mirror each other. Soda is busy all summer and lightens up in the winter, and pellets lighten up in the summer."
Double Your Hauling
Clinton's Ditch Cooperative Co. has a geographic advantage when hauling two 48-foot dry vans because New York allows those "doubles" only on the New York State Thruway, and the cooperative is only five miles away from it. Doubles essentially allow one driver to deliver two loads to separate locations. "The bulk of our business is hauling 48-foot doubles," Erwin says. They only can be transported east or west of the cooperative's headquarters in Cicero because those are the only directions in which the thruway was built.
In 2015, the cooperative's tractors traveled 3.5 million miles safely. The average round trip is from 520 to 550 miles daily, so most of its drivers return home every day or night, depending on which shift they work. This also keeps the cooperative from needing sleeper tractors in its fleet.
To pull the double-trailers, drivers must be certified by the New York State Thruway Authority and have driven for five years without any accidents or traffic tickets. "That shrinks our pool of drivers," Erwin concedes. "We can't take somebody out of a driving school." Nevertheless, the cooperative has a waiting list of drivers seeking employment. It also has low turnover of its drivers, who usually only leave because of retirement or health issues, Erwin says.
"Our No. 1 driver has over 35 years of safe driving," Erwin points out. One other employee has been driving safely for the cooperative for 30 years. "We try to treat our employees like partners," Erwin emphasizes. "We can preach safety all we want, but that driver has to be an ambassador for safety on the road."
In 2015, Clinton's Ditch Cooperative received a first-place award for safety in New York state for medium-size fleets from the New York State Motor Truck Association. The cooperative also has received a second-place award for its safety in the United States from the National Private Truck Council.
One of the cooperative's drivers has traveled 3 million miles safely, four drivers have achieved 2 million miles of safe driving and 11 drivers have a million miles of safe driving. Erwin and the cooperative's transportation supervisor, Jim Helinger, provide safety training and meetings for the cooperative.
"When we hire a driver, we educate him on a lot of things other than driving," Erwin stresses. "A lot has to do with personal and communication skills. We stress professionalism with our drivers at all times."
In-house Maintenance
Drivers are assigned to specific tractors so they can monitor their operation regularly except for a few that are slip-seated. Maintenance including engine overhauls is performed at the cooperative's in-house shop.
The cooperative's tractors last an average of 15 years and trailers 20 years. "We've got 16 of our tractors with well over a million miles on them," Erwin estimates. "We average about 120,000 miles a year per tractor. We have a pretty aggressive preventive maintenance schedule, so we know the lifecycle of certain equipment. We know when we have to replace frame structures and things like that.
"The Northeast is brutal on equipment for corrosion," he stresses. "The stuff they use on the highways up here in the winters is brutal on equipment." Trucks usually are bought new. "Trailers we sometimes buy new, sometimes used – it depends on the budget for each year and what's available," Erwin says.
The tractors are outfitted with electronic logs, which include GPS to indicate a tractor's location, speed and direction of travel. "The electronic log allows us to send a driver a message, and he can answer that message but he has to be parked in order to do that," Erwin notes. The trailers sport EkoSystem aerodynamic systems, which include covering the entire bottom of the trailer to eliminate wind drag as well as corrosion. They also use Michelin wide-base tires, and the cooperative has a no-idling policy.
Erwin has examined using compressed natural gas (CNG) as a fuel, but the distances the tractors travel would require an extra natural gas tank, which would add weight to the vehicle and reduce fuel efficiency. "Right now, CNG doesn't work out for us, but as technology starts advancing, we're always keeping an eye on it," Erwin insists.
He attributes the company's success to his employees and the customer satisfaction they deliver. "We need to save money to justify having our own fleet, which we do," Erwin declares. "The company is saving money, but the added benefit is that we have much better control over delivery and pickups when it's your truck driver. When you're using common carriers, you lose control – you're at the mercy of the common carrier's delivery. We achieve better customer satisfaction with our own fleet.
"I'm most proud of our safety record and the job our guys do in those winter conditions," Erwin concludes. "Not only their driving, but their work ethic. We've got a really good group of guys."
www.clintonsditch.com
Headquarters: Cicero, N.Y.
Employees: 180
Specialty: Beverage transportation