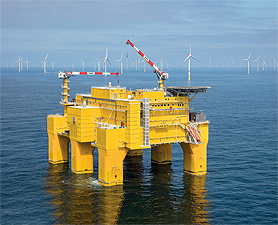 Co-operation for greener energy
The company TenneT TSO GmbH commissioned Aibel AS to build the offshore platform DolWin epsilon on which the Liebherr crane will be used for supply and maintenance tasks on the German North Sea.
RL 2600-35 Lit is a weight-optimised and compact designed offshore crane. It is the ideal equipment for small platforms, where space is limited. The RL 2600-35 Lit has a box boom with a maximum working outreach of 52 metres and a maximum lifting capacity of 35 tons.
"With the RL 2600-35 Lit we are delivering the latest innovation within our offshore crane portfolio. The crane is ready to be equipped with innovative maintenance features to meet the demanding requirements of normally unmanned offshore platforms and with its reliable and maintenance friendly design the RL 2600-35 Lit will help to lead the DolWin5 project to success," says Matti Basan, Sales Manager Offshore Cranes.