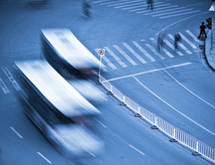 Coach USA is making bus travel more attractive, comfortable and user-friendly with online travel booking and modern buses that offer a variety of amenities such as reclining seats, bathrooms and free Wi-Fi. The bus company has been growing steadily since 2000 through acquisitions of reputable companies and now services 44 states and two provinces in Canada. It offers a variety of services, ranging from school buses to commuter business travel to sightseeing tours in New York and Chicago. It moves an estimated 8 million people annually.
It was the introduction of a new type of bus in 2006 that turned what had been an industry in decline since the 1970s into a winning proposition. David Moser, president of Coach USA and a 35-year veteran of the transportation industry, credits the introduction of megabus services as the game-changer for intercity bus traveling.
"Megabus reinvented bus traveling, providing new double-decker buses with free Wi-Fi, comfortable seating, large passenger capacity and a variety of safety features," Moser explains. The large buses, purchased in Europe, accommodate 81 passengers.
In addition to providing comfort for its travelers, safety is another company priority. Coach USA says its safety standards exceed federal requirements, and it is the only intercity bus company with seatbelts in 600 of its vehicles. "We make sure our drivers are professional, highly trained drivers and we go as far as putting two drivers on buses traveling between 12 midnight and five in the morning to serve as a backup for each other, which is not mandatory," Moser says.
Coach USA monitors its buses from its headquarters in New Jersey in a fashion similar to an air traffic control tower. The company's vehicles are monitored 24 hours a day, seven days a week, to ensure safety and proper flow of vehicles in the network. "We monitor the speed of the buses, the tire pressure, and we can even see in real time if a bus is off the road and address the issues as they happen," Moser notes.
Additional features that make Megabus a growing transportation option for many travelers are the ease of use of its services and the low prices. Ticket purchasing is done online at Megabus.com and, instead of going to a bus terminal, passengers are picked up and dropped off curbside at convenient locations. In Chicago, for example, the buses pick up and drop off passengers by Union Station, just a few blocks away from Michigan Avenue, the Art Institute or Millennium Park.
As a promotional tool, the company also offers an introductory ticket price of $1. "Pricing starts at a dollar per seat and gradually increases as the bus fills up," Moser explains. This well-developed business plan has enabled Megabus to see a 25 to 35 percent increase in business every year over the past five years, with 25 million customers served and a fleet of 300 buses covering 100 cities.
Coach USA, a private entity owned by British company Stagecoach Ltd., has been able to achieve this growth with no government subsidies. "We have invested our own money and created 1,200 new jobs in the United States, despite starting out with zero brand recognition," Moser says. "Megabus promoted its name through social networks such as Facebook, Twitter and YouTube."
Today, the company says its user surveys show a high rate of satisfaction, with 92 percent of its customers stating that they will use the bus service again and 97 percent saying that they will recommend it to their friends.
Moser explains that the use of fuel-efficient buses for intercity travel is also a benefit for the environment.
"Our buses fit more people than traditional buses and use one-fourth the amount of fuel per passenger," he says. The University of Vermont conducted a study that demonstrated that megabus vehicles use 12 times less fuel than standard cars. "Bus transportation also serves to ease city and highway congestion by diverting people that might have been traveling in private cars," Moser adds.
The company's positive environmental impact was recognized by a committee of its peers – formed by other bus companies – with the Green Award, for being the greenest in the industry.
Moser expects the company's growth to continue into new geographical areas whenever it makes sense.
"We will continue to search new opportunities," he says. "We often get inquiries from cities about our services. We will analyze the markets and expand our services accordingly."