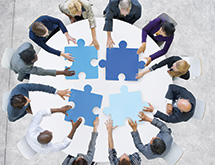 The recent acquisition of Con-Way by XPO Logistics – a move that makes XPO North America's second largest provider of less-than-truckload (LTL) services – is just the latest in a surge of acquisitions in the logistics space. As cash-rich companies both inside and outside the industry continue to buy and sell with what feels like an unprecedented degree of vigor, the value of an experienced and capable third-party logistics provider (3PL) that utilizes a transparent logistics platform is becoming increasingly evident.
In today's unpredictable marketplace, transparency matters. A commodity model may be increasingly common in the transportation industry, but the role played by freight forwarders, centralized brokers or contractors is more opaque. This means that the customer has little to no idea of the costs and margins involved in transportation and logistics services. That is a liability at any time, but is particularly burdensome during periods of transition before, during and after a merger or acquisition.
Clearly Merging
When companies combine, things tend to get confusing and expensive. Logistics can suffer, particularly in transport-heavy industries like retail or grocery. Working closely with a 3PL that utilizes a transparent model and understands not just the logistics variables at play, but the fine contours of the finances and the acquisition process as well, can make a significant and sometimes dramatic difference. A transparent 3PL partner can provide critical insights and context at a time when those assets can be in short supply. Greater transparency not only helps avoid potential chaos and resolve complexities, it does so in a way that enhances coordination and integration, streamlines transportation and logistics management optimization, provides essential guidance and ultimately makes the mergers and acquisitions process smoother.
Due Diligence
An experienced and transparent logistics partner can provide a competitive advantage well before a merger even takes place. The best providers are active participants in the due diligence process, adept at assessing possible acquisitions, working to identify and evaluate potential transportation and logistics synergies, and leveraging opportunities to save and make money. Transportation and logistics is such an important piece of the operational and financial landscape of companies that leveraging transparency to determine whether the potential new synergies justify the purchase price can be critical in determining if a deal moves forward.
Transition Guidance
Be aware that different companies may be using different enterprise resource planning (ERP) systems, and without a central database or consistent culture, chaos and inefficiency are an all-too-common post-merger reality. With a comprehensive and transparent logistics platform in place, that single centralized system can make a tremendous difference post-acquisition, when your 3PL may have the only clear and reliable picture of what is happening in your supply chain. Oftentimes, this will be the only central database available before the new larger entity can formally consolidate systems and data.
Global Reach
For companies that rely heavily on overseas shipping and logistics infrastructure and resources, transparent 3PL providers and platforms that are truly global in nature confer a potentially significant advantage. Having boots on the ground around the world helps with organizational consistency across both geographic and technological borders, systems coordination and hands-on change management during periods of transition.
Partnership Perks
Work with a transparent 3PL who is able to serve as a true business partner, closely integrated into all aspects of your business. A close working partner who has the technical and operational ability to delve deep into the mechanics of your shipping and logistics will be better able to provide open and honest recommendations. These kinds of transportation changes can make a meaningful difference in creating new efficiencies and saving money.
Starting Early
If a transparent 3PL is not already in place, it is essential that a trusted and transparent logistics resource be brought in as early as possible. When the logistics management team is not well-prepared before a merger or acquisition, it can lead to a great deal of unnecessary expenses that relate to expedited shipping, and less time to coordinate platform integration, streamline the newly expanded supply chain and identify the new efficiencies that are an appealing factor in the value equation for so many mergers and acquisitions.