Consolidated Chassis Management LLC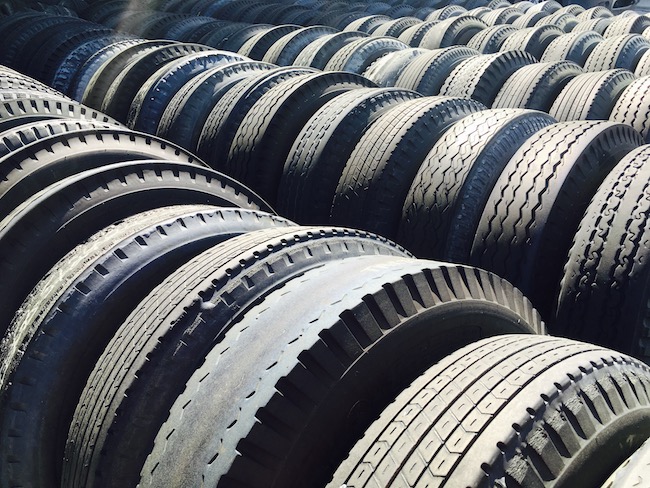 Cooperative pool manager Consolidated Chassis Management (CCM) is making it even easier for its customers to work with chassis.
By Jim Harris
Meeting the needs of the terminals, trucking companies, ocean carriers, railroads and leasing companies that Consolidated Chassis Management (CCM) LLC serves could be a daunting task. But during its more than 10 years in business, the company has proven itself to be more than up to this challenge.
"We have many stakeholders to satisfy," says Jon Poelma, the company's COO and senior vice president. "I think we manage our service at an extremely high level by being forward-thinking, building out our systems and making sure those systems can accommodate our stakeholders' needs."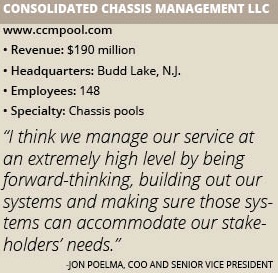 The Budd Lake, N.J.-based company manages more than 130,000 chassis at major ports and metropolitan locations, ranging from the southeastern United States to the Gulf, and inland from the Ohio Valley to the Rockies. CCM is the largest cooperative chassis pool manager in the United States.
Building out CCM's data analytics and other systems and increasing the company's capabilities are high priorities for Poelma, who became COO in 2015 following the retirement of Philip Wojcik. Poelma previously served the company as vice president of operations. Before joining CCM five years ago, he worked as director of operations for Schneider Intermodal.
Poelma began his career in logistics with Maersk Line, where he was recruited into the company's highly regarded international leadership program before going to Singapore, where he worked as trade manager for the Asian and Latin America trade markets. Following that, he served as assistant general manager of marketing systems in Maersk's world headquarters in Copenhagen, Denmark, where he spent three years before returning to the United States. Upon his return to the United States he completed his Master's Degree in intermodal transportation at the University of Denver as well as an MBA from Cornell University's SC Johnson College of Business.
As CCM's leader, Poelma is leading efforts to build the company's data analytics capacity. "We are increasing our ability to study data and get to the root causes of what's driving our costs," he says.
To that end, the company has installed data analysis software systems and trained its employees on their use. "We wanted to quickly identify trends on a micro level with our maintenance partners, so we could identify any issues we were having that might make costs go up," Poelma adds. "We use that data to show them what we're seeing in their location, and use that as a jumping-off point to discuss how they can perform better service for us." The company works with many maintenance partners, whom it recognizes annually through a vendor awards program instituted by Poelma four years ago.
'A Reliable Supply'
The Ocean Carrier Equipment Management Association (OCEMA) founded CCM in 2005 to establish chassis pools in response to an industry need for a more efficient chassis operating model. Based in Washington, D.C., OCEMA consists of 18 major ocean common carriers. "OCEMA's focus is on operational and safety matters pertaining to the intermodal transportation of ocean freight within the U.S.," the association says.
CCM's business includes its CCM Pools division, which combines multiple chassis fleets into one pool at the terminals. Its members can add their chassis to the pool, and then can use any chassis within it.
Today, CCM's six regional pools support all major Class 1 rails, and in addition, it is the sole pool operator for the Georgia Ports Authority and the South Carolina State Ports Authority. CCM is also the exclusive pool operator at TraPac Terminal in Jacksonville and the Port of Wilmington, N.C.
CCM utilizes a model that allows various entities to become members, including motor carriers, shippers and 3PLs. There are no initiation or entrance fees.
The company operates with a structure and governance created for "gray chassis pools," states its website. These allow ocean and motor carriers, leasing companies, shippers and others to access international container chassis under a single unified fleet and management at the lowest possible cost.
Unlike chassis fleets operated by individual entities, a gray pool enables operating savings to be achieved by reducing the combined inventory levels, maintenance and repair economies of scale and reduced chassis repositioning expense through pool members offsetting flows. In the CCM pools, the savings are passed through to its members.
Terminals also can reclaim acreage by reducing the number of chassis stored thanks to gray pools. Additionally, motor carriers are able to transit to a terminal more quickly while obtaining a well-maintained piece of equipment. "Customers benefit from a more consistent and reliable equipment supply," states its website.
CCM allows its customers to choose which chassis providers they want to use. The benefits include the ability to consolidate bills, take advantage of lower rates and choose providers with better service.
One recent example of the company's success in handling chassis within its pools was its work to free up more than 4,000 chassis formerly used by Hanjin Shipping following that company's bankruptcy in September. CCM diligently worked to quickly relocate shipping containers to ports and other facilities in order to return the chassis to circulation and avoid service issues for other customers, Poelma notes.
CCM last year gained the ability to offer brand-new chassis to many of its customers as the result of a partnership with the North American Chassis Pool Cooperative (NACPC). The partnership, established four years ago, allowed NACPC to grow its reach and provide at cost pricing levels for its customers while providing access to high-end equipment, Poelma notes.
CCM now conducts the back office work for NACPC premium chassis pools in Savannah, Charleston, Houston, Mobile and the Ohio Valley, with plans to further expand the offering.
Added Service
In 2014, the Federal Maritime Commission granted CCM authority to expand its scope and manage chassis outside of the CCM pools. This enables CCM to provide chassis management services for private fleets of motor carriers, shippers and other entities.
For example, CCM can track every activity on a chassis, from the point a container is mounted on it within a facility to what time a motor carrier exits the terminal to the date and time the returned container gets lifted off the chassis. Many of the new chassis have tracking devices installed so the company is getting further transparency of chassis movement within the supply chain.
CCM also has a maintenance and repair system that can track all repairs down to a single light bulb. The CCM data warehouse combines repairs with chassis movements and allows for tremendous cause-and-effect results from data mining, the company says. CCM can provide software licensing, manage private fleets, and/or provide management and systems for maintenance and repair of chassis.
Under Poelma's leadership, the company is growing its capabilities beyond logistics and maintenance. That includes adding reservation and billing services to its customers. "We want to be a more complete company offering service from booking to collections," he says. "We were a company that rose out of a need to manage maintenance, logistics, and liability, which we have met, so moving into the future we want to be sure we're a company that can work with our customers end-to-end."
An Increased Presence
CCM COO Jon Poelma recently increased the company's profile within the intermodal industry when he joined the Intermodal Association of North America (IANA)'s board of directors. "We're very keen on facilitating industry interest and leading not just CCM forward, but the entire industry," he says. "Participating in the association is a great way to do that while improving our skill set."
CCM employees are involved in various IANA taskforces. They include a group tasked with training and certifying chassis mechanics. Another task force focused on the important issue of gate control is also being lead by CCM's VP of Information Systems. Last year, CCM staff led a task force that addressed the switch from incandescent to LED lighting on all chassis.
The IANA is North America's leading industry trade association representing the intermodal freight industry. The association's more than 1,000 members include railroads, water carriers, port authorities, intermodal truckers and over-the-road highway carriers, intermodal marketing and logistics companies, and suppliers.
Green Operations
Common chassis pools are beneficial to the environment, CCM says. "In addition to the motor carrier community spending less time idling and therefore minimizing fuel consumptions and emissions," it explains, "the marine and rail terminals have found that the use of a common chassis pool promotes a more efficient operation as confusion around which chassis and ocean container is eliminated, and multiple trips of yard hostlers to position the correct chassis are reduced."
The pools also can reduce the size of a terminal's footprint. "Fewer chassis on terminals require less land for storage, freeing up valuable real estate and slowing the need to expand the terminal's footprint," the company says.
CCM is a customer of the American retread industry. "By salvaging and recycling tire casings multiple times, CCM returns these casings to various American retreading companies where new tread is added and the tires are given a new life and installed once again on our chassis," states the CCM website.
"While this retreading process saves the CCM members on their tire [spending], it also contributes significantly to the environment in two ways," the company continues. "The oil used in the retreading process is only a fraction of the oil used in the creation of a new tire, thereby conserving a non-renewable resource. As retreads extend the useful life of the tires, millions of tires that would otherwise end up in landfills continue to be put to good use on the road."