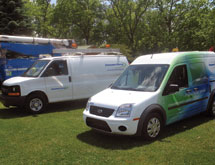 A public utility, Consumers Energy is the principal subsidiary of CMS Energy. It provides natural gas and electric services to 6.8 million of Michigan's 10 million residents in all 68 of the Lower Peninsula's counties. Among the company's assets are 12 coal-fired and two oil-fired generating plants, 13 hydroelectric plants, a pumped storage generating plant and several combustion-turbine plants.
Although Consumers Energy is CMS Energy's principal business, the organization also operates CMS Enterprises, a North American independent power business. CMS Enterprises has an ownership interest in seven generating plants in Michigan and North Carolina.
Fleet of Foot
About 7,700 people work for the organization, including 147 employees in Consumer Energy's fleet services department. Of the 147 people in fleet services, 109 are mechanics. The company has 4,500 vehicles, 2,700 powered units and an array of equipment within its trailers.
"Utilities have everything from ATVs to tractor trailers and everything in between in their fleets," Director of Fleet Services Jeff Shingler says. "We also have to ensure a high level of skill with our mechanics, as they need a wide variety of mechanical aptitudes."
As the leader of Consumers Energy's fleet services department, Shingler's main priority is the operation of the organization's fleet. The fleet services department has a great deal of responsibility around ensuring reliable service to customers. That is why the department focuses on keeping trucks on the road and ensuring that crews are available.
"Our crews are ready to work in our state, and even out of state to help with emergencies," Shingler says. "After Sandy, we were in the Long Island area helping restore gas services, and our electric crews were deployed from Cleveland to New Jersey."
Fundamentally, Consumers Energy's business of pipes and poles hasn't changed much lately, but the fleet services department has changed. Over the last 10 years, Shingler says Consumers Energy has seen a number of changes to its supplier base because suppliers are keeping less inventory on hand. This means the company has to determine what supplies to keep on hand and what can remain with the supplier until needed.
"We can't let vehicles sit for days waiting for a part, so we've gone to a predictive-maintenance mode," Shingler says. "We analyze what we keep on hand, analyzing each part and reorder quantities. Items like filters and belts, and tires in some cases, can be easy to get, but it is the less predictable items that can impact your business. We must always be analyzing the failures and determining what parts to keep in-house."
Another aspect of fleet services that has changed is the technology within the fleet. Some of the vehicles the company has brought into its portfolio in the last few years include Chevrolet Volt extended-range plug-in electric vehicles and work trucks featuring the new Odyne Systems advanced plug-in hybrid propulsion system. Bringing vehicles like these into the fleet means the company needs to be sure its mechanics are adept at working on vehicles with new technology.
Lean and Mean
Shingler says Consumers Energy has taken a Six Sigma approach to its fleet organization. The company looked at operations in its bigger shops – which serve around 300 to 400 vehicles per location – limited the distractions on the shop floor, optimized the flow of traffic and made sure that its SAP work management software solution was being used effectively.
Consumers Energy will continue to evolve its fleet services department by using a data-driven approach. The company tracks everything from preventive maintenance compliance and cost per mile to cost per unit and unit availability.
The fleet services department is also looking to become more mobile so it can be more proactive. By providing Consumers Energy with a fleet services department that can function as a mobile repair unit – rather than having assets stuck in garages – the company will be better able to serve customers and support internal operations.
Ultimately, Consumers Energy's fleet services department takes a great deal of pride in serving Michigan. Shingler says his team will continue to go to great lengths to help the company provide reliable service at a cost-effective price.
"Our team understands that they have a lot of responsibility working for a public utility and they always know they represent our company," Shingler says. "Our promise to Michigan is to keep the trucks running safely down the road, as our crews keep the lights on and the gas flowing."