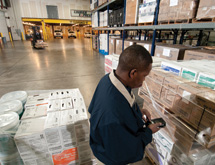 The Courier Express that Bill Messerly purchased in 1990 is a very different operation from the one that exists today. At the time, the five-year-old company was an Atlanta-only operation and provided Messerly with a profitable and stable venture away from his previous homebuilding career.
"We didn't have the vision to start growing like we have until about five or six years later, when we decided to branch out," explains CEO Jack Messerly, Bill Messerly's son. "We first branched out to Alabama, where my brother Jim and I both went to school at Auburn and had contacts in the area. We then spread through larger cities to grow our client base in the Southeast." About a decade ago, Bill Messerly semi-retired, and the company has been jointly run by both brothers ever since.
Today, Courier Express has a presence in 33 states with its heaviest focus in the Southeast. Its five main facilities are the nerve centers for each of its major regions: Mid-South, Gulf South, Carolinas, Central and South Florida, and Tennessee Valley. Along with a host of 3PL providers, Courier Express is able to serve the majority of the United States. The company's three divisions are freight delivery, warehousing and courier services.
Its courier services include on-call deliveries, scheduled deliveries and distribution opportunities providing its customers with a single source to meet inventory, warehouse and logistic requirements. They have carved out unique market niches in transporting medical specimens, office products, auto parts and more.
Messerly explains that the company's focus is to provide more of these services to additional customers in existing markets. "We initially focused our growth on the Southeast," he says. "In the last five years, our footprint has grown exponentially. We are trying to saturate the market in the Southeast while intelligently planning to grow beyond. We have facilities that cover most southern states but some of those facilities might only have a few customers. We want to grow our customer base which will allow additional volume to make the operation more efficient."
In-Tune with Technology
In response to current growth and in preparation for future growth, Courier Express recently equipped its vehicles with state-of-the-art technology to enhance its reliability and flexibility. The company installed electronic on-board recorders on its fleet to track details such as fuel mileage, location and idle times. The technology also allows Courier dispatchers to communicate with the drivers, creating greater communication between drivers and other personnel.
Courier Express' customers are demanding real-time updates and more transparency, as well. The company also invested in electronic scanners to read barcodes and collect electronic signatures; today, the majority of its fleet uses electronic scanners. It also hired a programmer to build a search engine that allows customers to track their deliveries in real time. To protect data security, an offsite server facility functions as a back-up recovery site to ensure that all information on its main server site in Atlanta is never compromised.
"In this day and age, when you provide a service, companies want to know what facilities and technology you have in place," Messerly says.
"They want to make sure you're not going to go down if something happens," he adds. "They want to make sure you can continue to do business so they can continue to do business. This formula continues to serve us well."