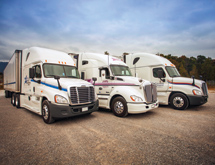 Covenant Transport was founded in 1986 by David and Jacqueline Parker with 25 trucks and 50 trailers. Today, it is part of Covenant Transportation Group, a large, publicly traded company with more than $530 million in annual revenues and 2,800 tractors and nearly 5,500 trailers.
"The company was founded upon a promise or covenant," President Joey B. Hogan says. "Mr. Parker made a covenant with God that he would operate his company with honesty, integrity and for His glory, and those principles still guide us to this day."
Founder David Parker's stepfather had been in trucking for decades, so as a young entrepreneur, he had a strong perspective about what it takes to succeed in the industry. Covenant Transport was started just before federal deregulation and a sustained economic boom. "We rode the coattails of an economic boom," Hogan says. "It was the longest period of uninterrupted economic growth since the Great Depression. We were able to grow very rapidly."
It was a time when banks were lending money at low rates and just-in-time inventory management had recently been implemented widely. "That fed right into our team's success," Hogan explains.
It went public in 1994, listing on the NASDAQ Stock Market under the ticker CVTI. To diversify, Covenant Transportation Group then began a period of growth through acquisition, acquiring 14 companies from 1996 to 2006. These buyouts included the 1998 purchase of Southern Refrigerated Transport, of Texarkana, Ark., and the 2006 acquisition of Star Transportation, located in Nashville. It weathered the ups and downs of the economy in recent years and now, according to Logistics Management magazine's list of the top 25 American truckload carriers, Covenant Transport ranks No.14.
"It's a fascinating industry and we are here flourishing, providing improving value for all of our stakeholders and focusing on providing top shelf service to our customers," Hogan says.
Recruitment Challenges
One of the biggest difficulties for the Chattanooga, Tenn., company is attracting experienced, professional drivers. "We've got to find a way to resupply our professional drivers," COO Samuel F. Hough says.
Trucking competes with manufacturing and construction in the labor market but it must pay more to compensate for extended periods of time away from home.
"It's a serious problem for the industry," Hogan says. Trucking is a competitive business with tight margins, he says. There are thousands of trucking businesses that fail each year and economic conditions are fair at best, yet still fleets are shrinking and there will not be enough capacity to meet customer demand, Hough says.
This comes at a time when the industry must be more safety sensitive about who it puts behind the wheel. There were two $250 million-plus catastrophic accident verdicts against trucking companies in 2013, so insurance rates have skyrocketed. Deductibles which were once $2,500 can now be $1 million per accident. All this as federal safety regulations continue to change, creating even more uncertainty.
Covenant Transport attracts and retains quality drivers by treating them with the utmost respect and focusing on getting them home more often to their families, Hough says. It offers better equipment and communicates how to be successful. Covenant's truck fleet is one of the youngest in the industry. "We also go out and cultivate our own drivers through our driver training program," Hough explains.
Diversification and Growth
Covenant Transport's largest customers come from the transportation, retail, produce, automotive and housing industries. It also operates a brokerage division, Covenant Transport Solutions, which was founded in 2006. In 2010, Covenant Transport began its cross-border division with the addition of service into and out of Mexico, followed in 2011 by service into the Canadian markets of Toronto and Montreal. It established its C-TPAT certification in 2013. It is an enterprise focused on total transportation needs, including dry van, refrigerated, expedited, contract dedicated, intermodal and brokerage services.
In addition, it offers factoring with Transport Financial Solutions and owns a minority stake in equipment leasing division Transport Enterprise Leasing. Its trucks cover all 48 contiguous states and also perform cross-border service into industry market areas within Canada and Mexico.
One of the main competitive advantages of Covenant Transportation Group is its capacity available to customers at every level. All of the asset-based subsidiaries have specific niche areas of the country they service and, where customers approve, it utilizes sister companies to complement those service areas.
"Our team works hard to ensure we provide the best service we can, day in and day out, for all our customers and professional drivers," Hough says.