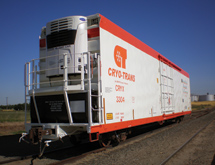 Serving an un-met need in a market is a great way to generate business, but Cryo-Trans Inc. took that strategy even further. Cryo-Trans ensured its strength not only by creating a new service for the food industry, but also by making it easy for customers to choose Cryo-Trans over other transporters because of the many benefits of its system.
The company got started in the 1980s, when there was a shortage of quality refrigerated railcars in the United States, according to CEO Herman Haksteen. During an American Frozen Food Institute convention, several frozen food company executives got together and decided they needed a better way to transport their goods, so MHW Group (Cryo-Trans' parent company) set out to create a new railcar that would meet their needs. MHW offered cold-storage warehousing, and used its knowledge to create a railcar that would keep customers' food cryogenically frozen during transport.
With this, Cryo-Trans was born, and it secured the worldwide patent for this technology. In the 1990s, however, cryogenic refrigeration was targeted for unsafe emissions, and carbon dioxide used in the process became too expensive. In response, Cryo-Trans converted its fleet to be mechanically refrigerated and continued to serve its customers.
"We are filling a gap of availability in the food industry," Haksteen says. "Before us, customers were unable to rely on rail for the transport of their goods because of unreliable transit times. We have removed their obstacles to using rail."
Effective Rail Management
Cryo-Trans has refrigerated railcars that maintain the caliber of customers' goods, but it also offers a full suite of services that eliminates the food industry's other issues with rail. Cryo-Trans' proprietary rail management program (RMP) provides customers with real-time fleet information and allows Cryo-Trans to track, trace and expedite loaded and empty railcars in its customers' fleets.
"With this system, we eliminated the unreliability because we can provide consistent transit times and visibility into our system," Haksteen says. "With our RMP, customers know in real-time where their product is and that it will be delivered on time and safely.
"We also have a whole bank of customer service people who monitor our cars 24/7," he continues. "They know if a car's temperature changes, if the doors are open during transit or if there is any other kind of issue. We can send technicians out to fix any problems that arise in transit, and we alert the authorities if our electronic door alarms indicate that a car has been broken into. With all of this technology, losing loads or having loads arrive outside of the customers temperature specs has become a thing of the past."
Part of the strength of the RMP is the two-way technology that allows Cryo-Trans to "talk" and "listen" to the railcars. This technology allows the cars to send signals to the main office, showing the fleet's location and each car's temperature. Additionally, Cryo-Trans' operators can remotely change a car's temperature or turn the refrigeration on and off.
"Rail is cheaper than truck transport by 15 percent – that is proven, and pricing and capacity is more consistent" Haksteen says. "Truck pricing and capacity can vary dramatically from season to season, and with the cost of fuel. Shippers can find themselves without trucks or paying high seasonal premiums, costs they cannot recover in their pricing. Rail pricing with private cars is very stable; in most cases pricing is fixed for a year and there are some opportunities to enter into multi-year fixed-pricing agreements. With your own fleet of leased cars capacity will never be an issue. This stability allow shippers the opportunity to enter into long-term arrangements with their customers at pricing that is more competitive than truck-based supply chains."
'Rail is Not Easy'
In November, Cryo-Trans introduced its new super-insulated boxcars for beverage and canned-goods customers. These incorporate the same technology Cryo-Trans uses in its refrigerated cars, and also have five inches of insulation around the box to provide maximum-possible temperature protection. Now these goods can safely be shipped by rail and Cryo-Trans can guarantee the product won't freeze or overheat. The company's car building line is booked with new orders for the near future, Haksteen says.
"With our system, we build the cars, customers enter into long-term leases for the cars and then they contract our RMP services," he says. "By providing the RMP services, we can make sure their fleet and rail program is working as efficiently as possible. Rail is not easy, but we make it easy for our customers because of our technology."
The issue right now, he says, is that so few food companies understand rail and lack the expertise to get involved with rail. "Right now, less than 3 percent of all food moves by rail from west to east, but we are trying to change that," Haksteen says. "Our plan is to continue to educate the industry – we have great technology, rail is the greener solution, and it costs less than truck. We want to get that message out to more of the big food shippers and get rail into their supply chain. Rail is a viable alternative and we are going to show them how. Today we have about 25 customers and 1,300 cars in our rail programs, but we know that our programs will appeal to all high-volume temperature-controlled shippers so we still have work to do to get our message out."