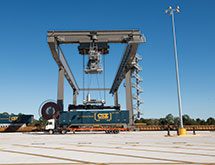 CSX Transportation considers sustainability to be a part of its culture with a strategy that focuses on reducing its environmental footprint, engaging all of its stakeholders in the discussion and supporting sustainable development along its rails.
To create the ultimate sustainable terminal, CSX implemented a number of initiatives in its new Central Florida Intermodal Logistics Center (ILC) in Winter Haven, Fla., which integrates sustainable design, construction and operations to drive efficiency and better serve customers and communities.
"What is most impressive is the ability of CSX to try new things and go after new technology, implement that technology and then take that learning on to the next project," says Meaghan Atkinson, manager of environmental programs and sustainability.
The Jacksonville, Fla.-based company has been a leader in freight transportation for more than 180 years, providing traditional rail service and the transport of intermodal containers and trailers.
The CSX network encompasses about 21,000 route miles of track in 23 states, the District of Columbia and Canadian provinces of Ontario and Quebec. "Our vision is to be the safest, most progressive North American railroad, relentless in the pursuit of customer and employee excellence," says Carl Gerhardstein, assistant vice president of health, environment and sustainability.
Taking Responsibility
Sustainability is embedded in the way CSX's operations. In fact, transporting goods by freight rail is four times more efficient than moving it by highway, Gerhardstein says. The company reports moving a ton of freight 470 miles per gallon in 2013, a record year for fuel efficiency. "Moving freight by rail instead of the highway reduces greenhouse gas emissions by 75 percent and reduces congestion on the nation's highways," he adds. "Since 1980, our fuel efficiency has nearly doubled and each year we strive to get better. We met our first goal of reducing our carbon emissions intensity by eight percent in 2011. We are on track to reduce it by another six to eight percent by 2020."
To reduce its environmental footprint, CSX Transportation is continuously focused on reducing its fuel usage. "It's all about reducing our footprint," Gerhardstein notes. "Fuel is a big part of our footprint and we met our first goal of reducing our carbon footprint by six to eight percent in 2011. We are set to reduce it by another six to eight percent by 2020."
CSX will be purchasing the newest, most energy-efficient locomotives next year and is retrofitting its existing locomotives with electronic tools, such as Trip Optimizer by GE Transportation, to become more fuel-efficient. "It is one of the most exciting technologies because it assists the engineer in determining the sweet spot for fuel efficiency," Gerhardstein explains. "The GPS-based technology understands the locomotive horsepower, freight tonnage and network topography. It helps the engineer accelerate and decelerate in the most fuel-efficient manner."
The company is also focused on staying engaged with stakeholders. CSX publishes a corporate social responsibility report each year, highlighting how its environmental initiatives, infrastructure investments and safety performance support its business goals.
To promote its focus on sustainable development, CSX is incorporating environmentally responsible materials and construction methods into its new terminals. For example, all four buildings at the new Central Florida ILC achieved LEED Silver certification, which considers energy, water usage, materials, and other considerations that affect the building and its inhabitants.
Blueprint for the Future
The new, state-of-the-art intermodal facility will serve the Orlando, Tampa and regional markets with environmentally friendly and cost-effective service. "Every site is different, but for us it's all about identifying environmental considerations early, bringing those into construction planning and ensuring we have the right resources in place to manage and oversee the project," says Chris Durden, assistant vice president of intermodal terminal development at CSX Intermodal Terminals, Inc. "In that sense, we are accomplishing what we started out to do."
The 318-acre brownfield site was developed with sustainability in mind. The construction process prioritized environmental responsibility and the terminal design included systems and materials that make the facility the most technologically advanced to date, Durden says. The entire site uses highly efficient LED lighting, which reduces energy consumption by up to 60 percent, and solar panels are installed on each building.
A unique aspect of the terminal is that it includes three rail-mounted, wide-span electric cranes that produce zero onsite emissions while recovering energy on downward moves. "We have regenerative power on the cranes which recovers 60 percent of the expended energy during downward container movements," Durden explains.
During construction of the Central Florida ILC, a railroad track was built to deliver products directly to the site and reduce the number of trucks needed to transport the material. "We moved 2,321 railcars of stone, a total of 232,000 tons," Durden says.
Looking Forward
CSX has outlined a number of longer-term sustainability goals it hopes to achieve by 2020, Atkinson says. In addition to reducing its greenhouse gas emission intensity by another six to eight percent, CSX is also concentrating on reducing landfilled waste and improving sustainability across its value chain.
"We are looking more closely at the practices of our suppliers, asking them more questions about corporate social responsibility and making sure they are looking for opportunities to improve their own practices to achieve sustainability goals," Atkinson says.
In the future, Gerhardstein says CSX may look to use alternative fuels for its locomotives and vehicle fleet to reduce petroleum usage and increase efficiency, including natural gas. "Taking a look back at the rail industry, we started by burning wood, switched to coal and are now using diesel," he explains. "Each time we switch we are using a more efficient fuel, and now we are looking at natural gas as a potential for the future."