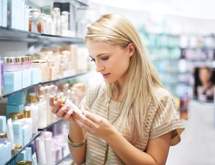 As one of the nation's largest providers of pharmacy healthcare services, CVS Caremark understands the necessity of having the right items at the right time. With more than 7,300 pharmacy/retail locations across the country, CVS Caremark supplies millions of people each day with the healthcare products and services they need to maintain their well-being. Making sure that the company's well-being is intact means having a state-of-the-art logistics infrastructure that merges the company's own facilities and services with third-party providers.
The company was formed in 2007 after retail pharmacy operator CVS Corp. merged with pharmacy benefit management provider Caremark Rx Inc. Today, CVS Caremark has been recognized repeatedly as one of the best-managed supply chains in the industry. In 2011, for example, the company was honored with the Supply Chain Distinction Award North America in the Logistics Best Practice category at the annual Supply Chain Summit. The award is given to companies that achieve logistics excellence "through the development of efficient, sustainable and cost-effective strategies," according to the event organizers.
"Our 7,300 CVS/pharmacy stores serve more than 4 million customers daily, so it is critical that our distribution network operates at best-in-class efficiency to ensure that the products our customers want are delivered to stores in a timely manner," Senior Vice President of Supply Chain and Logistics Ron Link said in a statement. "Receiving the Logistics Best Practice Award is a testament to the outstanding and innovative work accomplished by our logistics team, our suppliers and transportation providers, and our colleagues from around the company."
Thanks to its continued focus on adopting the most successful supply chain strategies and implementing the most cutting-edge technology available, CVS Caremark continues to have the infrastructure in place to be one of the most successful U.S. retail pharmacy chains.
Efficient Operations
CVS Caremark's 7,300 stores are served by 18 distribution campuses in strategic locations throughout the country. From these campuses, the company's own fleet of trucks as well as trucks from third-party operators such as Penske, Ryder and M&M Transport Services Inc. haul products to stores across the United States. The company's logistics infrastructure employs more than 8,000 people and a fleet of more than 300 privately owned tractors and 1,500 privately owned trailers. CVS Caremark also employs more than 300 third-party tractors and 800 third-party trailers. The company says its third-party transportation partners are branded as CVS, ensuring that they live up to the same high expectations the company has for its own transportation and logistics associates.
Ensuring that the company's entire fleet operates at maximum efficiency is a major point of concern for CVS Caremark, and the company has invested significant resources to create efficiencies and reduce costs. For example, the company utilizes route optimization software that allows it to effectively and quickly manage deliveries to its retail locations as well as forecast and monitor fuel usage. Thanks to this software, the company says, CVS Caremark can plot out the most efficient route for all of its trucks.
The company's fleet also is equipped with onboard computers that record data such as average speed and idle time that factor into a truck's fuel usage.
Technology Partners
Technology also plays a vital role in the company's warehouses and distribution centers. CVS Caremark's main warehouse management system is a customized version of INFOR's WM2000, which was designed in conjunction with CVS Caremark to monitor its inventory and workflow. A labor management system is integrated with this warehouse management system to measure performance and manage the incentive program the company provides for employees who meet certain performance goals.
Another significant feature of CVS Caremark's warehouse management system is an outboard routing optimizer, which helps the company enable daily dynamic outbound routing to its retail locations. Other software platforms the company uses to help drive efficiency and productivity include portal-based applications such as those that allow suppliers and carriers to initiate their own delivery requests as well as keep track of appointments.
The company also utilizes a yard management system developed by The Descartes Systems Group that provides visibility for trailers and inbound products while in the company's distribution campuses. Recently, CVS Caremark also implemented a forecasting and replenishment tool from JDA Software Inc. Other partnerships the company has that are related to its supply chain operations include Intelligrated, which provides conveyor equipment; Raymond, which supplies material-handling equipment; and ASAP/BMH Solutions, which provides the order-fulfillment system for CVS Caremark's e-commerce site.
Pride and Joy
CVS Caremark obviously takes a great deal of pride in the efficiency and efficacy of its supply chain and logistics operations. To help ensure that its employees maintain and nurture that level of pride, the company has developed an initiative called Personal Responsibility in Delivering Excellence (PRIDE). According to the company, this initiative focuses on creating a working environment focused on performance, productivity, reliability, quality, safety and continuous improvement.
The PRIDE initiative provides associates with financial incentives for exceeding the company's established productivity standards. The program also encourages employees to provide feedback to the company on potential improvements to its supply chain operations. With the company's high degree of technology, focus on efficiency and valuable incentives for its employees, CVS Caremark has the supply chain and logistics infrastructure in place to maintain its leadership position in the pharmacy industry for many years to come.