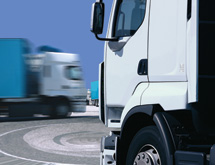 Dean Sexton's career in the trucking industry might not have happened if not for a little joke played on him by friends. According to Sexton, he was working as a high schooler for Schreiber Foods – one of the world's largest dairy companies – which at the time had a small fleet of company trucks. When the company sought drivers for a new truck to be added to its fleet, Sexton's friends jokingly put his name in the running. He ended up getting the job, and that experience led him to go into business for himself years later as D&D Sexton Inc.
Today, D&D Sexton is the Midwest's top refrigerated carrier, operating throughout the entire continental United States and serving some of the biggest names in the food industry. The company's fleet of more than 150 trucks and 350 refrigerated trailers haul goods for Walmart, General Mills, McDonald's, Vantix Logistics and ConAgra Foods. Sexton says the company also is the preferred carrier for Schreiber Foods, carrying more freight for the company than any other. "We have a real good, strong base," he says.
When it comes to refrigerated trucking, Sexton says D&D Sexton is second to none, and that's thanks in large part to the consistent effort the company devotes to improving every facet of its operations. From technology designed to help drivers operate as safely as possible to increased fuel efficiency, D&D Sexton is constantly moving forward to stay in front of the pack.
Safety is No. 1
Sexton says the company survived the recession more successfully than many carriers because of the nature of the industry it serves. "We've gotten through all the recessions because people need food and that's all we haul," he says.
However, that doesn't mean D&D Sexton can simply put its business on cruise control. Sexton says the company is committed to finding new ways to improve, especially when it comes to safety. "We're really safety-conscious," he says. "That's been our No. 1 goal from day one."
D&D Sexton has received multiple awards for its safety record, including most recently from the Missouri Trucking Association. "We continuously win awards every year," Sexton says, and adds that technology is playing an increasingly large role in ensuring safety for its drivers.
For example, the company's trucks have been equipped with a collision-avoidance system that alerts drivers when they are following another vehicle too closely, according to Terminal Manager Ed Boes. Trucks also are outfitted with systems that prevent drivers from driving while distracted, along with disc brakes and tire inflation monitors. Boes says the company also is working to equip more trucks with automatic transmissions, explaining that keeping both hands on the wheel is important for maintaining safe driving habits, especially in dense urban environments.
Greener Fleets
Safety isn't the only area in which D&D Sexton is always improving, however. Sexton says the company has become much more involved in green initiatives in recent years because of the impact they have on fuel economy, which in turn substantially benefits the company's bottom line. "There's numerous things we're doing to keep more fuel-efficient," he says.
Among these efforts is the use of skirts and trailer tails on trailers to reduce wind resistance and wide-base "super single" tires that reduce friction on the road. Boes says even if a technology offers a fractional improvement in fuel mileage, it's worth it to D&D Sexton because those tiny improvements add up to a lot across the entire fleet. "It's all about fuel mileage," he says.
Overcoming Challenges
Sexton says the company faces challenges from many different angles, not the least of which are potential changes to legislation regarding hours of service. Although the company has been lobbying to keep driver hours at their current level, Sexton says it's possible that productivity could be reduced as a result of new restrictions.
Not helping matters is the overall shortage of qualified drivers in the industry, and Sexton says that has had a noticeable effect on the company's growth.
"If I was full of drivers, I would be buying more equipment," he says. Nevertheless, Sexton believes that D&D Sexton has the qualities and resiliency it needs to keep it from falling behind.