Dakota County Fleet Management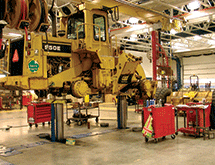 Dakota County, Minn., took a major step forward in its fleet operations in 2007 when it consolidated all of its vehicle and equipment maintenance and management efforts into a single department. Before then, each of the county's individual departments including public works and the sheriff's department operated its own equipment budget and maintained equipment at two different sites with their own staff. With the merger, the county pulled together budgets as well as union and non-union staff.
"We have seen a huge advantage overall in our actual operational and capital program since merging," says Fleet Manager Kevin L. Schlangen CPFP, CAFM, CEM, a former fleet manager for the county's transportation department who assumed leadership of the unified department upon its consolidation. "Instead of each group having underutilized equipment that they weren't willing to share across other groups because they didn't want to pay for the extra fuel or repairs, every piece of equipment became a shared asset. Decisions that used to be made on an individual department basis are now made based on the best interest of the organization."
The department today oversees 670 pieces of equipment ranging in size from chainsaws and motor greeters to cars and plow/salt trucks. The fleet includes more than $23 million worth of equipment.
Since the merger, the department has implemented a number of measures to maximize its efficiency that have earned it national recognition. Most recently, Dakota County and Schlangen were awarded the 2014 "Outstanding Achievement in Public Fleet Management" honor from the NAFA Fleet Management Association's Fleet Excellence Awards. The awards were anonymously reviewed by a panel that included fleet managers and other members of the fleet industry, according to the association. The awards are open to fleets in the United States and Canada.
The department was also ranked No. 6 of the "100 Best Fleets in North America" by Tom C. Johnson, a consultant and author, and ranked as one of the top 50 "Leading Fleets in North America" by Government Fleet magazine. "We look at these award programs as opportunities to change and evaluate our operations without spending a lot of money on third-party audits," Schlangen says. "Applying for these awards makes us think of ways we can be more efficient."
Replacement Efforts
Dakota County Fleet Management has saved the Dakota County taxpayers more than $3.49 million since its inception by implementing a formal capital replacement program through reductions, right sizing and funding from grants. The program assigns a point value to equipment to determine its replacement priority. Points are based on age, mileage or hours, type of service, reliability, condition, maintenance and repair costs and energy efficiency of replacement units.
The program allowed the department to reduce the size of its fleet by 104 total pieces in seven years. The county has spent $13.1 million since its inception on equipment purchases, of which $1.34 million was funded from grants, Schlangen notes.
The equipment replacement effort also allowed the county to increase the average mileage use of its vehicles. Before the point system, all squad cars were typically replaced at 90,000 miles; now, cars run up to 150,000 miles.
Improved Efficiency
Dakota County also increased the efficiency of its fleet and reduced costs by expanding its telematics program and entering into fuel-purchase agreements with other agencies.
The county's telematics program includes 209 pieces of equipment including law enforcement vehicles. The program, established in 2012 with 70 vehicles and significantly expanded in 2013 to its current total, has helped the county achieve an mpg increase of 9.5 percent, a harsh acceleration reduction of 56.5 percent and a harsh turns reduction of 68.6 percent.
"By doing this, we've found that we've been able to improve driver behavior as a whole," Schlangen says. "The fuel savings we've realized through this program alone has helped us pay for the telematics devices."
The department extensively trained supervisors and other personnel in the use of the devices. "Installing telematics devices without a training program and establishing expectations is a big mistake," he adds. "I personally did presentations to each of our user groups about how the systems work and what we expect to get out of them."
Dakota County is also one of 55 Minnesota municipalities that are participating in a statewide fixed fuel price program. Since joining the program in 2009, the county has saved more than $548,000.
The county's fleet also includes several flexible-fuel and hybrid vehicles.
Service First
Although Schlangen is pleased with the recognition the county has received from its national peers, the relationships he's established with other county departments are what he's most proud of.
"All of the national awards were proof of our best practices, but we're most happy about the fact that our customers brag about what we've done for them," he says. "Because of our efforts, our customers feel safe and feel that we provide good service to them and have their best interests in mind.
"If our customers don't think we are providing value to them, we aren't going to be here."