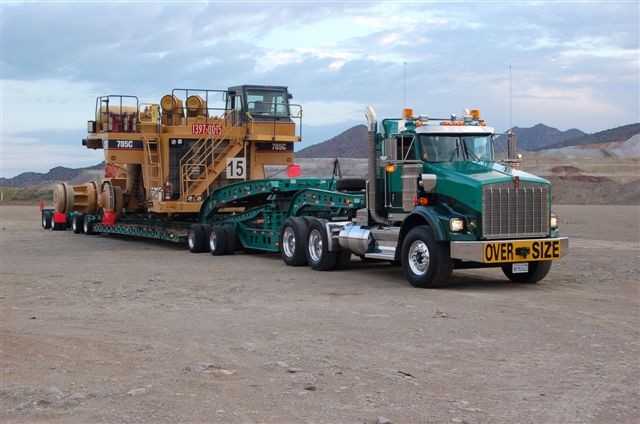 Dalton Trucking offers specialized transportation services while working to maintain its fleet of trucks and operating a family oriented business.
By Stephanie Crets
What started as a four-truck, three-trailer dump truck operation in Fontana, Calif., has grown tremendously since owner and President Terry Klenske bought Dalton Trucking as a hobby in 1977. Now, the company has 120 trucks and offers specialized services in open top-bulk transportation, lowbed, general freight on flatbeds and vans, as well as rail, intermodal and 3PL services. In addition, the company services everything from lumber and pipe to steel.
"My wife said, 'don't do it, you'll be sorry,' – that was in 1977," Klenske says. "We've been a success though we don't have millions in the bank. The company's growing and we're 100 percent self-funded. Every time an opportunity came along, we looked at it and usually took it. Over time, it caused us to diversify from dump trucks. Now, we haul all sorts of different construction products, with an emphasis on heavy equipment."
Dalton Trucking operates out of a 26-acre campus in Fontana, Calif., where its fleet of trucks is maintained. It has one additional facility in Adelanto, Calif., where Dalton Trucking maintains flat beds and an extensive fleet of dump trucks.
Maintenance Challenges
One of Dalton Trucking's ongoing challenges is maintaining the fleet to be air quality compliant per the California Air Resource Board (CARB) regulations. As a result, the company has replaced its entire fleet with model 2008 or newer trucks. When Klenske started out in this business, he says the trucks were only about $60,000 a piece, now they're around $150,000 because of inflation and added accessories to clean up the atmosphere. While the clean air "clap trap" is good for the environment, it has adverse effects on the business: it significantly increases the cost of the truck, increases the complexity of maintaining it, decreases the overall fuel mileage and adds more weight to the truck, which reduces the company's payload.
Since buying new trucks, Dalton Trucking is also working to improve its software so the company can get a better grasp on these higher maintenance costs. "Our truck maintenance costs are about average by industry comparison," Klenske says. "At the same time, we've kept our trailer fleet, which doesn't get obsolete as quickly, but is requiring more and more maintenance. We're constantly rebuilding and modifying our 20-year-old trailers, adapting them for different uses."
Dalton Trucking might struggle through the high fixed cost of buying a new fleet, but the company supplements these challenges by finding new business opportunities. For example, when the construction industry took a downturn in 2008, Dalton Trucking focused on growing other parts of the business. Although construction companies might not have needed cement to build high-rises, they still needed equipment for paving. In addition, Dalton Trucking offers customized services to cement plant customers, contractors and municipalities, along with logistical services and renting out parcels of its land for other companies to park their vehicles.
"Railroads got into trouble in the 1950s and were on the downslide with trucks displacing them," Klenske explains. "Railroads thought of themselves as railroads and not transportation companies. Eventually they figured out that they needed to be an integrated transportation company. That lesson I've always kept in the back of mind.
"The more complicated work you do, the more opportunities there are for a profit margin and the tougher it is for your customer to replace you with someone else," he continues. "If you just do trucking, it's easy to find another trucking company. We're doing trucking and logistics while also keeping track of inventory, cutting steel beams to length and cutting plates to size. The more you offer your customer, the tougher it is for them to walk away."
Family Business
While the trucks are obviously a big part of the operation, Klenske says that the heart of Dalton Trucking is the drivers. The company has to find the balance between taking care of them and ensuring it satisfies its customers. The company prefers to treat its drivers as employee partners, rather than just employees.
"We try to make sure that when we say we'll do the work, we do it," Klenske continues. "Our customers don't care who drives, as long as they freight gets there. We go out of our way to keep good relationships with customers, and we're family oriented with our drivers. We get more positive benefits acting like a family than a corporation."
With Klenske's sons, Josh and Matt, now becoming a part of the business, Dalton Trucking is truly becoming a family company. The brothers started helping out when they were little kids sweeping or picking up trash, but Klenske upped the ante of jobs and began paying them for their work, especially when they were driving trucks on the overnight shifts.
"I'm really proud of my sons contributing to the success of the company," Klenske says. "My wife was always on my case for working them too hard. But it paid off. And now those boys' sons are down here helping. And they're getting from their dads a sense of what work is and they can identify with that. Every kid likes computer games, but our grandsons like to play on tractors. They're out in the field cruising around. They're learning how things work, learning how this old equipment doesn't start with pressing a button. At 73, I'm really happy the way things have turned out; that my sons are successful and their kids you can see them becoming a success."
www.daltontrucking.com
Employees: 220
Revenue: $30 million
Location: Fontana, Calif.