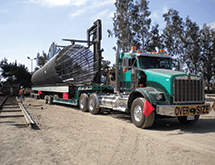 Terry Klenske purchased Dalton Trucking in 1977 as a hobby. He'd had a successful career at Fleetwood Enterprises, an RV and mobile home manufacturer, but the small, side business at Dalton Trucking soon became a larger operation. Klenske transitioned full time to owner and president of his own company, working alongside his wife and sons who he says are integral to the company.
"We gradually, with the money from my retirement from Fleetwood, grew from a four-truck operation to owning 130 trucks," Klenske says. One of the most valuable things I learned at Fleetwood was vertical integration – doing things yourself."
That opportunistic mentality has taken Dalton Trucking into several lines of business branching from its main dump trucking operation. From its main 28-acre yard in Fontana, Calif., Dalton runs 100 trucks that haul construction commodities such as lumber, steel, rebar and pipes. The company's low-bed trucks range in capacity from 80,000 pounds to 230,000 pounds. In 1999, Klenske saw an opening to expand his business and opened a second facility in Bloomington, Calif., to provide transloading and warehousing service.
Into New Avenues
"I was looking for growth opportunities and reasoned that with freeways getting more congested and the cost of fuel going up and drivers getting harder to come by, it makes sense that people will switch to rail," Klenske says.
Klenske found a 12-acre site and after partnering with Union Pacific (UP), Dalton Trucking opened a second line of business – Dalton Logistical Services (DLS). The facility is a joint effort between UP and DLS. DLS built 4,000 feet of track and a public warehouse and UP opened up rail service. DLS provides transloading, third-party indoor/outdoor warehousing, inventory control and transportation by rail or truck.
Dalton Trucking's entrepreneurial spirit didn't end at the railroad. Five years ago, the company got into the gypsum mining business at Mesquite Dry Lake in the Mojave Desert. Gypsum is a hydrated sulfate of calcium used in concrete products and can be processed into wallboard and used as an additive to cement to form concrete when rock and sand are added.
"The person leasing the land came to us and said, 'I have a lease with gypsum on the property, but I don't know how to market it or have the equipment to haul it, but you can do both.'" Klenske says. "What's great about this opportunity is it makes us even more valuable to people who use gypsum, like cement clients."
The company also operates a limestone mining operation at Amboy, also in the Mojave Desert. The material is ground into a fine powder and changes names to become calcium carbonate which can be processed into pharmaceutical ingredients.
Dalton Trucking opened its third facility in Adelanto, Calif., to handle the gypsum freight coming out of the Mojave Desert. Four years ago, Dalton Trucking began hauling bulk iron ore into its Fontana yard.
All in the Family
Klenske says that Dalton Trucking is able to handle its varied business lines because of the depth and breadth of its in-house skills.
"We do as much as we can here because it saves time and labor," he says. "We have a body shop, tire shop and two welding shops that have really paid off for our business."