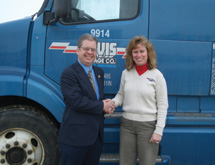 Glen Merkel got his start with Davis Cartage Co. in 1980 straight out of college. He began as a cost accountant and eventually moved into operations, became a vice president and is now president of the company and the major shareholder. Just as Merkel adapted and took on different roles throughout the business, Davis Cartage also has been successful at adapting to the needs of the market throughout its history, which dates back to the 1930s.
"We believe we are the oldest Michigan-based, for-hire common carrier," Merkel says. "The last recession took out a lot of other companies, but we've been able to adapt to the changing markets and that keeps us going."
Based in Corunna, Mich., Davis Cartage offers LTL, truckload and Canadian cross-border transportation services. Specializing in short hauls, its fleet includes 50 tractors and 210 trailers. It also operates five warehouse facilities in Michigan, totaling 400,000 square feet of space and including refrigerated and licensed food-grade storage space. The company's Niles, Mich., facility serves many Midwest markets and can provide transload services with rail access to locations in the United States, Canada and Mexico.
Serving primarily the processed foodstuff and automotive markets of Michigan, Davis Cartage's truckload services travel in the Great Lakes region, its LTL services go throughout Michigan and to Chicago daily, and it acts as a Michigan cartage agent for several larger LTL carriers.
"We specialize in just-in-time shipments," Merkel says. "We strive for 100 percent on-time delivery, and we are very close to that. We focus on the short-haul market – a lot of other companies tend to go for long-haul freight, but our niche is short haul. We have a very large presence in a small area."
High Standards
Davis Cartage upgraded its warehouse management software recently to include RFI capabilities, which has given it "much better and more accurate" inventory control, Merkel says. The main way in which it maintains quality operations, however, is by hiring the best drivers. Merkel notes this has been a challenge because of the market's driver shortage, but Davis Cartage's business is structured in a way that attracts the best.
With its short-haul focus, he says, Davis Cartage's drivers are home much more than drivers of other companies. Most of its drivers are home several nights a week and all of them are home every weekend.
"This really allows us to hire and maintain quality drivers in this current market shortage," Merkel says. "We don't hire anyone with less than two years of verifiable driving experience and they must have an extremely clean record. We turn down 80 percent of the applicants. Even with the shortage, we maintain very high standards because of the services we want to deliver."
He explains Davis Cartage is constantly evolving and examining the markets it serves through strategic planning. Michigan's market is coming back in "a very positive way," he says, and Davis Cartage continues to excel in the services clients need. All of its drivers are licensed and able to travel in and out of Canada, and it sends about eight trucks to Canada each day. On-time, cross-border services are important to its customers, he says.
"We spent a few years in survival mode when the recession hit, but now we're back into growth mode," Merkel says. "I would like to see us reach 15 to 20 percent growth this year with new customers and taking on additional business with current customers."