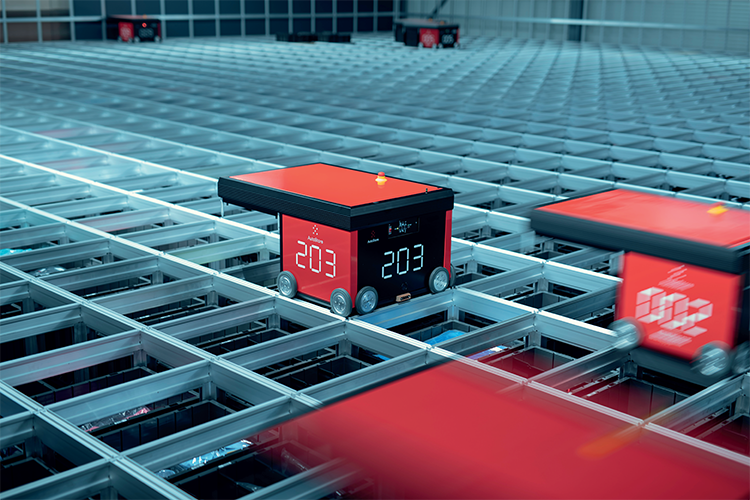 The logistics industry is still heavily reliant on an industrial model of centralized fulfillment and supply chains. With shipment from individual locations to individual consumers, the current centralized model will not facilitate consumers of the future needs. We have seen more of a demand from businesses looking to host flexible warehousing solutions, enabling them to adapt to growth and demand, whilst improving the overall supply chain.
Deploying something like warehouse automation will benefit stock holdings, delivery times, and accurate picking, which all increase the probability of customer retention. Investing in automation will free up shop floor space as staff will no longer have to operate manual picking giving them the opportunity to learn new skills such as robotic management. This opens up the opportunity for retailers to experiment with their in-store customer experience, which can result in a higher footfall and greater product availability.
The pandemic and teething problems surrounding Brexit have shown us that more than ever local and global businesses need to adapt quickly. At the heart of AutoStore is an adaptation, the ability to evolve or shift to meet scalability and demand, or to reduce to fit into urban environments supporting micro-fulfillment solutions.
We are seeing more consumers becoming sustainability-conscious. The green trends rely heavily on a different type of supply chain, with companies looking to reduce outputs like electricity usage through the implementation of dark warehousing and low energy running robotics.
Many supply chain and logistics companies are still operating outdated mechanized equipment, which typically requires high maintenance to keep operational, is slow when it is in operation, and is very energy inefficient. Quite often this technology is better suited to full case picking, the methodology used for retail store replenishment, than for e-commerce picking, which requires a higher percentage of single item picking per operator. An easy way to reduce outputs is by implementing low energy use robotics for picking and handling, for example, ten AutoStore robots can operate on the same energy quantity as one vacuum cleaner.
Some of the anticipated pain points for next year are lack of product availability, skills shortages, and Brexit-inflicted supply chain challenges, which is applying increased pressure to the industry. Intensified by the ongoing pandemic and social distancing guidelines, the number of workers allowed on the shopfloor is reduced. This isn't making for an attractive workplace. And the reliance on manual operations isn't retaining skilled employees who can work in a fast-paced environment.
Investing in automation that can change with the business demand will only catalyze operations. Supporting manual labor jobs through upskilling roles and retraining warehouse staff to run and oversee the robotics, which in turn will create more desirable, versatile, and better paid opportunities.
Inevitably, there has been a surge in online retail. However, a large percentage of consumers have been taking up premium delivery passes, or loyalty programs following their positive experiences and efficient supply and demand various retailers now offer. This growing trend includes a large portion of traditional high street shoppers who have received a good experience online and look to retain an increasingly blended approach to shopping going forward as opposed to reverting to bricks and mortar.
As a result, the demand for ever-faster delivery solutions has increased dramatically. Shifting expectations around not only speed but the ease of delivery, amplified by the 'Amazon-ification' of e-commerce. This means that consumers are looking for elevated delivery solutions across the board – whether they are ordering from their local supermarket or an exclusive boutique.
Driving this consumer trend is a focus on urban last-mile fulfillment services, as retailers shift from out-of-town warehouses to micro-fulfillment centers which can meet customers where they are. By putting more stock into such centers, retailers will be able to meet increasingly tight delivery windows.
With adaptable and scalable warehouses, businesses can create the ultimate space maker, with solutions like AutoStore's ultra-high-density grids, companies can hold up to four times the storage capacity in the same footprint as manual storage, with the space to offer more services and inventory, storing a higher level of product and meeting surge orders with increased availability for expanding e-commerce providers.
Adopting this model offers real promise for the high-street. By developing the empty spaces left behind by decreasing footfall, and utilizing them as micro-fulfillment centers, retailers can provide consumers with centrally located, easy collection points, which enable rapid delivery times and a fresh driver of dwell time in new 'hybrid' shop-cum-delivery hub spaces.
With the logistics industry still reliant on an industrial model, centralized fulfillment, and supply chains, this model will not be able to facilitate the needs of future consumers. Meeting this challenge requires urban micro-fulfillment solutions to reduce delivery miles and time. This approach will pay off in terms of sustainability. Investment in robust last-mile urban fulfillment and micro-fulfillment solutions will play a large part in reducing travel times and therefore emissions, with the hope that further down the line, the delivery can be carried out by electric autonomous vehicles.

James Smith is UK Managing Director of AutoStore. AutoStore, founded in 1996, is a robot technology company that invented, and continues to pioneer, Cube Storage Automation – the densest product/inventory storage solution in existence. The company's focus is to marry software and hardware with human abilities to create the future of warehousing. AutoStore is global, with more than 750 systems installed in over 40 countries over a wide range of industries. All sales are designed, installed and serviced by a network of qualified system integrators – which AutoStore calls 'partners'. The company's headquarters is in Nedre Vats (Norway), with offices also in Oslo (Norway), in the U.S., UK, Germany, Austria, France, Spain, Italy, Korea and Japan.
www.autostoresystem.com