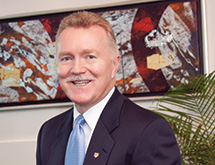 In the past, supply chains were mainly designed to minimize costs while maximizing customer benefits. But global logistics company Deutsche Post DHL expects that approach to change as companies adapt to today's business environment. "Future supply chains have to be more resilient and must be built around risk management," says Reg Kenney, president of DHL's Global Engineering and Manufacturing sector and head of DHL's Customer Solutions & Innovation, Americas Region. "If they don't, companies could encounter significant losses in brand value, profits and share price."
According to a 2013 World Economic Forum study, disruptions in the supply chain cut the share price of impacted companies by an average of 7 percent. To counter the potential damage from a supply chain disruption, DHL is designing products and programs to protect sales, maintain service levels, reduce emergency costs, recover quickly from a disruption and protect the customer's brand and marketshare.
DHL Resilience360 is a supply chain risk management consultative solution that aims to turn disruption into a competitive advantage. The solution improves the resilience of a customer's supply chain through continuous assessment study and software-based incident monitoring. To deliver Resilience360, DHL leverages its extensive logistics expertise, supply chain information, global network and partnerships with leading risk management data providers and risk intelligence.
DHL has been innovating such logistics solutions since its founding in 1969 as the world's first international door-to-door express delivery service. The German company is Europe's largest postal service and a leader in international express delivery, contract logistics, forwarding and e-commerce. DHL's market spans 220 countries and territories and 60 percent of its approximately 480,000 employees are located outside of Germany. The company delivered 692,500 international express shipments each day in 2014 – a 7.7 percent increase from the previous year – and its 13.7 million square meters of warehouse space serves worldwide supply chains.
Between its five divisions, DHL can provide solutions for virtually any logistical challenge. DHL Express provides import, export and domestic services, and industry and small business solutions. DHL Global Forwarding handles air and ocean freight, industrial projects, transportation management and customs clearance.
Likewise, DHL Freight provides customs clearance along with full and less-than-truckload shipping and intermodal transport. DHL Supply Chain oversees end-to-end contract logistics and industry solutions. The company's Williams Lea subsidiary provides mail processing, bulk mailing and printing as part of its business process outsourcing and also acts as a brand services agency.
Market Shifts
DHL's customer base touches nearly every field, but engineering and manufacturing (E&M) customers – particularly in the aviation and aerospace industry – have been an area of growth in recent years, Kenney says. The E&M sector is on the brink of change, Kenney explains, as companies are preparing for a more competitive market.
DHL's own research shows that supply chain managers will have to deal with an even higher level of complexity in the future. Companies are expected to develop broader and more customized product portfolios requiring more suppliers, more interfaces and new compliance requirements along the supply chain.
"To deal with volatility and exogenous threats, future supply chains must be both resilient and compliant," Kenney says. "E&M companies will be forced to constantly re-examine the trade-off between efficiency and redundancy, and contingency planning will become imperative. At the same time, supply chain managers will be increasingly challenged to understand new and ever-changing compliance specifications, adapt processes accordingly and make sure all requests are met."
Based on those predictions, DHL anticipates numerous complications for future supply chains. "Speed to market and the ability to react promptly to changes in customer demand will require a global network of more regionalized supply chains closer to markets and customers," Kenney says.
DHL believes better supply chain management will allow E&M businesses to become more customer centric and competitive. The challenge for E&M companies, Kenney says, is to meet the demand for increased production rates and profitability in a highly competitive environment. DHL's customers in the industrial equipment, mining and consttion equipment markets have seen little or no growth for several years, for example.
"Our customers are increasingly facing challenges driving earnings growth in particular in this environment," Kenney says, "and if they're going to drive earnings, they have to somehow address cost. And logistics costs, for many of our customers, are a significant portion of the overall expense."
Kenney and DHL are addressing logistics costs by working with customers to discover ways to become more efficient. "We can bring solutions forward that will help them out there in a very highly competitive marketplace and hopefully make them more successful in terms of driving earnings growth as well."
Providing Solutions
Many of DHL's global customers have strong internal logistics and procurement organizations, but managing the responsibilities of a global supply chain can be a daunting task even for the largest of companies. To help its global customers, DHL created Customer Solutions and Innovation, an organization that facilitates easy access to all of DHL services and products. Customer Solutions and Innovation streamlines the process to give customers a single point of contact even when a job requires coordination with multiple divisions within DHL.
"The feedback from our customers on this structure and this strategy is very favorable," Kenney says. Customer Solutions and Innovation, Kenney says, enables clients to better align decision-makers with their internal organizations as well as DHL.
In addition to providing solutions to today's logistics problems, DHL is constantly looking ahead at how outside forces will impact its clients. The company believes that customer demand for environmental practices, regulatory pressure and economic necessity will drive supply chains to implement sustainable practices. Environmental performance will gain importance in procurement decisions, Kenney says, while businesses will need to develop capabilities for reverse logistics, including repair services, product returns and recycling.
DHL has readied its business to provide solutions in all of those areas as they emerge. "New technologies will build the basis for highly integrated supply chains in the future, connected end-to-end in real time," Kenney says. "This will significantly increase supply chain visibility and the anticipatory capacity of the whole systems, enabling higher service levels."
Build-to-order production will become the norm for the engineering and manufacturing industries as markets face an uncertain future, he adds. DHL is building a more agile and responsive supply chain as companies cope with unpredictable demand by making smaller batches of customized products with shorter product lifecycles.
"For all of these supply chain implications, there are already best practice cases in the E&M sector today," Kenney says. "For future success, it will be key to apply and further improve these best practices across the E&M sector. At the same time, expertise from other sectors can be leveraged. This is especially the case for well-established concepts from the automotive and technology sector."
Even as it identifies growing trends in engineering and manufacturing logistics, DHL continues to gather feedback from customers to fine-tune its strategy. The company holds the DHL Engineering and Manufacturing Global Conference to provide customers an opportunity to network with industry peers and build a professional community. The annual event includes workshops and help DHL build lasting relationships with its customers.
Those hands-on conferences are simply another way that DHL ensures it can meet the needs and expectations of every client. "Whether it is in terms of routine transportation requirements and the quality that we can bring there, or the very focused, tailored solutions that we are able to develop for our customers, we're very proud of the suite of capabilities that we are able to bring to our customers," Kenney says.