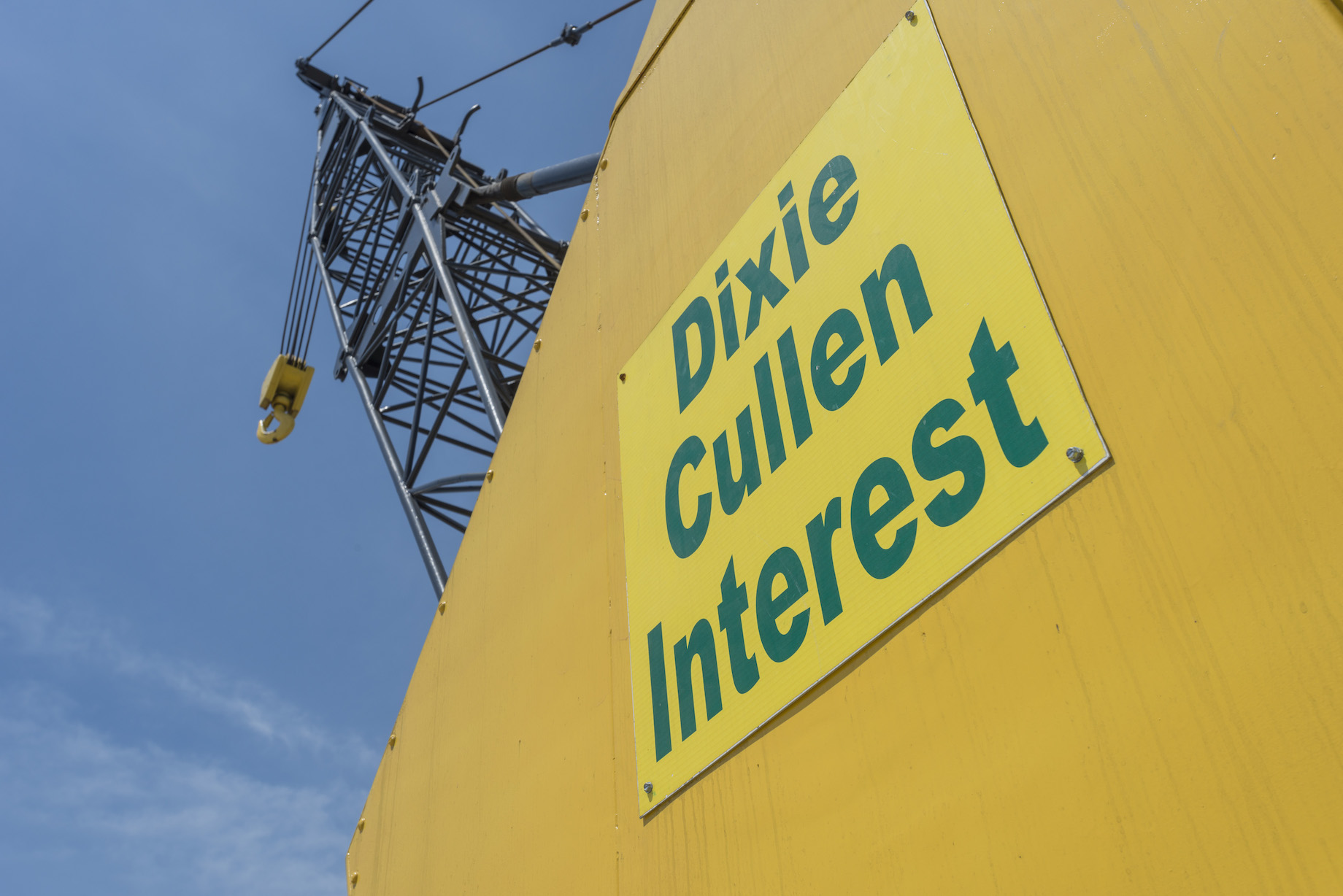 Dixie Cullen provides a range of inventory solutions for heavy equipment shippers and users.
By Tim O'Connor
Equipment handling and storage company Dixie Cullen's mission is straightforward: to be considered an extension of its customers' shipping and receiving departments. The company's close relationship with its customers and reliable reputation proves it is accomplishing that goal. "I have three customers when you bring up their website, their warehouse address is our address," owner and CEO Catherine James says.
Dixie Cullen is a Houston-based, woman-owned business specializing in the storage of machinery, steel and other heavy industrial products. James describes her business as in a niche market and driven by positive word of mouth. "In 21 years, I don't have a sale staff," she explains. "All our work comes to us through referrals."
In 1995, James was working work a machinery moving company that specialized in plant relocations. A customer had its import permits pulled and needed a place to store its printing presses while the issue was resolved. James learned about a vacant building that was available and could serve that customers' need and Dixie Cullen was born.
The 250,000-square-foot building had sat empty for several years and was in need of major work. The electrical systems and sheet metal were completely redone and 40 dumpsters full of trash was hauled out. But the new company made it work and was able to receive and store the printing presses.
Quick Capability
It started with solving a problem for one customer, but other clients were soon filling up Dixie Cullen's warehouse. "Some of the customers we developed during that first year of business are still our customers," James says.
In 2007, the rising demand forced Dixie Cullen to lease out an additional facility until its permanent second facility opened five years later. James said the opening of the new warehouse allowed the company to grow 68 percent in two years. "It's been a roller coaster ride, but it's been an exciting one," she adds.
Dixie Cullen now operates two buildings about a half-mile away from each other and less than 20 minutes from the Port of Houston. "We're right where we need to be to move this heavy equipment through," James says. The main warehouse facility opened in October 2012, is 300,000 square feet in size and is designated as a Foreign-Trade Zone. The facility has 14 heavy lifts and a 50-ton overhead lift capacity, making it capable of handling the largest machines. Dixie Cullen's newest facility is a 100,000-square-foot building with a 100 overhead -ton overhead lift capacity and four additional overhead cranes have been added – though five more are scheduled for installation by the end of this year. Between the two facilities, Dixie Cullen has 60,000 square feet of climate control space.
James believes in quick turnaround. In June, for example, the company handled two pieces of power generation equipment, weighing 153,000 pounds and 225,000 pounds respectively, for a customer from South Africa. The carrier delivered the over dimensional equipment and Dixie Cullen employees had it unloaded before the customer arrived at the facility from the port. "When it's planned and you can work together on it with no surprises, it goes as smooth as can be," James says.
Customers use Dixie Cullen when preparing to export machinery and are waiting for permits, or a construction project is put on hold and the equipment must be stored somewhere where it can be protected from the elements. Others utilize Dixie Cullen's warehouses for inventory or to rotate large machinery in and out of their manufacturing shops to free up space. The company also provides export packing and containerizing for materials and transloading services for containers coming in from overseas and is ISPM 15 Certified.
Proactive Approach
Often times, material comes in and Dixie Cullen loads and unloads it without the customer ever laying their eyes on it. "We are the eyes and ears of our customers," James says. Clients rely on Dixie Cullen to recognize when a shipment is damaged or has something else out of the ordinary. Dixie Cullen then takes pictures of the item and sends it to the customer so the customer can adjust its order with the supplier or refuse the shipment. "We're on the phone with [the customer] before we do anything," James says.
Dixie Cullen's proactive approach goes beyond its handling of shipments and equipment. The company also helps its customers understand and stay ahead of new rules. James authors a blog on the Dixie Cullen website that informs customers of upcoming regulations, such as changes to the International Maritime Organization's Safety of Life at Sea Convention (SOLAS) that now require verifying container weight prior to shipping. "Those are things we try to keep abreast of because it makes us valuable to our customers," James says. "In addition to the customer service, they know they can trust us."
Dixie Cullen's reputation as a reliable service provider continues to fuel its growth. The company is now in the process of deciding how to add another 200,000 square feet of storage space, either through an expansion or a third facility. Either way, James knows her business will have to add staff. The kind of person Dixie Cullen looks for must understand the need to get sweaty and give the company a 10-hour workday. That dedication is critical to maintaining Dixie Cullen's status in the region. "If I have one employee who doesn't understand that there are times when you have to put forward the extra effort in this industry, it doesn't work," James says.
www.dixiecullen.com
HQ: Houston
Employees: 27
Specialty: Heavy machinery and equipment storage