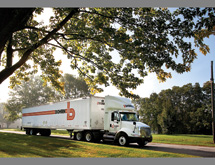 LTL carriers that can truly call themselves Midwest operators are getting harder to find these days. Many companies that claim to serve the Midwest either focus on only one or two states, or they're nationwide conglomerates whose routes include only the largest metropolises in the region.
Dohrn Transfer Co. is as Midwest as it gets, though. Based in Rock Island, Ill. – a town just south of Davenport, Iowa, across the Mississippi River – the Dohrn family has built its LTL and budding logistics business into a legitimate Midwest carrier. Dohrn serves small rural towns throughout Illinois, Iowa, Indiana, Missouri, Nebraska and Wisconsin, as well as parts of Minnesota, Kansas and South Dakota.
"We're in all of the small towns every day," Sales Manager Heather Dohrn-Schmit says. "We're one of the few carriers that goes into those tiny towns. In fact, a lot of other carriers give us freight to deliver to small towns. One of our big niches is being in every city every day."
Consulting its Clients
Dohrn Transfer's three decades of success stem from more than timely deliveries to a wide geographic region. The company also has earned customer loyalty by serving as a logistics consultant for some of the largest distributors in the United States.
For instance, Dohrn Transfer had to play the role of consultant just a few years ago when it pursued a regional carrier contract with John Deere. When Dohrn Transfer earned the contract, the company started collaborating with John Deere on some of John Deere's longer-term goals. One such goal was to leverage part-ordering information to allow for more proactive transportation planning and decision-making.
Executive Vice President Joe Dohrn says John Deere's system identified which parts should be shipping from where, and John Deere had a 3PL provider with a different system where suppliers entered their daily shipping needs and the 3PL managed it.
The solution to the problem starts with the supplier looking at one shipping date at a time as Dohrn Transfer generates estimated shipments based on the information in the part order file.
"So, when the part file is accurate and supplier is shipping on schedule, they only need to confirm the handling units and space needed on the trailer to schedule a shipment," Dohrn says. "Everything else is pre-populated. The system also allows for free form entry for the cases when the supplier is shipping something the system doesn't expect."
From there, Dohrn developed its own optimization engine that looks at everything the suppliers have scheduled to ship and makes the best cost- and time-based decisions possible
John Deere has been impressed with Dohrn Transfer's efforts so far. Dohrn Transfer was named John Deere's supplier of the year in 2010 and earned the company's Supplier Innovation Award in 2011, according to Dohrn.