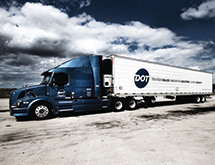 Dot Transportation's job is to redistribute approximately 109,000 products from 775 food industry manufacturers throughout the lower 48 states. Dot Transportation makes sure those deliveries are made in a timely and safe manner for its parent company, Dot Foods Inc., the largest food industry redistributor in the United States.
Keeping its approximately 1,200 driver positions filled with satisfied employees is the challenge for Duskee Kassing, Dot Transportation's director of operations, and doing it safely is the concern of Victor Hart, the company's safety director. To achieve that, Dot Transportation is testing innovative new programs to fill its driver ranks and the company is training its employees in safe equipment operation.
"We have opened a new job type that is four days on and four off," Kassing says. "The driver works on a rotating four-day schedule. This allows for more home time than some of our traditional positions. This has really allowed us to tap into a different driver market."
These drivers are trading time for money with this pilot program. "We've evaluated the schedule to ensure that they have the ability to make a fair wage for the work demands and time spent away from home," Kassing says. "We share schedule and compensation expectations with them upfront, so they recognize how this program looks different from our traditional positions. This allows the driver choices in what best suits their lifestyle."
Kassing estimates drivers on the four-day schedules earn approximately 75 percent of what a full-time driver makes. The four-on, four-off option has been implemented at four of the company's nine distribution centers across the country. "The younger generations have found the new four-on/four-off position appealing because it offers them a set schedule," Kassing says. "Drivers know when they'll be home and can plan for time with their friends and family. Best yet, they receive Dot's benefits plan and earn a good living while only being out on the road four days a week."
So far, the program has been successful. "The drivers that have joined us in that role are really positive about what it's been able to do for them," Kassing reports. "It really has helped us reach a different demographic and tap into a different market."
Warehouse to Driving
As a food redistributor, Dot Foods buys full truckloads from food manufacturers and consolidates their products in its distribution centers. Then it resells these products in less-than-truckload (LTL) quantities to distributors weekly for no extra cost to the distributors. The manufacturers compensate Dot to handle distribution of their LTL orders. Dot Foods employs warehouse workers at all its distribution centers.
To help fill its driver ranks, Dot Transportation is offering warehouse employees the opportunity to join the more lucrative ranks of its drivers.Another program offered by Dot Transportation Inc. (DTI) is the use of eight drop lots to allow drivers who may not live within a 150-mile radius of the company's distribution centers the opportunity to work for DTI.
Safety Programs
Dot Transportation offers drivers the use of health coaches that they can contact when they suffer work-related pain or personal injury. "The coaches can help drivers either work through the injury, pain or illness, or actually refer them to a doctor if it's something that needs medical attention," Hart says. "The proactive work with our occupational health team when an ache or pain is first noticed has helped reduce the number of more severe injuries." Dot also is encouraging medical clinics to locate near their distribution centers.
The company has a safety committee, which includes drivers, that reviews each injury to determine its root cause and how it can be avoided in the future. "The idea is to get the drivers involved," Hart says. Dot also uses a predictive analytic scorecard to pinpoint behavior that may lead to an accident. Among the warning signs for accidents is speeding 15 miles per hour or more above the speed limit.
"We have technology in the tractor that tracks speeding events," Hart says. "We sit down with the driver and go over their metrics. The top 10 percent of the drivers are our focus. We explain where we can have improvement, and so far, it's been received well. That was introduced in Mt. Sterling first, and accidents dropped significantly." The program now is company-wide, and Dot has hired a safety coordinator to administer it.
Dot also has a pilot program to use video equipment on its tractors. Dot pays drivers an incentive bonus of $300 per quarter for achieving a certain level on their compliance safety accountability (CSA) score. "Our company-wide average CSA score has dropped significantly since introducing that pay three years ago," Hart reports. "Our average score now is around 12 for the company, and we averaged over 20 before. We have always been an open-comment, open-door-policy company, and we will try to encourage that even more."
"Our goal is to get preventive treatment and have happy and healthy employees," Kassing concludes.