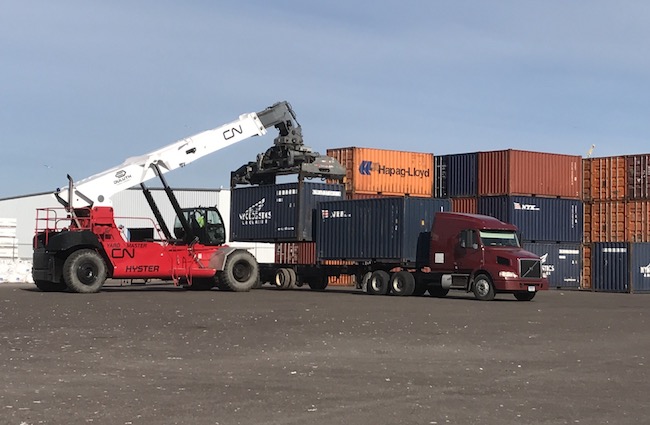 Investments made to the Port of Duluth-Superior inspired the development of Duluth Cargo Connect and its continued growth.
By Janice Hoppe-Spiers
Port of Duluth-Superior is the No. 1 port by tonnage on the Great Lakes, ranks 22nd in the country for total waterborne commerce and serves as mid-America's gateway to global trade. There are currently 20 bulk cargo docks in the port plus one general cargo terminal. Owned by the Duluth Seaway Port Authority, that facility – the Clure Public Marine Terminal – has been operated by Lake Superior Warehousing (LSW) since 1991. Together the two entities form Duluth Cargo Connect.
"Duluth Cargo Connect is a joint marketing brand that reflects our working partnership in terms of marketing our facilities, planning for capital improvements and expanding our service offerings," says Vanta E. Coda II, Duluth Seaway Port Authority executive director.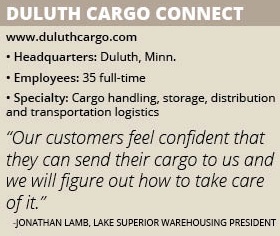 "By focusing on our connectivity, not only can we serve regional industries more efficiently, added Jonathan Lamb, LSW president, "but we also can expand our growth portential in overseas markets."
Together, the partnership provides seamless cargo handling, storage, distribution and transportation services for breakbulk, heavy lift and other project cargoes moving in and out of the Port of Duluth. "That's the maritime side of what we do. In addition, we have about 405,000 square feet of warehouse space," Lamb notes. "We also handle freight traffic that's truck and rail oriented only with on-dock service from four Class I railroads: BNSF, Canadian National, Union Pacific and Canadian Pacific."
Duluth Cargo Connect takes pride in being flexible and as adaptive as possible to customers' needs. "An example of that is the kaolin clay that comes to us by ship from Brazil – an integral product in this region's papermaking industry," Lamb says. "We started that business four years ago, set up a program and installed a slurry plant where we take bulk product and convert it into liquid to deliver to the final customers. We had not done that before, but it was something that a customer wanted and we were willing to look at how we add that into the mix."
The enterprise regularly explores creative ways to meet its customers' demands and new requirements. "We work with customers to streamline their supply chains, saving them both transit time and money," Lamb says. "Our customers feel confident that they can send their cargo to us and we will figure out how to take care of it."
Port Investments
Duluth Seaway Port Authority's Clure Public Marine Terminal covers 120 acres at the center of the Duluth-Superior harbor with dock faces on three sides at Seaway depth of 27 feet. Canadian National Railway and Duluth Cargo Connect announced in March the opening of a brand new intermodal terminal onsite, which transfers containers between rail cars and trucks.
"Duluth Cargo Connect is now considered part of the CN network, which means we have direct rail access to container ports on the East and West coasts and the Gulf of Mexico with CN," Lamb explains. "Because we have warehousing and other services available, we offer containerized customers the ability to stuff, de-stuff, ship and receive containers – often times enabling overweight moves by rail only without having to go out on public roads."
The new CN Intermodal Terminal allows us to capture that land-based capacity for regional shippers to use for international moves," Coda says. "Married with the lineup of rail, truck, marine and warehousing services on our Clure Public Marine Terminal, having this intermodal terminal 'supercharges' our full multimodal platform. It makes the businesses we serve more supply chain competitive in the global marketplace."
The intermodal service brings new opportunities to the marketplace in the upper Midwest. "We are marketing that and developing customizable solutions for customers' need and supply chains," Lamb adds. "It will be a major growth engine over the next five to 10 years. The theme for the future is growth and all aspects that come with that, including more capacity, warehousing, railroad track on-site, equipment handling products and new hires."
Adjacent to the Clure Public Marine Terminal, the Duluth Seaway Port Authority last year completed an $18 million capital improvement project to support maritime business. The Clure Terminal Expansion, formerly known as Dock C&D, is a redeveloped, 26-acre pier that is 1,600 feet long by 680 feet wide with nearly 3,000 feet of dock face, a new RORO dock and direct access to Class I rail service.
In addition to the dock's enhanced capacity for handling heavy lift project cargo, space is available for industrial development at the Clure Terminal Expansion. "Additional millions were spent upgrading facilities plus road and rail access on the main terminal," Coda adds. "These investments are keystones for the next 50 years of caro handling and industrial growth on Duluth's working waterfront."
Moving forward, the Duluth Cargo Connect team plans to continue serving existing customers to the best of their abilities and prepare for increased intermodal and maritime business. "The wind energy market is on trend to be getting busier and busier here in the next few years," Lamb notes. "That will be an important piece of maritime business for the Port of Duluth."