East Coast Warehouse & Distribution Corp.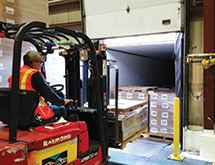 East Coast Warehouse & Distribution Corp. can offer several explanations for its long-term success in the transportation and logistics industry, but one reason trumps all the others: customer satisfaction.
"We are an integral part of our customers' supply chain," CEO Jamie Overley says. "We are a one-stop solution for them. They trust us." Indeed, the company's top 10 customers have confirmed that trust by partnering with East Coast Warehouse and Distribution for an average of 13 years. There are several reasons for their long-term satisfaction, he says.
Among them are location, infrastructure, execution and experience – elements that have made East Coast Warehouse & Distribution the preferred choice for many top brands in the food and beverage industries. "We are very customer-centric," says Rich Coppola, vice president of sales.
Logistics is comprised of many moving parts, and disruptions in the supply chain can occur. "Customers don't care if the ports are upside down," Coppola says. Instead, they rely on their logistics and transportation partner to efficiently deliver merchandise to its ultimate destination.
The company's strategic locations on the New Jersey marine terminals in Elizabeth and Jersey City make it easier to offer end-to-end supply chain solutions, including import and export drayage; temperature-controlled warehousing; co-packing; and local, regional and national truckload and less-than-truckload, Overley says. "We're located on the terminal property," he says.
Birth in Trucking
East Coast Warehouse & Distribution's transportation component has its roots in the company's beginnings. The company started in 1954 as Safeway Trucking, which provided local temperature-controlled transportation for confectionary products within the nation's Northeast corridor. East Coast Warehouse was launched three years later in response to customers' growing need for warehouse space.
Today, Safeway Trucking is one of the largest drayage trucking companies in the Northeast. The firm utilizes more than 120 drivers and owns more than 100 refrigerated trailers and 225 container chassis.
Meanwhile, East Coast Warehouse & Distribution maintains more than 1.3 million square feet of refrigerated warehouse space in New Jersey with controlled temperature ranging from 34 degrees to 65 degrees, as well as ambient space. The facilities have an American Sanitation Institute superior rating and are FDA registered and organic certified as an organic product handler.
Products are protected with state-of-the-art sanitation practices, HVAC systems, pest control systems and in-house security personnel.
The facility is not a general-purpose warehouse. "We are careful about the types of products we bring into our warehouse, as food grade has a completely different set of rules and regulations," Coppola says. "For example, we will not bring in any products that have an odor so as not to risk possible contamination."
The company also has been designated and certified by U.S. Customs and Border Protection as the only comprehensive centralized examination station (CES) in New Jersey. A CES facility makes imported merchandise available to U.S. Customs for physical inspection to protect the country from products not in compliance with USDA or other governmental regulations.
Clients also appreciate the ability to "load heavy." With a port–centric solution, the weight restrictions imposed by the Department of Transportation for public use highways are not germane, Overley explains.
Challenges, Growth Ahead
Like others in the industry, East Coast Warehouse & Distribution continues to face challenges, most notably securing enough experienced truck drivers. There are several reasons for a decline in drivers, including compensation and stricter Department of Transportation regulations, Overley says. Despite these challenges, Safeway has grown its fleet by more than 50 percent over the last several years, keeping the company well positioned in the industry.
Earlier this year, the company updated its procedures and began setting up new accounts under radio frequency and electronic data interchange technologies, which has enabled it to boost the speed of uploading inbound receipts while decreasing inventory rotation and miss-pick shipping errors. Additionally, the company has put in place a transportation management system (TMS) that allows it to integrate all transportation functions and provide customers with real-time container and shipment status updates. Finally, the company recently launched the latest software version of its inventory management portal, SNAP (system network access program), which customers use to track and monitor their inventory in real-time.