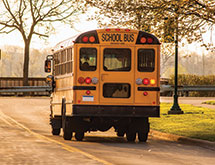 Eastern Bus Co. regularly invests in its fleet and drivers. "We don't run 10- to 12-year-old buses, we keep everything new; 95 percent of our fleet is five years old," says Chuck Winitzer, president and owner of the Somerville, Mass.-based school bus company.
The company anticipates purchasing roughly 30 buses this year. Many of the company's buses use GPS technology, and the majority of them have cameras and seat belts installed. "The cities in our area require and ask for the best, and that's what we give them on our buses," he adds.
Eastern Bus operates 210 buses in 11 communities in the greater Boston area, and employs roughly 200 drivers, all of whom are paid above industry average wage.
These investments have allowed the company to avoid spending in one area in particular.
"We've never advertised anywhere," Winitzer explains. "It's all through word of mouth and the job we do that we've been able to increase our business."
Eastern Bus' clients include school districts in and around Boston and Cambridge, Mass., as well as museums, colleges, churches, arts groups and other organizations that contract it for charter work. "People like using us," he adds. "When someone calls me to say they were told that we are the best company in the area to work with, that's what makes me feel good."
The company also regularly donates its fleet for charity events or special occasions, including transporting people to memorial services for victims of the Boston Marathon bombing in 2013. Eastern Bus also financially supports organizations including DARE and the American Diabetes Association. "We've always been there for anyone who needs us," Winitzer says. "That's part of who I am and who we are as a company."
Keeping In Touch
Winitzer founded Eastern Bus Co. in 1997 after leaving another bus operator he had managed since 1981. In a role previous to this bus operator, Winitzer had worked with Cambridge Public Schools, which became Eastern Bus' first major contract.
The company continues to provide service to Cambridge schools. This spring, Eastern Bus and the school district are testing a GPS-based system that would allow parents to track their children's bus trips and confirm when they've boarded a bus. If successful, the system will be implemented throughout the district in the fall.
All of Eastern Bus' customers have direct access to Winitzer. "Any time there's a problem, I'm the one they talk to," he says. "With other companies, you'd talk to a dispatcher or someone answering the phone, but over here I'm getting involved, even if it's at night or on weekends. The cities and groups we work with like knowing they can talk directly to the boss."
Eastern Bus' customers also benefit from the company's use of electronic communication. "As soon as you call in for a job, you get a written confirmation e-mailed to you with the details, so if there's a mistake, we can fix it," Winitzer adds. "Our customers like to know they're getting exactly what they ordered from us."