As Pol Sweeney, VP Descartes explains, entire fulfillment efficiency is absolutely crucial for those organizations looking to stand out from the crowd
The Global pandemic that we find ourselves in has presented challenges for nearly every industry, individual and organization around the world. Particularly for those in retail. Lockdown restrictions and fear of contracting the Coronavirus has prevented consumers from shopping on the high street. As a result, ecommerce has seen a huge surge in demand. Many businesses have already switched to an online only model, and those who are looking to survive the pandemic won't be far behind. But this now makes ecommerce a very challenging marketplace – how do you differentiate your company from the rest of the competition?
Growing demand
The volume of last mile delivery is increasing rapidly. In turn, some of the major players in the industry are investing and recruiting heavily. DPD recently announced a £200m investment for its next-day parcel capacity, including £100m on transport vehicles, £60m on new regional depots and £40m on technology. Along with a further 6000 new UK jobs. Furthermore, Hermes has also announced a £100m investment as well as recruiting an additional 1500 employees to expand capacity in order to meet demand driven by the growth in online shopping.
Demand for online grocery shopping soared over lockdown too, and continues to grow. Amazon entered the grocery space pre-Coronavirus, and with the market now even more alluring, AmazonFresh has announced its plans for wider roll out across the UK.
But, as we saw during the peak of lockdown, many online grocers were not fully prepared for a sudden change in shopping behavior. From not being able to fulfill orders due to stock availability, to poor communication and customer service within the delivery service – the winning organizations were the ones who were able to respond rapidly to the unprecedented demand. Adaptability and flexibility are two key lessons for the future, not only online grocers, but all ecommerce operations.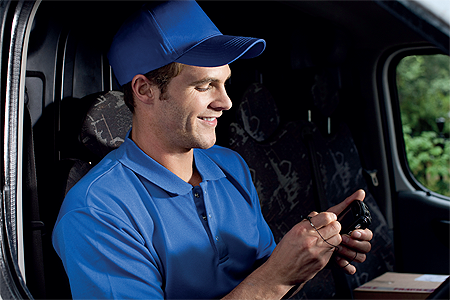 The modern customer
Not only is the volume of ecommerce shopping increasing, but customers also desire a 'frictionless' experience. Often, ecommerce organizations make the mistake of putting too much emphasis on the initial interaction, With the rest of the experience woefully inadequate. This is no longer acceptable, with so many ecommerce competitors to choose from, the entire process has to meet expectations.
Consumers have the power, and next time they'll go elsewhere.
Modern consumers have the ability to consume 24/7, they expect delivery at a time which is convenient or next day delivery, and even same day delivery. But, as people begin to return to work, the luxury of being able to deliver at any time during the day will be lost and there will be an increasing demand for allocated delivery slots. And importantly, customers will want to see total visibility of their order and delivery status throughout the process.
Organizations that are looking to retain their customers will have to ensure that communication and customer service are of the highest standard. Frictionless retailing is not just about leveraging innovative technology to make it easy for customers to spend their money once: it is about ensuring the entire, end to end experience is frictionless, seamless and enjoyable to make it easy for customers to stay loyal and continue along the ecommerce journey even when we're in a post-Coronavirus environment.
Sustainable logistics
There has never been a more important time to look at implementing sustainability into logistics practices. The demand for ecommerce and same-day delivery continues to grow exponentially and the logistics industry is facing even tighter margins. Furthermore, it's expected that as businesses start to resume normal operations, there will be more cars on the road as people choose to avoid commuting on public transport. Sixty-four per cent of people living in cities now consider car ownership to be even more important despite congestion alone costing the UK economy nearly £8bn annually, and the US a whopping $87bn annually.
For a globe that is focusing on greener practices from waste through to packaging, the last thing retailers want is to have a high pollution fleet servicing their ecommerce customers. From congestion to driver shortages, to diesel bans and calls for more sustainable route planning, transport operators must do more with existing resources to save costs and improve their footprint. Moreover, they must be able to navigate their way through the increasing prevalence of low emission zones, restricted areas and congestion in such a way that won't affect the customer delivery experience.
Technology to support
The importance of virtual real-time information has gained ground in recent years. Retailers increasingly recognize the value of a complete and up to date picture of the current stock position – across distribution centers, warehouses and stores – to better understand fulfillment options. But that is just part of the picture. To achieve frictionless fulfillment across all channels retailers also need to understand the stock that is in transit from suppliers, with accurate Estimated Time of Arrival. With a complete and virtual real-time picture of all stock, including expected deliveries, retailers can embrace far more intelligent fulfillment models across every channel, including in-store.
Adding virtual real-time delivery capacity information and, critically, proposed route information enables retailers to completely transform the way delivery options are offered to customers. Rather than set very specific 'same day', 'one day' or 'three day' delivery options with a sliding price model, retailers can leverage real-time capacity insight and intelligent algorithms to offer delivery options and prices that reflect actual delivery capacity available so that consumers can select a delivery slot that is most convenient for them.
Real-time route data provides essential information to keep customers up to date on the progress of the delivery. From 'you are next on the delivery list' to apologies for delays due to accidents, timely and relevant communication is a fundamental component of a good customer delivery experience. Furthermore, with the ability to continuously optimize a route, even on the day of delivery, retailers can begin to effectively combine deliveries with returns collections, further enhancing the customer experience.
Additionally, utilizing intelligent routing and scheduling solutions that take advantage of telematics can be applied throughout the supply chain to help create a more efficient and sustainable logistics model. From the initial collection from the manufacturer or warehouse all the way through to the last mile of the home delivery process, it offers the ability to view the supply chain in its entirety, in real time and with up-to-the-minute data.
By creating end-to-end visibility, and applying a routing system in this way, a transport operator can transform performance, through greatly improving the deployment of resources; ensuring routes are optimized for traffic congestion and in conjunction with collection or delivery schedules; as well as allowing for more dynamic use of third party carriers and subcontractors.
Pre-booked delivery appointments allow for far better congestion management, a reduction in wait times, emissions, failed deliveries and an improvement in customer service as it's clear exactly when they'll be collecting or delivering. All factors an intelligent routing system can take into account to ensure that the route is optimized to the maximum potential for that day.
Conclusion
Customer demand for quick delivery and a frictionless experience has been growing and Covid-19 has only expedited that further. Ecommerce organizations that capitalize on innovation and unlocking greater efficiencies will reap the rewards of happy and loyal returning customers that trust the brand will deliver on their promises.
Pol Sweeney is a VP at Descartes, the global leader in providing on-demand, software-as-a-service solutions focused on improving the productivity, performance and security of logistics-intensive businesses. Customers use its modular, software-as-a-service solutions to route, schedule, track and measure delivery resources; plan, allocate and execute shipments; rate, audit and pay transportation invoices; access global trade data; file customs and security documents for imports and exports; and complete numerous other logistics processes by participating in the world's largest, collaborative multimodal logistics community.
www.descartes.com