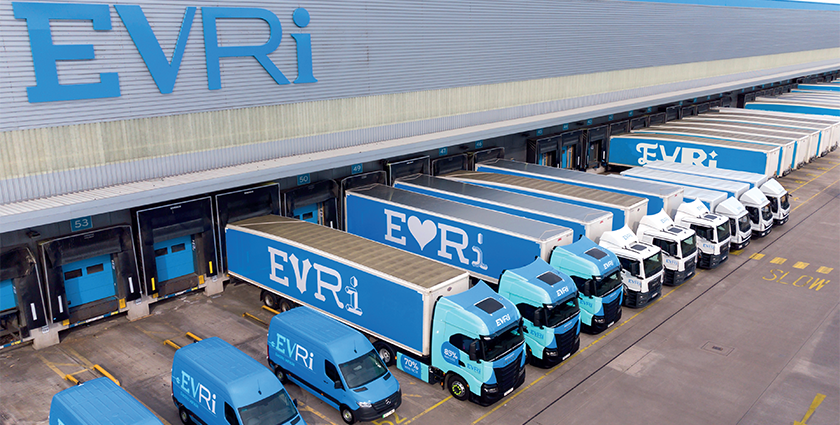 Delivering the goods
Formerly known as Hermes, Evri's rebrand is more than just a simple name change. As our recent interview demonstrates, it's a statement of intent reflecting a commitment to millions of retailers and customers across the UK
Every day, people rely on delivery companies and couriers to send and deliver parcels across the world. Whether it's a secret birthday present, a voice-controlled thermostat, or a vintage jacket won in a last-minute online auction, we place value in these items – and, as a result, we expect them to be delivered on-time and with care.
One name synonymous with postal delivery is Hermes. However, at least within the UK, that name has been lost in transit. Earlier this year, the nation's biggest dedicated parcel delivery firm carried out a fresh rebrand, completely overhauling the design and presence of its services.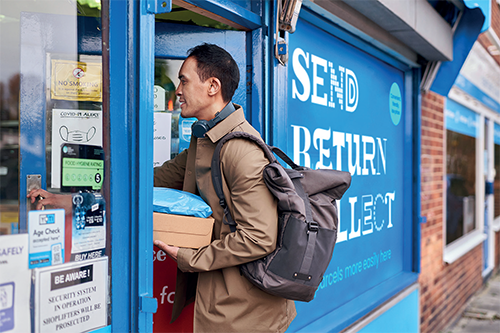 Talking us through this resounding transition is Sarah Taylor-Jones, Marketing Director at Evri, who originally joined the company in the months preceding the pandemic. "This rebrand is the primary element of an ongoing transformation program that began a couple of years ago, and it's bringing exciting changes to all aspects of our operations," she begins. "It not only reflects our business, but also the dynamic communities we serve; we're here for individual customers, e-commerce traders, small- and medium-sized enterprises (SMEs), and major retail brands. As our new strapline puts it: every parcel, every person, every place – every delivery made for you."
Evri offers three ways to send, receive, and return items: courier collection, ParcelShop, and parcel lockers. The popular company, which delivers approximately 700 million parcels each year, now aims to bolster its out-of-home network, raising the number of current operational locations from 10,000 to 15,000 over the next few years. Once completed, a staggering 80 percent of UK residents will live within a ten-minute walk of a ParcelShop or locker, lowering the carbon intensity of Evri's send-and-receive delivery chain.
"Although we've always been a responsible carrier, we're doubling down on environmental, social, and governance (ESG) efforts," explains Sarah. "We already have the greenest fleet in the industry thanks to our ongoing exploration of alternative fuels, and we're continuing to heavily invest in new technology. Many of our products and services are developed in our bespoke Innovation Lab, which acts as a kind of tech start-up within the wider business, and are designed to be fully integrated with retail checkout processes, supporting our partners in their own sustainability journeys."
One fundamental aspect of Evri's recent rebrand is the renewed focus it brings to the people within the company – each and every one. "Businesses are only as good as the people who work for them," asserts Sarah. "Engagement is crucial; we have to listen, and we have to learn. Therefore, we've put several employee engagement initiatives in place, and we are about to launch a new recognition reward program that includes our self-employed couriers and ParcelShop owners. Frequent staff surveys inform action plans and help us understand what people like about Evri, but also what needs improving.
"Another important part of our rebrand is our mission to remove the stigma around mental health," she adds. "We want to ensure its treated as equally as physical health. To that end, we've invested in training 40 mental health ambassadors, and we're currently upskilling managers to know and be aware of the signs of mental health issues, giving them the confidence to support their colleagues. The rebrand has also allowed us to refresh our ethos. As a result, our values are more transparent than ever, making it clear to employees how they contribute value to the business, which should in turn boost personal motivation and mental health."
As the UK's largest dedicated parcel delivery company, employing a colossal team of 30,000 couriers, Evri possesses the scale and, perhaps more importantly, the flexibility to quickly pivot and meet the rapidly changing needs of its customers and retail clients. "We proved our ability to adapt in how we responded to the Covid-19 crisis," asserts Sarah. "For example, we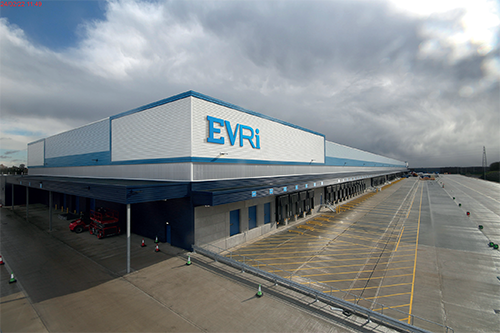 were the first carrier to promote contact-free deliveries and, as more people turned to online shopping amid restrictions and anxiety surrounding the pandemic, we successfully delivered a record number of parcels. It was certainly an interesting time to join the business. Three months after I arrived, everything was full steam ahead: from early 2020, we were delivering more than three million parcels a day.
"The last few years have been incredibly challenging," she continues. "While we've enjoyed dramatic growth, essentially doubling in size in less than two years, we've also had to contend with the fallout from Brexit and the pandemic: driver shortages, global supply chain issues, and skyrocketing energy prices. What a time to implement a wholesale rebrand! However, these changes all find their origin in the pre-Covid world. As soon as we recognized that home delivery was on the rise, we formulated a robust five-year growth plan; the pandemic accelerated our urgency to put that plan in place. We had to move quickly, bringing forward the opening of new depots and delivery units to deal with the surge in parcel volume. We then went on a huge recruitment drive, creating 10,000 new jobs in the first phase of lockdown and investing in PPE and other safety measures for our colleagues along the way. For head office and corporate employees, we gave them the necessary equipment and IT help to allow them to work effectively from home. From a marketing and communications perspective, we had to clearly inform our customers about what we were going to be doing to meet their needs whilst protecting them in such strange and uncertain times. Indeed, on one hand it was business as usual; yet, on the other, we had to reassure people that safety was absolutely critical, for customers and colleagues alike."
Though founded in Germany and now headquartered in Leeds, Evri has firmly placed Barnsley at the center of its future. The South Yorkshire market town will be home to the firm's new parcel sortation hub. At a whopping 340,000 square feet, the hub will be the largest of its kind in Europe and will sort parcels for onward delivery to Evri's network of depots across the UK.
"The Barnsley hub is situated on a 55-acre site in Hoyland and constitutes a major part of our overall roadmap to become a low-carbon company," Sarah details. "It will have the capacity to handle over one million parcels a day and is compliant with the latest sustainable building design standards: solar panels, rainwater harvesting, noise reduction, no waste to landfill, and so on. We've also looked at the space surrounding the building, curating plans to incorporate a biodiversity area to support local wildlife and grow more than 25,000 plants, trees, and hedgerows. Another impressive feature of the site is a compressed natural gas (CNG) refilling station for our CNG HGVs and over 30 charging points for our electric fleet. In terms of the local community, the project will create around 1700 new roles: 900 full-time positions and 800 agency roles for operations staff and LGV drivers, not counting all the jobs that have been created through the site's development and construction, many of which have been taken up by nearby firms."
However, transporting parcels from one place to another will inevitably create a carbon footprint – especially when Evri is delivering more than one million of them every single day. Therefore, the firm has been taking steps to mitigate the carbon intensity of its operations. "In June, we published our first-ever ESG report," Sarah reveals. "It's never been more important to recognize our impact on the planet, and our commitment to do the right for thing for our people – colleagues, couriers, customers, and partners in retail – has come to the fore with this rebrand. Couriers and ParcelShops have always been a significant part of our operations; they play a vital role in the diverse, dynamic communities we serve across the UK. We already have the lowest carbon emissions of any dedicated parcel delivery company in the UK, and we're now growing the industry's biggest sustainable fleet as we continue to invest in technology and explore the viability of alternative fueling methods.
"Electric vans offer us substitute fuels for all journeys," she continues. "Our Gemini site operates with 100 percent electric vehicles to service final-mile deliveries in central London, and we recently ordered 168 zero-emission Mercedes-Benz eSprinters to service our ParcelShop network, bringing us ever closer to our goal of undertaking all ParcelShop collections with electric vehicles at the earliest opportunity. To expedite this, we've commissioned Pod Point UK to install electric charging points at our various hubs and depots. To give customers an idea of what goes into delivering an item: we use CNG for the first mile, reducing carbon dioxide emissions by 80 percent per unit when compared to a diesel equivalent, and then electric for the final mile. With more than 75,000 parcels delivered in this way, the benefits have been made very clear: two electric vans and eight on-foot porters allows us to take six diesel vans off the road. For the tricky middle mile, we're currently trialing a renewable diesel replacement fuel made up of hydrotreated vegetable oil. All this brings us closer to our 2035 Net Zero target."
Although operations are admittedly slowing down as the delivery frenzy provoked by the pandemic begins to dwindle, Sarah is keen to point out that Evri's rebrand only marks the beginning of its next chapter. "The retail landscape is changing and, as the world slowly eases out of the pandemic, we're actively exploring new, international markets," she says. "Bringing that focus back in closer to home, we're also now investigating local delivery models and sending new products like fresh food. As well as continuing on our ESG journey and expanding our out-of-home estate, we've got a steady pipeline of pioneering products and services in place.
"In the next few years, we want to consolidate our position as the biggest dedicated parcel delivery company in the UK and beyond," Sarah concludes. "Through business growth, constant innovation, and increased sustainability, we can make that happen. Our vision is to lead the way in creating responsible delivery experiences for everyone, everywhere. We'll do that by offering the most convenient way to send, receive, and return parcels – without costing the earth."
Evri
www.evri.com
Services: Courier and parcel delivery