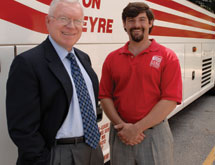 For more than 65 years, Eyre Bus, Tour & Travel has been carving out a strong legacy as a travel professional focused on providing the highest level of service to its customers. The company's offerings are fairly diverse, as it provides services in the charter, tour, travel agency and commuter sectors.
"We're based in Maryland, but the charters and tours take us all over the country," President Matt Eyre says. "Currently, we operate a fleet of about 50 coaches."
On the charter service side, Eyre is a full-service transportation company that offers convention services, airport transfers, shuttle services, group motorcoach charters, fixed-route commuter service and emergency transportation services.
As for its tour services, Eyre works to help its customers devise travel plans in an efficient and cost-effective manner. It employs a staff of professional tour planners that helps customers plan their trips to an array of destinations, landmarks, shows, events and cruises at competitive rates.
One of the aspects that sets Eyre apart is the fact that it operates a full-service travel agency in addition to its fleet of coaches. Its experienced travel agents help group, individual and tour clients find the ideal package and pricing options for domestic or international trips.
Finally, there is the commuter aspect of Eyre's operations. The company provides commuter bus services in Hagerstown and Frederick, Md.
"The commuter business comes through government contracts that we have bid on," Matt Eyre says.
"One of our strengths is our ability to respond to and maintain an open dialogue with our customers," CEO Ron Eyre says. "We work to show them that we care and stand by our core values. We reach out to our customers to get their feedback, and overall we are hearing that we are achieving our mission."
Precious Cargo
Eyre Bus, Tour & Travel understands that being part of the motorcoach industry means it is under a microscope from a safety perspective. The industry is highly regulated, and the company can expect as many as six inspections each year. A variety of state and federal authorities come in for audits. "All of that helps keep track of safety and makes information public, so we have to be on top of those things every day," Ron Eyre says.
Training for motorcoach operators is critically important to the company. New hires must go through five weeks of detailed training and pass a 12-part safety course. Each year, the company does a driver recertification and reviews each driver's overall performance.
"Our interview process is lengthy," Ron Eyre says. "We want to know more than just their qualifications. We want to know them as people and get to know their life goals. We rely on a diverse talent pool of employees, and we are blessed with a core group of dedicated employees who give 100 percent everyday. The feedback we receive from our clients speaks to the exceptional level of service that our operators and customer service staff provide."
Room to Grow
The company has to invest wisely when determining whether to purchase a new vehicle or invest in upgrades and maintenance for older parts of its fleet.
"We have to keep our older coaches operating longer and longer now," Matt Eyre says. "With new buses, they have many new components like computers and sensors. And we have to keep up with stringent emission controls and requirements. We have 24-hours-a-day maintenance with a great team of people that keep the buses on the road."
To help the company continue to expand in the future, it is looking to grow its commuter contracts and corporate shuttle business. It is also expanding the distances it travels with tour operations across the country. With its travel agency business, the company believes it can fill a niche with customers who don't want to rely on the Internet for booking group trips. The company is helping people with everything from group cruises to overseas trips, getting the word out that it is more than just a motorcoach company.
"We want to renew and expand the contracts we have, and we have a plan for investing in equipment," Ron Eyre says. "Our charter business continues to grow, and we are doing more with social media to engage with our customers. We will continue to focus on being an integrity-driven company and having the best customer service, equipment and employees."