First Mats Launches Turntable Trucks Designed for High-Efficiency Material Handling
First Mats, a key player in providing industrial handling equipment, is delighted to unveil the latest addition to its product portfolio – Turntable Trucks, explicitly designed for better material handling in high-demand transport and logistics environments.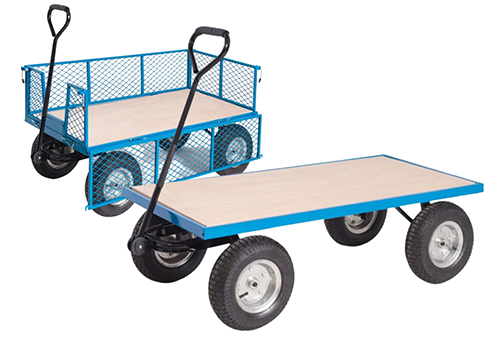 Turntable Trucks are lauded for their unparalleled adaptability and manoeuvrability, making them perfect for dynamic sectors such as logistics, warehousing, retail, healthcare, and more. They employ a unique turntable steering mechanism that grants superior control, enabling seamless navigation in confined spaces and reliable handling of heavy loads.
Available from First Mats, the new Turntable Trucks range includes models featuring mesh or plywood bases, and side panels to facilitate effortless loading and unloading. Weight capacities span from a robust 200kg to an impressive 2000kg, accommodating diverse cargo transportation requirements across different sectors.
"Our aim has always been to deliver high-grade, dependable equipment that answers the unique challenges of various workplace environments," stated Richard O'Connor, Marketing Director at First Mats. "Introducing Turntable Trucks into our lineup underlines our commitment to providing everything our customers need."
First Mats stands out with its prompt delivery times, promising options for delivery within a mere 3 to 5 working days for many models. As a direct supplier to the customer, First Mats prioritises quality and customer service in every interaction.
For logistics and transport businesses aiming to boost operational efficiency and safety, the newly launched Turntable Trucks are an essential addition. Their reliability and adaptability make them a valuable asset for meeting the fast-paced, varied demands of any transport or logistics operation.
To explore the new Turntable Trucks range, visit the First Mats website. The First Mats team is available for help and professional advice to help you find the right equipment tailored to your business needs.
https://www.firstmats.co.uk/collections/turntable-trucks
About First Mats:
First Mats, a UK-based company, supplies high-quality industrial and commercial workplace equipment. With a focus on delivering quality products and superior customer service, their range includes matting, various types of trucks, and spill control products, specifically designed to cater to the diverse needs of several industries.