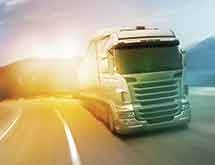 Managing a commercial vehicle fleet is growing ever more challenging. Fleet managers must grapple with wildly fluctuating fuel costs, the constant cycle of vehicle maintenance, balancing driver performance with driver safety while being buffeted with ever increasing regulations and legislation. Meanwhile, new technology, the ubiquity of mobile connectivity and the increasing demand for time-sensitive deliveries are forcing fleet managers to up their game.
Fleet managers now more than ever need solutions tailored to their specific needs and often turn to specialized fleet management software or systems to help them navigate in this rapidly changing and complex environment.
It's no secret that accurate and fresh maps are core components of fleet management solutions. Locating drivers, visualizing a vehicle's position and generating truck specific routes already help companies reduce lead times, fuel costs and optimize many other parameters of their fleet.
HERE, an established leader in maps and location intelligence with three decades of cartography experience, is one company that is building on an existing stable of enterprise specific location technologies and services to address the needs of tomorrow's fleets.
"HERE is already a key supplier of location services," says Jussi Koski, Director of Enterprise Platform Products at HERE, "We've tuned our map data and location platform offerings specifically for trucking and fleet management. In fact, we are one of the only companies that has collected dedicated road attributes for trucks that are now intelligently integrated into our HERE Platform services. This means commercial navigation systems using our location services can optimize driving routes based on truck restrictions, depending for instance on height and weight of the vehicle or hazardous goods transported."
Take for example post and package delivery services. Some of the largest ecommerce companies are offering Sunday delivery service or same-day delivery service. This means delivery personnel are being asked more and more to make stops in residential areas outside of their typical weekday routing schemes. HERE partners with many route optimization software companies, which use our high performance geocoding and reliable routing services to accurately pinpoint locations on the map and create the most efficient routes and delivery order sequences for drivers to handle the extra work.
Moving from 'Where' to 'How'
Now, HERE is helping fleet managers not only answer where their vehicles are and where they are going, but also "how" they are getting there – whether it's how to plan better routes that account for traffic conditions, black spots and toll costs or to learn how safely operators are driving and identify areas that need further development or training.
The proliferation of smart mobile devices, whether commercial or consumer grade, or company provided or BYOD, is having a profound impact on how companies interact with their fleet. Companies and fleet management system providers are creating apps that allow two-way communication, letting drivers relay information from the field and the home office to push out valuable updates, like new deliveries or work assignments, all in real time.
"We understand how important it is for companies to layer our location data into programs and apps that are accessible from a mobile device so we also offer many of our map components to developers via our Mobile SDKs" continues Koski, "Our Mobile SDKs can power Android and iOS operated native mobile enterprise applications and are unique in that maps, routing and location search work in truly offline mode without a data connection."
Mobile connectivity also means that fleet management systems are able to capture and analyze enormous amounts of data from the field. When this data is contextualized with map and location information, fleet managers have an increasingly powerful way to maximize efficiencies and answer these "hows."
As a result fleet managers can not only address the perennial concern of reducing their costs, but also to improve safety, better manage drivers, boost overall productivity and make their fleets more sustainable.
Driver Management and Safety
Safety is one of the paramount concerns for fleet managers. It's estimated that truck accidents kill nearly 4,000 people per year in the US and injure another 100,000.
Accurate, reliable and truck-specific routing can have a dramatic impact on improving safety. Having truck-specific attributes, like those available from HERE, baked into the navigation system helps drivers stay on roads that are suitable for their vehicle profile. Adding in dynamic traffic information and other attributes like crime reporting, can help drivers avoid accident-prone or high crime areas.
"At HERE, we've collected over 400 unique road attributes, of which about 20-30 are typically used for consumer-oriented mapping and routing services," explains Koski, "We offer the option for customers to access additional premium attributes through our platform extensions so they can get a more precise picture of how their drivers are actually driving. For example, a company can use our platform services to match a driver's GPS trace on the HERE road network while taking into account speed limits, detailed road curvature and slope attributes as well as traffic signs to determine if a driver took an exit ramp too quickly."
Businesses can identify areas for driver safety or compliance trainings with this detail of information.
Boosting Productivity
While real-time routing is important, companies can also use detailed map data and location cloud services to plan future routes that maximize productivity and reduce costs.
"One of our recent platform extensions computes all the toll costs along a given route so fleet managers can identify the best routes," says Koski, "HERE also offers waypoint sequencing services so that companies can calculate the best possible route for one vehicle to travel to all locations they need to visit in a given work period."
One HERE customer, MAPMECHANICS, a global provider of logistics planning solutions, powers their core TRUCKSTOPS routing and scheduling product on HERE enterprise level map data and platform services. Using TRUCKSTOPS, Bonded Filter Co., a manufacturer of specialist filtration devices in the US, has been able to greatly simplify and reduce the amount of time spent planning complex delivery routes for 70 technicians across 23,000 customer sites. Similarly, Garden State Growers, a wholesale greenhouse company servicing the Northeast region, uses the TRUCKSTOPS solution to plan journeys that achieve optimum vehicle fill and minimum time, distance and cost all while keeping compliance, delivery time windows and driver's allowable working time in mind.
Helping Fleets Become More Sustainable
Another concern for fleet managers that is also closely tied to efficiency and cost containment is sustainability. The same driver management solutions for improving safety and overall efficiency can also be implemented to support a company's "eco-driving" initiatives, which are often targeted at reducing fuel consumption and CO2 emissions.
Using precise attributes like those available from HERE, companies can create smarter, more fuel efficient routes that take into account road curvature and slope and supports these eco-driving initiatives.
Tomorrow's Fleet
In North America there is an estimated more than 30 million commercial vehicles on the road today. Yet, the number of fleets actively using a fleet management system is relatively small, roughly 15 percent, and the number of fleets using those systems for more advanced services, such as two-way communication with drivers or integration with an internal IT system, is even smaller. According to reports, a strong fleet management system combined with driver training can save between six to 15 percent of the fuel costs and can reduce accidents.
"It's really an exciting time to work in this space. There is such huge potential for companies to harness the power of the information coming directly from their fleet," summarizes Koski, "When that data is contextualized with the help of mapping technology and location services, businesses can make smarter decisions about their daily operations."
Whether it's standard positioning or navigation features, or more complex route planning and asset visualizations, accurate and reliable location technologies are at the heart of any fleet management solution. As the lines between commercial and consumer vehicle trends are blurred even further, with everything from Uber-esque fleet sharing schemes, to electric vehicles and eventually even autonomous vehicles, maps and location intelligence will become an increasingly influential component to managing the future's mobile fleets and assets.