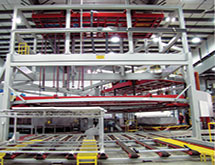 The roots of Floe International can be traced back to 1983, when Wayne Floe designed his first boatlift. He was 19 years old at the time and his design was revolutionary. Unlike any other boatlift on the market, his featured a roller bunk bed on a twin winch vertical lift, allowing boaters to simply drive the boat up and out of the water and then crank up the rear. It was used for a decade and remains on display at company headquarters in McGregor, Minn.
Much has changed since that time, when the company was known as United States Boat Hoist and Dock Co. and was funded with money Floe earned from logging and installing docks. One thing remains constant, however, and that is Floe's commitment to quality design and innovation.
"Floe always has and will stay true to delivering only innovative products and services that deliver exceptional value," the company says.
Some examples of Floe International's innovations include its VSD boat lift drive train, Easy-Level legs on docks and boat lifts, impact-resistant thermoformed Cargo Max trailer bodies, the alumagrain decking finish on its dock systems and the Floe Craft Ace a 36-foot convertible sports yacht.
Recently, Floe International installed the largest rotary vacuum thermoforming machine in the world. This will give Floe capability for its proprietary thermoformed products and allow it to partner with other OEMs. "We can thermoform substantially larger products than what's typical," explains Floe, CEO of Floe International. "We can do products that are close to 25 feet long and 10 feet wide with a material thickness of .60 inches."
The company has also acquired two additional smaller thermoforming machines so it can more fully serve its OEM customers.
Floe International celebrated its 30th birthday last September. It hosted dealers from throughout Canada and the United States, treating them to Floe craft rides and plant tours. The company hosted a dinner followed by live music bands and fireworks.
Today's Floe International specializes in thermoforming and the manufacturing of a line of recreational products that includes boat docks and lifts, a full line of trailers and the Floe Craft.
"The Floe Craft is really turning heads and attracting a lot of interest," Floe says. In addition to its open bow and aft deck it features unique design elements such as a power windows, roof, and doors. Together they allow the convertible main cabin area to open and close in seconds to accommodate all weather conditions. It has the space for 20 and a top speed of greater than 50 miles per hour.
"That [yacht] was a brainchild of mine," Floe says. "It extends the boating season and allows boaters to go out regardless of weather conditions."
Success Story
The company began with a new boat lift idea and started manufacturing boat docks in 1984. Today Floe offers portable, stationary and floating docks and a full line of boat lifts. In 1987, the company further expanded with the introduction of Floe trailers for hauling snowmobiles, waverunners, ATVs and other recreational machines. Two years later, the company adopted its current name.
In 1991, Floe International's sales exceeded $1 million for the first time. In 1994, the U.S. government became a client, selecting Floe trailers for use in military combat. Floe exceeded $10 million in sales in 2000 and struck a deal with fellow Minnesota recreational manufacturer Polaris to produce trailers for them.
Floe International sells through retail dealers and distributors and has a particularly strong dealer network in the midwestern United States and Canada.
"Business is very good," Floe says. The company has increased revenues by expanding marketshare thanks to quality and innovation. It many patents encompass user-friendly features that boost sales.
On the manufacturing side, the company emphasizes lean enterprise systems and waste elimination. "We focus on continuous improvement," Floe says. "Having material flow in and out smoothly is a big deal in our company."
The company has "good supplier agreements" with precise specifications and deliverables. "We make sure every bundle is the right size and quantity to fit into our system," Floe says.
Floe International has built more than 100 of its own custom fabrication machines. These specially designed machines produce its product.
The company has also been successful at recruiting top talent despite its rural location. Floe attributes that to having a "nice friendly environment" and the fact that it creates products for a fun industry. "We employ more engineers than most companies our size," Floe says. "People like working here and they like producing quality products," he notes. "It just breeds more people that want to be here."