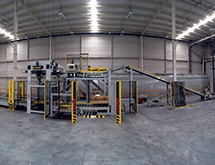 As one of the largest carriers serving the foodservice industry, Foodliner is in the business of solving supply chain problems for its customers. That's what led the company in 2012 to establish Foodliner Mexico as a way to make life easier for many of its customers south of the border. As a member of the company's executive leadership team, company executive Carl Recher explains, Foodliner already had extensive experience in transporting bulk commodities from the United States into Mexico before it made the decision to establish a full-time presence there.
Foodliner started out serving customers with bulk truck transportation service across the border, but many of its customers expressed an interest in rail-to-truck transport into the Monterrey area because of the substantial cost savings it afforded them. After surveying the market in Monterrey, Vice President of Regional Sales Memo Berriochoa determined there was a significant opportunity for a new business venture focused on serving customers in Mexico.
Recher says the visionary leadership of Foodliner is not afraid to move into new territory when it sees an opportunity to better serve its customers, and the company's financial and operational resources make it achievable to do so. "If there is a compelling business model there, our ownership is open to sound investments in new markets," Recher says.
Foodliner Mexico has established itself as a major player in the Monterrey area, thanks to its state-of-the-art facility and time-tested dedication to customer service. Although doing business in Mexico can be vastly different from the United States, Foodliner Mexico has been able to translate the features that have made its parent company successful.
State of the Art
One of the biggest and most obvious advantages Foodliner Mexico has at its disposal is its main facility in Escobedo, Monterrey. The brand-new facility has warehouse space as well as rail capabilities, and it is the only facility of its kind to be serviced by the Kansas City Southern de Mexico and Ferromex railroads. "We look at that as a significant part of our value proposition," Recher says.
Foodliner Mexico can accomplish rail-to-truck transfer at its terminal, and Recher notes that the company also has a customs clearance location on site. This makes it possible for rail cars to be cleared at the terminal rather than being stopped at the border for clearance.
"What sets us apart from our competitors is our image and the quality of our transportation equipment," Berriochoa adds. "The bulk transportation industry in Mexico has been in need of investment in new equipment technology and service enhancement. Our Sales Manager Alberto Paz and I hear this at 90 percent of the customers we have gone to visit."
Customer service is one of Foodliner Mexico's strongest advantages, according to Recher. He says the company has brought over the same approach to customizing services that has served it so well in the United States. "We offer a lot of different ways to customize a solution with personnel, equipment and processes," Recher says, adding that recently the company invested in fiberglass-reinforced plastic trailers to carry materials that are highly corrosive to standard stainless steel vessels. This solution has been very successful for this customer-specific application. "We're not the garden-variety carrier that gets set in its lanes and sticks with them without looking for additional opportunities."
"Every new customer we bring onboard has nothing but words of compliment to the level of service and the professionalism with which we want to be set apart," Berriochoa adds.
Growing Steadily
Although Foodliner Mexico concentrates on the foodservice industry just as its parent company does in the United States, the customer base in Mexico is evolving to become distinct from its American counterpart. Recher says Foodliner Mexico continues to handle only food products internationally and the sister company Quest Liner Mexico provides international supply chain services for non-food commodities and specialty materials. The company has taken on a lot of business related to the automotive industry in Mexico, which is growing quickly. Additionally, bulk plastics and packaging have become an important segment for Foodliner Mexico.
"We're very active overall in trying to grow all of our brands, which include Foodliner, the largest food grade bulk transportation provider in the U.S.; Quest Liner, which provides liquid and dry bulk chemical transportation service in North America; and Truck Country, one of the largest Freightliner truck dealerships in the United States," Recher adds.