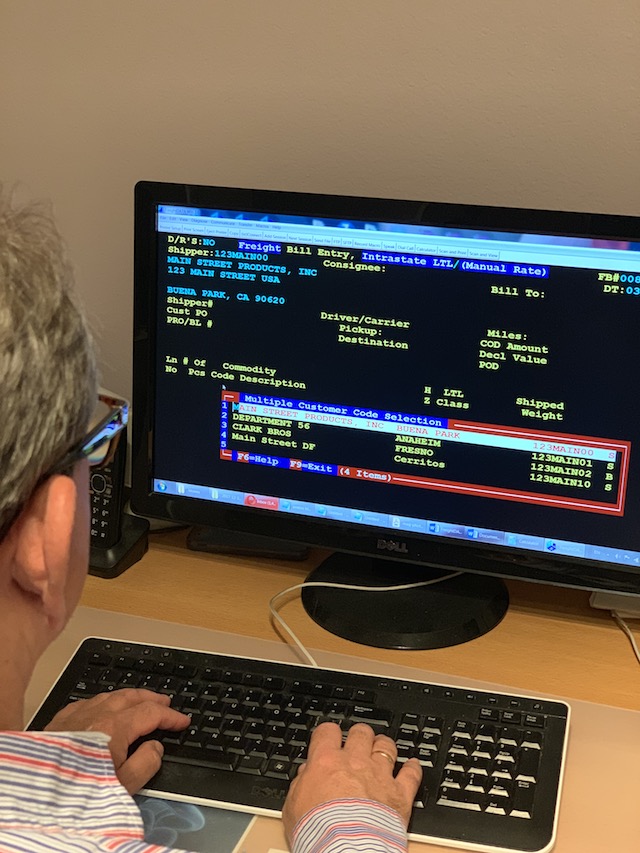 FreightDATA Software manages all aspects of transportation, from accepting orders to billing customers.
By Mark Lawton, Senior Editor at Knighthouse Publishing
FreightDATA is different from its competitors in that its software handles every step in the transportation process. FreightDATA software accepts orders, dispatches drivers, tracks where a shipment is, figures out the rate – by mile, weight, pallet or class – sends the dispatch to billing when the shipping is complete and moves it into accounts receivable.
"It's literally everything," General Manager Debi Ferguson says. "The majority of our competitors are compartmentalized to a specific type of transportation. They might do only intermodal or LTL. Many of our customers do all of it. They don't want to have multiple software packages."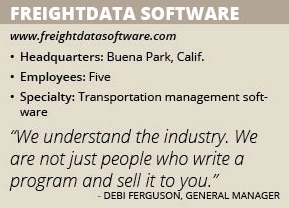 FreightDATA sells transportation management software of four basic types: less than truckload (LTL), truckload, Intermodal and third party logistics (3PL) – although it will do minor customizations for clients. The company's customers are mostly trucking firms with LTL making up the largest percentage.
For 3PLs, FreightDATA software matches what the shipper is paying the 3PL versus how much the 3PL is paying the carrier. "A lot of [trucking software] companies don't have that because they don't have the payables side," Ferguson says. "Because our software knows that, it can run profitability reports. If a company has commissioned sales representatives, it keeps track of who his customers are, when the customer paid – because most companies don't want to pay until they are paid – and keeps track of the commission too."
Market Changes
Originally known as Software Development Associates, the company specialized in developing accounting software for CPA's work until 1982, when the owner of a trucking company asked if SDA could create software for his business. They did so and then another trucking company owner requested similar software from them. "Pretty soon they were getting more work from the trucking industry than from all other industries," Ferguson says. The company was later renamed FreightDATA Software.
Over the years, FreightDATA has responded to changes in the market. After the 2001 terrorist attacks, harbors required information on truck driver qualifications as a security measure and FreightDATA had to modify its software to handle that information. In California, where the company is based, there are clean truck fees and California compliance fees as a smog reduction measure. FreightDATA had to update its software accordingly.
Then there are cellphones. FreightDATA created a mobile app for truck drivers to use on their handheld devices. "Our customer can assign a driver and it will show up on their handheld device," Ferguson says. "The driver can take a photo of the signed paperwork and it also updates on their website. A customer sitting in his office can go online and see what a driver finished 20 minutes ago."
Understanding the Industry
FreightDATA has built up personal relationships with its customers and thinks of them as family. Consistent with that feeling, it offers 24/7 support to its clients. While Ferguson says she doesn't get many calls in the middle of the night, evening calls aren't unusual. "A lot of the trucking industry, they have night billers who enter bills into the system and the dispatcher who creates routes for the next day from 9 p.m. to 1 a.m.," Ferguson explains, adding that "phone calls and support is all included" in the price.
The company's software can perform electronic data interchange (EDI), where computers are talking to computers. After that, the process is automated. "That's a thing with big shippers – they look for carriers that have EDI," Ferguson says.
FreightDATA has an option on the customer's website to create an API that works like an EDI, allowing people to compare rates from different shippers and place an order. There is also rendition billing in which the software will match an image of the dispatch paperwork with the electronic bills and e-mail it to the customer. "Customers want a bill with documentation," Ferguson says. "The old-school way was to take the bill and go to a stack of paper and make photocopies. This is a huge timesaver."
FreightDATA also creates overlays that allows customers to print forms on blank paper.
Ferguson has been in the field since 1984. "We understand their industry," she says. "We are not just people who write a program and sell it to you and don't know what you are talking about. Many times, our competitors know software but when a customer tries to explain something to them, they don't understand the lingo."
Customer satisfaction is what Ferguson is most proud of at FreightDATA. "You need to talk to your customers and get a feel for what they need," Ferguson says. "We don't make people fill out tickets and wait 24 hours. We are very hands-on with customers."