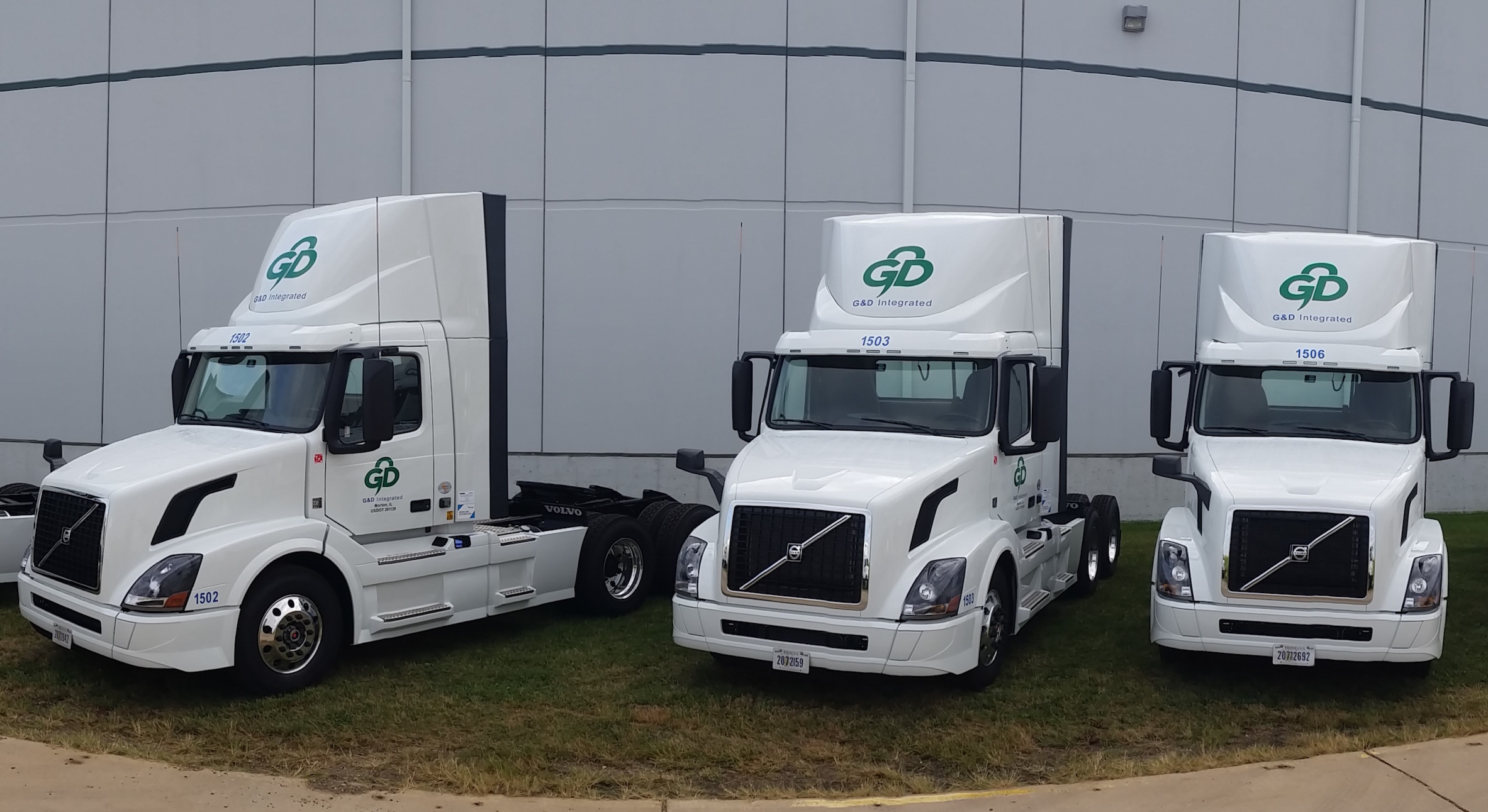 G&D Integrated benefits from the use of biodiesel fuel.
By Alan Dorich
When G&D Integrated forms relationships with its customers, it focuses on what clients consider important, Vice President of Transportation Jeff Cohen says. "We don't exploit those relationships when the market is in our favor," he asserts. "We bring a lot of value-added services to them, and will bypass short-term pricing advantages in favor of a longer-term view that brings continuing value to both parties."
That strategy has paid off for the company, which has nurtured repeat clients within the heavy equipment industry. "They view us as a partner, with deep knowledge of their business, as opposed to trying to figure out who else could do what we do," he says.
Based in Morton, Ill., G&D Integrated offers transportation, warehousing, distribution and integrated logistics services for multiple markets, including manufacturing, agriculture, automotive and consumer products. The company started operations as O'Neill Brothers Transportation in 1882.
In the 1920s, Cohen says, the company began working with Fortune 1000 size companies and provided primarily transportation services. But in 1988, it began providing warehousing and other services. Today, "The vast bulk of what we do is in the dry van and intermodal space," he says.
A Successful Leap
G&D Integrated has become the largest for-hire carrier to use biodiesel fuel in Illinois, consuming 2 million gallons annually. But the company was initially skeptical about using the product, Group Manager of Transportation Programs Vince Buonassi admits.
"There had been a lot of companies that had horrible experiences in the past with biodiesel, partially due to the refining process and the quality of the feedstock," he recalls. "But G&D took a leap in 2012 and decided it would do an experiment since refining practices had improved."
The company's provider utilized the best source of the fuel, which was then blended with stabilizing additives that contribute to performance and combustion. "We were able to prove that we saw no degradation in efficiency," Buonassi recalls.
"Ever since then, we've been using it for every application we can," he says, noting that G&D Integrated has never encountered any negative issues with the fuel, even in cold climates. "The key to its success is dependent on the partnership we have with our single source biodiesel value-added reseller (VAR)."
Buonassi suggests that jumping into the biodesel spot market is an equipment health gamble unless there is a trusted VAR backing up the product. For G&D, that assurance comes from Agland FS, its VAR of biodiesel.
"There are a lot of reasons we opted to use biodiesel." First and foremost, Buonassi says, it is a company guiding principle to be environmentally conscious. "At G&D, we want to be corporate stewards who act responsibly toward the environment," he says, adding that it contributes to air quality. "We've drawn attention from the American Lung Association, which is aggressively backing the biodiesel movement."
G&D Integrated also has enjoyed economic benefits with the fuel. "A lot of companies may not realize that in Illinois, there is a state sales tax abatement on biodiesel blends of 11 percent or higher," he says.
Customers also appreciate the use of biodiesel, Buonassi adds. "The farmers and the cooperatives are definitely supportive of what we're doing," he says. "We've also got customers who have their own initiatives for environmental stability and some are a part of the same agriculture industry that produces feed stock for biodiesel."
Branching Out
G&D Integrated's customers are experiencing an increase in international competition, Cohen says. "As a result, they're transitioning a lot of their production to what they perceive to be lower cost regions," he says.
The company has opened locations in several southern states to serve these clients. "[We're also] developing cross-border capability to Mexico," he adds. "That's an evolution for a U.S. company that's had a lot of its footprint in the Midwest."
Not only has G&D Integrated had to establish the necessary infrastructure, it has had to attract new drivers for these markets while still making sure they get plenty of time at home. "More than 50 percent of our drivers are home every day," he says.
But even with this challenge, the company still enjoys low turnover with its drivers, he asserts. "Our driver turnover is a fraction of the industry average," he says. "We're under 20 percent in turnover, and the industry [rate is] over 90."
Strong Motivators
Cohen is proud of G&D Integrated's employees, who take pride in their work. "What's exciting is when we see how genuinely pleased our people are when they feel like they've done something that worked really well for our customers," he says.
"You see it from drivers to dispatchers when that feedback comes from a customer who says, 'You saved us from a bad situation,'" he adds. "It's amazing how much enthusiasm that generates in our organization. It's a huge motivator."
Buonassi agrees. "Our whole culture is really just focused on delighting the customer, and we relish in that," he says.
Cohen predicts more growth ahead for G&D Integrated. "Our customers are asking us to do more, and if we're going to be able to do that and achieve the growth that we want, there will be more of an extension into non-asset services," he says.
These include expanding current offerings for freight brokerage and transportation management services, Cohen says. "The future also [will find us getting] more aggressive with regards to partnership relationships, or in some cases acquisitions, to be able to expand our footprint," he says.
2015 sales: Approximately $100 million
Headquarters: Morton, Ill.
Employees: 1,000
Specialties: Transportation, warehousing, distribution and integrated logistics services