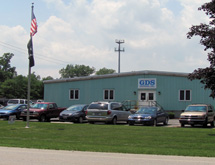 J.P. Delaney, president of GDS Express Inc., admits that a truckload carrier can be seen by many as a simple commodity business, but that doesn't mean GDS Express is just like others in its market. The company has been in operation for 23 years and has been profitable for each one, while also creating a loyal base of retail and other customers. Delaney credits this to the company's focus on service and ongoing dedication to professionalism.
"We try to provide the best service that we possibly can," he says. "If there is ever a problem, our team knows to make the call first. The last thing you want is a customer to call you, wondering where their load is. No one likes to have to make that call, but it's best to be proactive because it helps to negate other problems down the line."
Based in Akron, Ohio, GDS Express was founded in 1990 by Delaney's father, Jack Delaney, and primarily serves the retail market. Working with customers such as TJ Maxx, Dick's Sporting Goods, GOJO and Mattel, GDS Express usually picks up clothing from East or West Coast locations to deliver to markets in between, and then takes general goods on the routes back. GDS also handles regional store deliveries primarily in Ohio and Indiana. The company's dedication to service earned it the 2009 and 2010 Best On Time Delivery to Toys-R-Us from Mattel, and Dick's Sporting Goods named GDS Express the 2012 Line Haul Carrier of the Year.
GDS Express is a nationwide truckload carrier with service to 48 states and Mexico. The company offers the following services: 53-foot GOH-equipped trailers, dedicated store delivery, trailer pools and team service. It also offers satellite tracking and is a Smartway carrier, tracking 98.8 percent on-time delivery last year. GDS Logistics is the company's full-service logistics division, which Delaney recently spun off from the main operation.
"We recently hired a logistics manager to oversee our four account executives and are looking to grow," Delaney says. "It is more for customer needs that we don't serve through the carrier division – we try to help customers with small-package shipping, less-than-truckload, intermodal and expedited services."
Increased Efficiency
To raise its high level of service even higher, GDS Express has been implementing new technology when it is a good fit with its operations. Recently, the company put mobile communication systems in its tractors with the Rand McNally TND760, which integrates with its McCloud Software. Delaney notes GDS Express has been using SkyBitz trailer tracking software for eight years now, but the Rand McNally system allows the company to be even more efficient in its operations.
"We operate a lean office staff and this new system allows us more time to plan – the dispatchers can figure out a plan and don't have to call the drivers all the time, which isn't safe or a good use of time," Delaney says. "It gives us better visibility and has helped quite a bit with efficiency."
He explains this technology helps GDS Express better monitor drivers' idle-time percentage and cruise-control percentage, ensuring better driving efficiency. With the cost of fuel on the rise, the company is doing all it can to keep its fleet efficient, such as installing trailer skirts on a fleet of 300 trailers.
Customers are most concerned with capacity, Delaney notes, and with truckload capacity in general being tight right now, GDS Express is working closely with customers to ensure there will be enough capacity in the fall when customers require it.
"We are more relationship-driven; and that keeps customers, drivers, owner operators and vendors loyal to us." he says. "Our customers are pretty reasonable and understand when increases are necessary. We have good relationships with vendors, too, because we treat them the same way. We treat them as an equal and understand where they're coming from – everyone has to make a reasonable return on their business.
"Our culture is really focusing on treating others as we would like to be treated," he continues. "We treat vendors as our equals, drivers as our equals and we treat customers as our equals, going above and beyond expectations to serve them."
Professional Attitudes
The service-based culture of GDS Express is rooted in professionalism, Delaney explains. "For drivers in today's market, we look for those who are safe and courteous," he says. "In the office, we dress in shirts and ties Monday through Thursday, because we are professional and want to project a higher image than the industry is used to. It really helps to instill a more professional attitude in our work, although we do dress casual on Fridays and Saturdays and we enjoy that, too."
GDS Express has felt the industry's driver shortage, but its turnover is below the industry average, Delaney says, and the company achieves that by treating drivers well and by hiring drivers and owner-operators who are the right fit for the company. "We want them to be safe and courteous, but one of the most important things to keep a low turnover is to hire drivers and owner-operators who live within the lanes we are running," he says. "We are very specific in the lanes we run, and we hire people who live within those lanes."
With a steady base of drivers, GDS Express is looking forward to continued growth and profitability. GDS Express also is working to expand its base of owner-operators, which Delaney admits is not easy, but can be done with a competitive package and quality culture that GDS Express provides.
"It's really the culture that we instill in our people that keeps us going strong," he says. "If you treat others as you would like to be treated and are a nice person, people are going to stick with you. This is not an easy business, and you have to be stern and address problems when they arise, but you also have to be compassionate. We are friendly and professional and that is reflected in the success of our business."