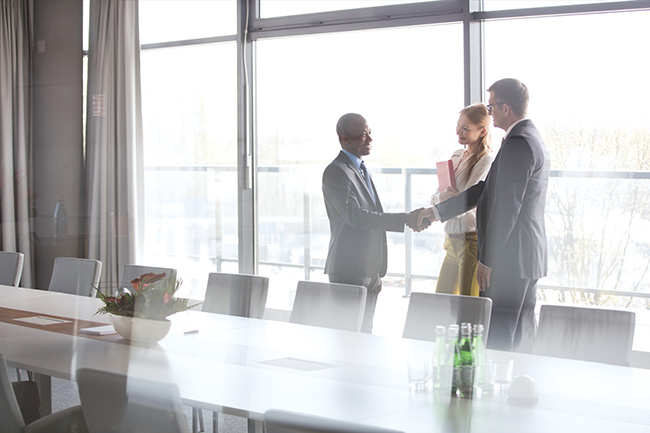 There are methods for building successful international partnerships.
By Bill Lealos
For carriers looking to expand their service area or chase new revenue streams, expanding to international markets can be a good strategy. A company can go all in and expand their business into a whole new region or take a more measured approach and partner with an existing carrier that is already established in their desired international market.
The latter, with its low-risk nature, tends to be the financially savvy option. Creating a partnership with a carrier that already has the infrastructure, client base and brand equity in place makes for a substantially safer play. However, despite carrying low risk, international trucking partnerships don't always work out. The ones that do succeed meet the signature traits of a strong, effective partnership.
First, like any good marriage, communication is key. Without it, it's hard to have a long-lasting relationship or one that can get through the tough times. The regular, day-to-day working environment needs to come from a place of cohesion between the two entities. Without the ability to understand your partner's needs and clearly communicate your own, both sides will quickly become independent of each other, creating a relationship that is far removed from a partnership.
Sometimes remembering why you partnered in the first place is a great first step to keeping communication alive and well. Remember, one of the reasons you partnered with a carrier was to add international expertise to your portfolio of services. This means relying on them for what they do but also relying on communication from them on what they need. At the same time, your foreign shipping partner has to rely on you to accurately communicate the correct information they don't have at hand. It's give and take.
This exchange of information includes communicating items as simple as the timing of your current U.S. pick-up schedule to coordinating simultaneous movements to border-crossing locations or consolidation points. Not understanding the important and necessary needs — from both sides — is going to cause problems for the relationship and subsequently the customer.
Proper and strong communication also enables an effective give and take between the two parties. Both carriers are going to find at the onset of the relationship that not every operational measure between the two companies syncs perfectly. Partnerships that are successful have found that you've got to be able to give a little to get a lot.
Second, before any communication even takes place between the two sides of a new partnership, there also needs to be like-mindedness in terms of a business model in order for the relationship to be successful. Both sides need to be on the same page and have the understanding that the customer comes first. Both sides must have, and hold dear, similar value propositions that cater to the needs and wants of their customers.
Of course, it also helps to have that like-mindedness when it comes to service offerings. Do you and your foreign partner align on offerings such as guarantees, insurance and/or white glove delivery? Being able to find common ground on the ancillary products proves to both you and your customers that the partnership is strong, and because of that, a more reliable and consistent product will be made available to your customers.
Finally, in order to offer the best possible products via a partnership, there needs to be some house cleaning. Both sides need to take a deep look at their self and be able to decipher whether or not their own business is running optimally so it is best prepared for the integrated service.
When shipping domestically, the sole focus of any trucking company is to load freight and get it delivered safely and efficiently. When a border is introduced, suddenly there are special requirements that, if unmet, can delay shipments or stop them completely.
An American carrier entering into an international partnership needs to take a step back and ask, "What will this new partner need to make the final delivery and ultimately make us look good in the end?" If that question isn't considered, there will be problems from the beginning of the partnership. So, again we are reminded that first we need to have established origin perfection. If the process for retrieving paperwork and documentation for a domestic customer isn't buttoned down, there's a good chance that shipping experience will not end well on an international level. Those needs for one's own domestic business now become the needs of that international partner.
The draw of growth and additional revenue brought on by adding an international carrier to your business mix can be alluring. But, unless that partnership is functional and meets the quality and standards that your customers already expect of you, it can not only produce poor returns on your investment, it can damage your brand. This is why it's important it get it right.
Any new partner should be looked at as a way to capitalize on opportunities that allow a carrier to expand their service offerings through a trusted partner, while continuing to maintain the primary focus of domestic growth. To best manage your international partnership, maintain open, honest communication and stay focused on your goals — the result will be success for you, your partner and your customers.
Bill Lealos is the director of Saia LTL Freight's Inside Sales Department and North American Specialty Markets including LinkEx, Saia Guaranteed, Canada, Mexico, Puerto Rico, Alaska and Hawaii. Most recently, he worked hand-in-hand with the company's new Canadian partner, TST Overland Express, as well as various teams throughout both companies, to launch Saia's new and improved Canadian service.
Lealos joined Saia in 2013 as the district sales manager for the Atlanta region. During his tenure, he contributed to the Atlanta terminal's revenue growth and continuous profitability improvement. His new responsibilities as the director of Inside Sales include the management of a team of 28 sales development representatives and six account representatives at Saia's Atlanta corporate office along with the management of three North American market specialists located in Harrisburg, Pa.; Chicago; and Los Angeles.