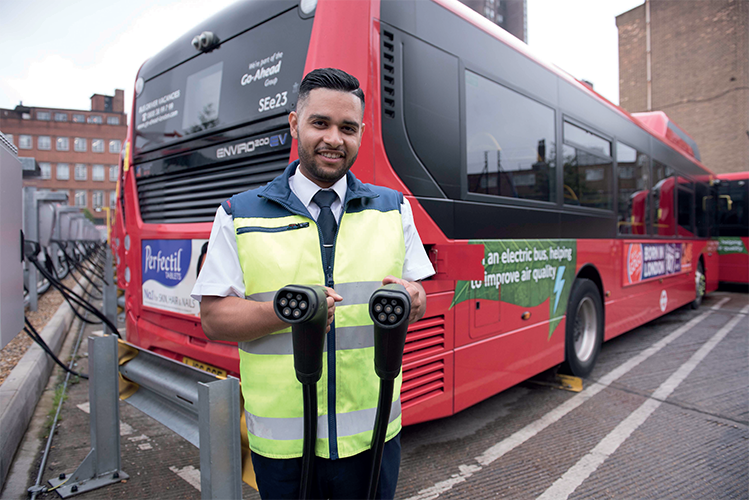 The trail blazer
Go-Ahead Group is passionate about traveling with leading green strategies; a company that continues to keep communities connected speaks out about the best methods to implement sustainability across the UK transport system
Following the government's Bus Back Better program, Go-Ahead Group has been determined to use this opportunity to lead the UK's transport industry in becoming a more efficient and greener network. "The initiative was about how the government sees the future of the bus industry. There was loads of positive messaging that helped improve service frequencies and commitment to supporting the sector as we recovered from the effects of the pandemic. Additionally, there was also an emphasis on bus priority and promises of funding, which we were really pleased to see affect Go-Ahead. It's something we had been lobbying for a long time," says Martin Dean, the company's Managing Director.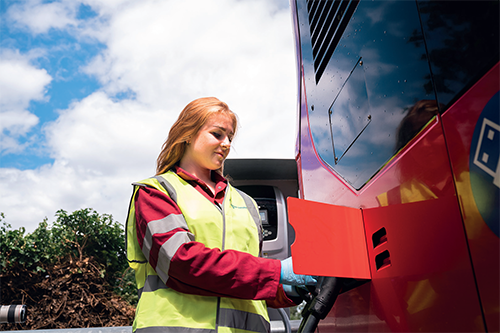 Martin, along with Gavin Bostock, Head of Corporate Affairs at Go- Ahead Group, catch us up on the latest developments that have taken place at the company since we last spoke with them in 2020. Gavin shares that the government's main focus in developing bus services, has been to require every transport authority across England to establish a bus service improvement plan. "Our companies have been working collaboratively with local authorities as we have for many years. It will be interesting to see what funding awards are given for local authorities to start implementing the necessary measures in their areas. We will hopefully see some of those coming into play later this year," says Gavin.
"Obviously we have been assessing loads of recovery passenger numbers and the encouraging point is that before the Omicron variant hit, we were up around 80 percent of pre-covid levels, so we hope that if we get over this current issue, we can get people travelling again," Martin adds.
Of course, Transport & Logistics International's big question was whether there had been any new additions to the fleet over the last two years. Although Martin shares that there has been little growth in terms of numbers, Go-Ahead Group is making exciting developments to encourage greener travel within its network. "We have had 50 electric buses in London brought in. One of the projects we started implementing during Covid-19 was using the opportunity to understand what our strategy should be to deliver zero emission buses in partnership with the government and other funders. Accordingly, we have been looking at what we need from the government, and what we need from other funders to help us get to a zero emission bus future, so that when we do start to order new buses, we can include zero emissions in that catalogue.
"To support this measure, another exciting development we have done is place an order for 20 hydrogen buses that will come into operation from our Crawley depot mid-2022, with a possibility of 35 more vehicles. They will be the first hydrogen buses in our fleet, and we are really looking forward to seeing how they will perform," Martin shares.
Tying in with its sustainability ambitions, Go-Ahead Group was involved in the COP26 conference, which took place in Glasgow towards the end of 2021. "I was part of the sustainable travel alliance panel, and it was all about raising the profile of communities, and playing a role in shaping sustainable transport. I had a discussion with highly influential people about where we want to take our business and public transport, and it was really good to receive endorsement that shows we are on the right track.
"From an overall point of view, I think good progress was made at COP26. One of the things we really wanted to do was to make sure that there was an emphasis on mode switching, and not just converting to zero emission vehicles. The temptation is for policy makers to think that zero emission vehicles are the answer. However, what we actually need to see is our cities being freed up of car travel because that will have a really important effect on generalized cost.
"Although there has been some progress in terms of highlighting the importance of emphasizing road transport and its role in moving towards a net zero future, we need to get policy formers into not only looking at zero emission vehicle future, but also finding ways for mode switching, so that it encourages people to travel by bus and other public transport modes as well," says Martin.
Gavin notes that at the moment a frustrating aspect is that whilst government policy includes mode switching it needs to be advertised and encouraged. "When Martin spoke about the impact of Covid on the business, we did start to recover, and then we slipped back again. If you look back to 2020, the blunt message from government was to avoid public transport, and that continues to have a negative impact, so we would like government messaging that encourages people to use public transport and active travel," Gavin shares.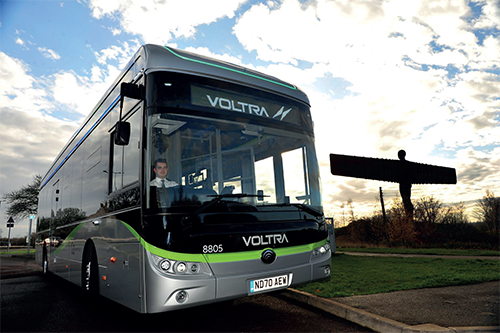 Coupled with the company's ethos for greener strategies, it is also incredibly passionate about the people who have kept the business' wheels turning, particularly those who have risked their lives during the pandemic. "Our key workers have been brilliant throughout the pandemic in helping other key workers get to where they need to. So, if you look at NHS workers who have quite rightly been applauded for the work they do, a lot of them need to get to the hospitals, and our drivers were showing up to make that happen.
"During the pandemic, we have done a really good job at assessing all of the challenges together and coming up with solutions. There have been some amazing stories from our staff as well in terms of what colleagues have done to go the extra mile, so we have had examples of bus drivers sewing masks for other colleagues to protect them. We provided buses for use as mobile vaccination units. Some of our engineering department worked with local businesses to produce hand sanitizer when there was a shortage. Our colleagues have been so incredible to make sure the communities are kept safe during a very challenging time."
Gavin adds his own thoughts to Martin's sentiment, sharing that with the recent challenges, there has been a shortage of bus drivers, and that actions need to be taken. "We have put pressure on government to speed up the licensing process, as that was causing some problems but more fundamentally, we need to provide better messaging that this industry is a great place to work in, and that a role like bus driving contributes to communities.
"There are opportunities to progress with us, and we need to get that more widely known. We need to do more as an industry to encourage more women and a diverse range of people into roles like that. I think as Martin said, the pandemic has highlighted the value that our people bring, but we just need to work hard to get more people to have careers in the bus industry," he says.
In the next five years, Martin would like to see progress made in reducing carbon emissions across the UK's public transport industry, and restrain on car use. "We feel we need to keep innovating to provide services and products that are attractive to customers. Commuters have become so used to working from home, but we want to help make the journey to work and back something that they quite enjoy, rather than endure, because it offers them a chance to read the newspaper, or speak to friends and relax.
"We will be looking at how we can personalize the service use of our apps, and ticketing technology to give people the best value products. This is to help people plan their trips, so that when they go to the bus stop, they have confidence that the bus is going to turn up exactly when they expect it because they can track it on the app; all these advances are going to be really important.
"Go-Ahead operates in a lot of different regulatory environments so the bus business in the UK is mostly run on a commercial basis, but we also have regulated buses in Ireland and Singapore, so we will be looking very closely at the international opportunities in the next few years as well. Obviously, our new CEO, Christian Schreyer, who is energetic, active, and ready to see the company succeed, has extensive international experience in a variety of regulatory environments. I think it's a strength of Go-Ahead Group that we are quite agile, and we can adapt to the prevailing market conditions," Gavin expresses.
Finally, Martin brings our conversation to a close by acknowledging the importance of the company's apprenticeship scheme, and how he would like to see it grow in the coming years. "We are very keen to encourage diversity in our workforce. The past two years have shown how important our people are, and we want those in our business to reflect the communities they live in. This is why we are working really hard to improve our culture and working dynamic. It has been encouraging to see an increase in the number of females that look at bus driving as a viable career, and I'm excited to see this business grow in a number of ways; I think there are some exciting milestones in store," says Martin.
As the UK and other countries recover from the consequences of the pandemic, the company believes it is important to look how it is strategizing to build its communities again in a way that is more sustainable, and the Go-Ahead Group intends to keep bus and rail at the heart of development.
Go-Ahead Group
www.go-ahead.com
Services: Public transport provider