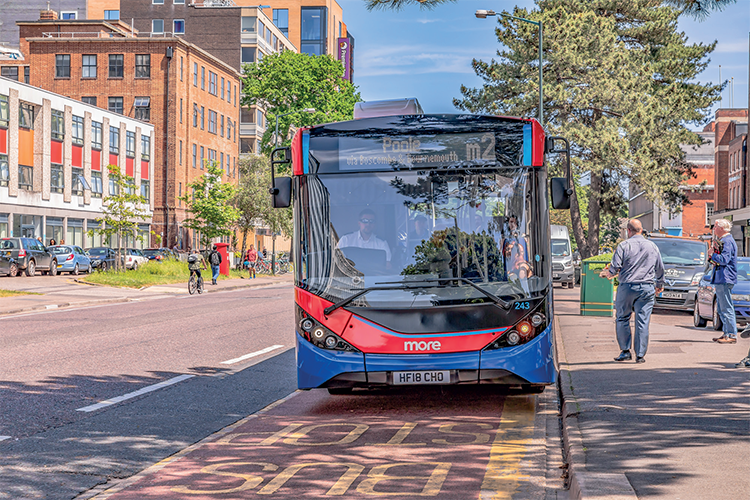 Going places
A multi-time winner of the UK's prestigious Bus Operator of the Year Award, Go South Coast is working to create a cleaner, more efficient future for public transport
A wholly-owned subsidiary of the Go-Ahead Group, Go South Coast is a bus operator with a fleet of more than 750 vehicles at its disposal across 170 routes, and a further 300 plus school routes. Providing vital transport links in the bustling towns and cities of Bournemouth, Poole, Salisbury, Southampton, Swindon and the Isle of Wight, as well as more rural areas of Dorset, Hampshire and Wiltshire, the company has previously been recognized as UK Bus Operator of the Year on multiple occasions. From Bluestar to Damory, and Excelsior to Salisbury Reds,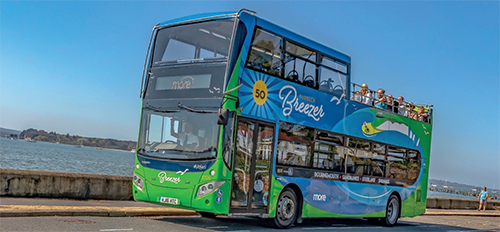 Go South Coast's cutting-edge fleets not only deliver a key service to local people, but the firm's branded buses bring added identity to the locations in which they operate.
Leading Go South Coast in 2021 is Andrew Wickham, a self-professed 'career bus person' who has been a part of the Go-Ahead Group for almost 30 years. Managing Director of the South Coast subsidiary since 2011, Andrew believes that the organization's commitment to values of trust, personal responsibility, relationship building, teamwork and adaptability have enabled it to thrive in spite of the challenges in its path.
"The Go-Ahead philosophy continues to be very different to that of our industry peers," Andrew explains. "Our parent company is very good with decentralised control at local subsidiary level, allowing them to run themselves in the right way, appropriate to local markets and conditions.
"At Go South Coast, we have the best of both worlds, really," he continues. "With the weight of Go-Ahead behind us, it's much easier to negotiate big contracts centrally, but then we are equally free to operate locally within the wider company framework. It means that Go South Coast decides all its own route networks, oversees all HR items, and handles all branding, marketing and local authority relationships without someone in a remote office, miles away, second-guessing it all."
The trust that Go-Ahead places in its workforce, and the freedom that it affords its subsidiaries, continues to help Go South Coast attract high-calibre people determined to take control in an organization and forge its destiny. With more than 1900 team members in the business at present, Go South Coast constantly invests in developing its staff, and in turn, the workforce remains the company's most valuable asset.
"Looking back over the last ten years, the entire team here has contributed to our success," Andrew states. "Though we function through very different businesses, like Southern Vectis, Morebus, Tourist, and Swindon's Bus Company, our people work together to keep things consistent across the region and strengthen the Go South Coast brand. The result is that, by most measures, we are seen as one of the best bus operators in the country.
"Eighteen months on from the beginning of the Covid-19 pandemic, I am in no doubt that the success we have achieved recently, and the way we have recovered from the challenges of the virus, is overwhelmingly thanks to the quality of the people we employ at all levels of the organization. I regularly visit all our sites and depots, talking to employees as I go, and they are very skilled, talented and engaged. We have great buses, but it is the people that make the business."
As Andrew suggests, Go South Coast's workforce is only rivalled in quality by the company's fleet. Benefiting from regular investment, the buses and vehicles the firm owns are continuously upgraded in order to ensure they remain on the industry's cutting edge, while continuing to provide customers with market-leading service.
"Our fleet has been transformed over the years from being a very varied group of vehicles inherited from a collection of different businesses – at one point, it seemed that there were only four or five bus models in the country that we did not operate – to a more standardized and technologically advanced platform," Andrew says. "Our vehicles are improving, our passenger base is growing, and our drivers are better trained than ever, so we are getting all the basics right, and that's why we continue to grow."
Though they are mainly commercially operated, Go South Coast buses also have significant involvement in the tendered school and college market. For example, the firm holds prestigious contracts with the University of Southampton, Bournemouth University, and a variety of educational establishments across the South.
"Over the last year and a half, we have been focused on keeping the business going, keeping employees and customers safe, and rebuilding ourselves, but we've also gained some school and college contracts, particularly in Wiltshire and Dorset," Andrew reveals. "Even in the tough times, our popularity persists because clients and local authorities know they can rely on us. For example, we don't chop and change our services. We might have to tweak something due to traffic congestion, but we don't do something for six months, give up and then start all over again. We take a very long-term view with our services and that has paid dividends."
As part of the long-term approach to which Andrew alludes, Go South Coast is embarking upon a zero-emission campaign that will see the company improve the sustainability of its fleet by embracing electric vehicle technologies. Having set 2035 as a target for when the company will cease to use diesel vehicles and replace them with zero emission buses, Andrew and his team are already taking major steps towards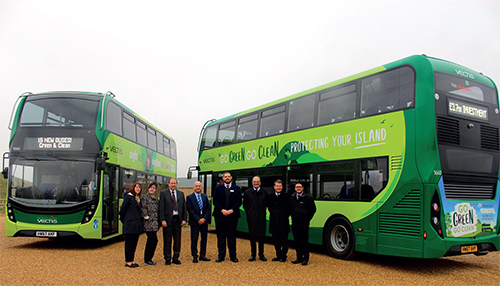 creating a cleaner, greener future for public transport. "Our sustainability overhaul actually began in 2019 when we purchased three zero emission BYD ADL electric buses, which have really helped us gain experience of electric vehicles and set the stage for future zero emissions purchases," Andrew affirms. "We learnt a huge amount from those vehicles, which have been in operation in Salisbury, and as a result, in July 2021, we launched two separate ZEBRA (Zero Emission Bus Regional Areas Scheme) bids for 57 electric buses in Swindon and 32 in Southampton."
ZEBRA, which holds a pot of £120 million to invest in zero-emission public transport, has already accepted the initial bids, meaning Go South Coast can move to stage two of the process for both locations. Working closely with Swindon Borough Council and Southampton City Council, the company is confident that the ZEBRA funding can not only further the Go-Ahead Group's climate strategy efforts, but also have a significantly positive impact on local people's lives.
"The Swindon bid will convert every single bus we operate in Swindon into zero-emission plug-in electric models, with the exception of routes that pass under a bridge that lie too low for electric buses and some very infrequent services in rural areas," Andrew notes. "In Southampton, where we operate a contract for the University of Southampton called Unilink, which carries lots of students, staff and members of the public 364 days a year, the bid would replace the entire 32-unit fleet with zero emission alternatives.
"Buses are an excellent solution for improving air quality and reducing congestion because they give people the option to leave their cars at home and use sustainable transport instead. Of course, despite the fact that a diesel bus is still better than lots of cars, diesel is our main carbon contributor, so we would prefer our buses to be low or zero emission, and over the course of the next decade, we're going to make that happen. Go-Ahead has already produced its climate change strategy, and as part of our local climate change strategy, Go South Coast will also be looking at energy in our buildings, water usage, waste reduction and recycling. It's a full-scale team effort."
Encouraged by the ongoing success of the Department for Transport's Bus Back Better initiative, Go South Coast anticipates further growth in the months ahead, with its services likely to become even more speedy and efficient thanks to national improvements in bus supportive infrastructure.
"Bus Back Better is a scheme working to improve bus priority by installing things like bus lanes and bus actuated signals," Andrew reports. "Reducing the road congestion and traffic volumes that buses encounter will only make our services more efficient and appealing. The scheme even offers creative solutions like removing roadside parking spaces in exchange for more bus dedicated road space.
"More road space means more bus lanes, and less parking means fewer cars and less congestion," Andrew points out. "Buses are great social levellers as they can carry anytype of person, whereas if you drive a car, you need a driving license. Similarly, we are not going to significantly reduce carbon emissions without severely cutting down our car usage. Even electric cars will require energy, but by choosing public transport, we can lower that requirement."
In the next five years, the company is looking forward to welcoming back old customers following the Covid-19 pandemic, and winning over new ones as the firm begins to provide an ever-better, more efficient and increasingly sustainable service throughout Hampshire, Dorset, Wiltshire and the Isle of Wight.
"At the beginning of September, I saw the numbers for when the schools started to go back and it was really encouraging," Andrew remarks. "Now what I would like to see is more action from local authorities on the Bus Back Better strategies, as well as continued effort from us in adding more zero emission vehicles.
"Perhaps most importantly," Andrew says in summary, "we must remember that buses are a local business. We are not like a supermarket or fast food outlet. Our product has to be designed for the streets, areas and markets in which it operates, and the only way you have any hope of getting that right is by being on the ground yourself. We must remain in tune with our customers and understanding of the communities we serve."
Go South Coast
www.gosouthcoast.co.uk
Services: Bus operator