Gordon Sevig Trucking Co.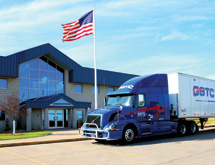 Gordon Sevig Trucking Co., a subsidiary of Quad Holdings Inc., excels in its reputation of reliability and flexibility when it comes to the transportation and logistics needs of its customers. The Walford, Iowa, company is building a new warehouse in its home state to expand and continue providing its clients the same high-quality service it has provided for the past 30 years.
"We started with one truck and I drove it," Vice President Tom Schmidt says. "We began getting longevity with customers when we got more trucks and now we have customers that have been with us for 20 or more years." The 567,000-square-foot warehouse is under construction in Muscatine, Iowa, and is scheduled to open in early 2014. GSTC Logistics, a division of the company, will operate the warehouse and distribution center for its long-time customer, Kent Corp. The warehouse will serve as a centralized distribution center for products made by Kent Corp.
GSTC Logistics is family owned and operated and was established in 1994. It operates four locations with more than one million square feet of warehouse space combined in four Iowa cities. General commodities transported and stored by the company include food ingredients, animal feed and retail and industrial products.
Meeting Demand
Gordon Sevig Trucking focuses on building long-term partnerships based on integrity, trust and proven results with clients ranging from small businesses to large corporations. The company operates a fleet of 130 tractors throughout the Midwest and East Coast regions. Gordon Sevig Trucking and GSTC Logistics both work to understand its clients' needs and develop custom solutions to ensure success. "It's our can-do attitude that sets us apart," Schmidt says. "We never tell anyone 'no' and sometimes to a fault. We do what we say we are going to do."
The company hires drivers who are experienced with strong work ethics, Schmidt says. Every driver hired has verified over-the-road driving experience, is customer-focused and has a proven safety record. "We only hire qualified, experienced drivers and require the same high standards for team members in our warehouses," he explains. "We provide training on our systems, policies and culture." To keep customers up-to-date, Gordon Sevig Trucking utilizes PeopleNet, a state-of-the-art GPS tracking system, which provides for real-time GPS location and driver delivery status capability, plus an electronic log system.
The major challenge the company faces is finding good, experienced drivers. To help combat this issue, Gordon Sevig Trucking has established a reputation of making sure its drivers are home almost every weekend, which is a high-priority and an incentive for seasoned drivers, Schmidt says. A number of government regulations have taken effect over the years that have impacted Gordon Sevig Trucking and its drivers, but the new hours of service regulation has been the most impactful. Gordon Sevig Trucking's use of an electronic driver log system has ensured its drivers are fully compliant with federal hours of service requirements.
Committed to Success
Safety is a top priority for Gordon Sevig Trucking, which is why it decided to become a member of Traffic Insurance Ltd., a 20-year-old reinsurance company based in the Cayman Islands. The company owns and operates Traffic Insurance with 54 other trucking companies to better manage and control general liability, physical damage and worker's compensation risk. Traffic Insurance offers trucking companies in the United States an opportunity to stabilize insurance costs through best practices and company sharing of "what works" to control escalating risks, Schmidt says.
"It is an offshore captive and we have established our own safety programs," he explains. "We measure our safety record against all 54 of the trucking companies, which includes about 12,000 to 13,000 trucks. We measure to make ourselves better." The DOT also rates each trucking company operating in the United States and Schmidt says Gordon Sevig Trucking strives to be in the 50th percentile or better for the Compliance, Safety, Accountability Program.
Although the company says it doesn't say 'no,' Gordon Sevig Trucking focuses its fleet to a specific region of the country, Schmidt says. "We stopped going west about five years ago," he adds. "We aren't big enough to go everywhere, so we just focus on the East Coast, which also gets our drivers home more frequently." The West may not be on the horizon today, but growth is always an objective and vision of the company. Expanding to additional states would be considered if a customer has enough freight to make the growth beneficial. "We don't say that we will grow to a certain size," Schmidt adds. "We don't think you have to be a certain size to be a good niche for the customer."